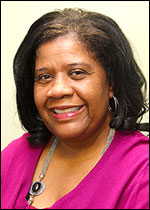 Dr. Constance G. Bland
Vice President of Academic Affairs
A.A, Coahoma Junior College
B.A., B.S., M.S., Ph.D., University of Mississippi
A native of Friars Point, Mississippi, Dr. Bland began her career as an instructor of mathematics and computer science at Coahoma Junior College in Clarksdale, Mississippi.  In 1991, she began her tenure at MVSU. After proving herself as an instructor and professor, Dr. Bland was appointed Chair of the Mathematics, Computer and Information Sciences (MCIS) department in 1999.   She served in that capacity until March 2014 when she was named Vice President for Academic Affairs.
 Dr. Bland has given 26 years of service to MVSU and has actively demonstrated her passion and commitment to the University, its faculty, students and staff.  She has established a great working relationship with the community and is well respected.  Under her leadership, Dr. Bland helped MCIS receive numerous grants (a graphing calculators grant, the National Science Foundation (NSF) Odyssey I, Odyssey II  and Odyssey III Scholarship grant, National Aeronautics and Space Administration (NASA) GIS/Remote Sensing grant and the NASA PACE grant) to enhance the quality of STEM education and retention at MVSU. She's responsible for developing MVSU's annual Women in Science and Technology (WIST) Conference which is designed to encourage young girls in grades 7th through 12th to consider majoring in STEM disciplines. 
 Dr. Bland holds an associate's degree in mathematics from Coahoma Junior College.  She received a Bachelor of Arts in mathematics, a Bachelor of Science in computer science, a master's degree in computer science and a doctoral degree in computer engineering from the University of Mississippi.
 As an accomplished researcher, Dr. Bland has authored and co-authored several publications - Using Alice to Decrease Attrition in CS1, Road Map for Teaching Introductory Programming Using LEGO Mindstorms Robots, Java Resources for Computer Science Instruction and Distance Education: What is appropriate, What is not and Agents, Profiles, Learning Styles and Tutors.
Dr. Bland's philosophy is echoed in her work ethic. She states, "Students at MVSU are brilliant beyond reasons that we can fully explain or understand. Their intelligence needs to be focused in the academic arena so they can soar to heights that they can only fathom in their wildest imagination. This is the call of Academic Affairs at Mississippi Valley State University!"
 She is married to Edgar Bland, Jr. The couple has two daughters, Amanda and Hilliary, one grandson, Taylan and two granddaughters, Blake and Bailee.
Contact Information:
MVSU,
Office of the Vice President for Academic Affairs,
Box 7297, Itta Bena, MS 38941-1400
Office Location:
William Sutton Building, 4th Floor, Office #435
Telephone: (662) 254-3800
Office Fax: (662) 254-3874
E-mail: cgbland@mvsu.edu