Overview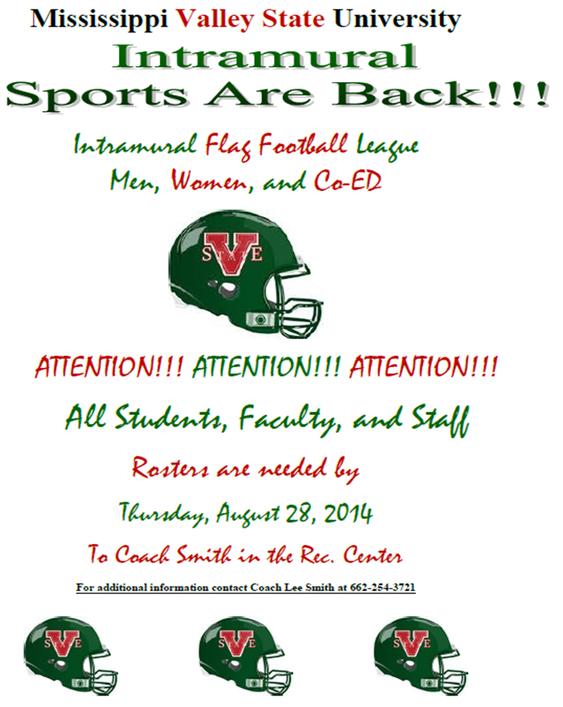 Intramural Sports offers Mississippi Valley State students, faculty, & staff an opportunity to participate in sport activities on a competitive or recreational level. Leagues are available in a wide variety of indoor and outdoor sports year-round.
Phone Numbers to Know:
Intramural Reservations: 662-254-3721
Intramural Office: 662-254-3721
The Mississippi Valley State University Intramural Sports Program provides an opportunity for MVSU students, faculty, and staff to participate in a wide variety of sports competition and physical activities. The program is designed to meet the needs and abilities of all participants in order to facilitate a total educational experience. MVSU Intramural Sports Program offers a wide variety of sports experiences for each student; develop carry-over sports skills in life to encourage physical activity; develop habits of fair play; and provide leadership development. We urge all students to take maximum advantage of the opportunities that are available through the Intramural Sports Program.
Opportunities abound for the entire University community in a wide variety of sports activities provided by the Intramural Sports program, part of the Division of Student affairs.
Intramural Competition Offered at Mississippi Valley State University
The intramural program offers men, women, and coed activities in individual and team sports. Students may complete in five (5) different activities, with additional sports available based on Students interest. The program is designed to serve all skill and experience levels. It gives students the chance to play a favorite sports or one they have always wanted to try but never had the opportunity.
Flag Football
 
Volleyball (co-ed)
 
3-on-3 Basketball
 
5-on-5 Basketball
 
Softball