By Donell Maxie, Communications Director 
Mississippi Valley State University's motto, "Live for Service," is something recent MVSU graduate Larozzo Shugart embraces as a way of life.
Shugart, 21, who finished at the institution in the Spring of 2021 in Secondary Education, recently decided to live out the school's motto by enlisting in the United States Airforce.
The Gulfport, Mississippi native left on September 8th for Basic Military Training in San Antonio, Texas. After basic training, he will be going to Fort Lee, Virginia, for his Tech School, where he will learn his specialty, Air Transportation.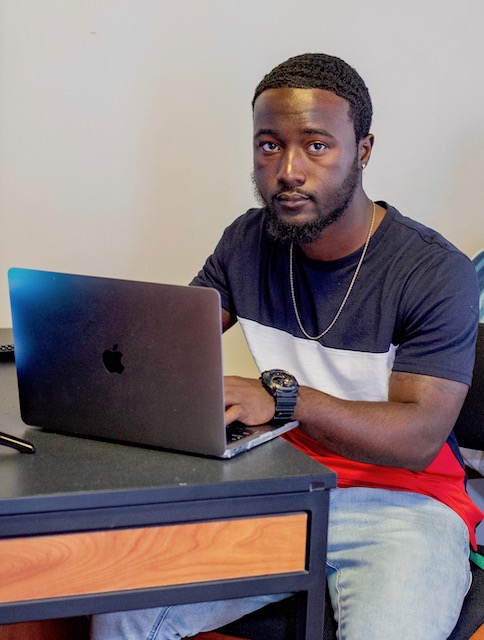 "Since I arrived at MVSU, the motto 'Live for Service' has stuck with me and will always be. I spent just about every day of my three years at Valley helping around campus, the athletic department, and the local community. The school's motto became a lifestyle, and it made me realize that helping just a little bit can create a situation or help make an environment just that much better," said Shugart.
"Me deciding to serve our country is the definition of live for service. I am making a sacrifice to help our country progress and complete missions that will help keep our loved ones safe," Shugart added.
Shugart, who served as the 21st Mister MVSU during the 2020-2021 academic year, first had thoughts of serving in the United States Military at the end of his senior year of high school but was not as knowledgeable about everything the Military had to offer. Around the same time, he was introduced to MVSU.
"After having a conversation with Dr. Jerryl Briggs (MVSU President), I decided to attend MVSU and pursue my degree in secondary education. At the end of my enrollment, I found myself in the same situation that I was in at the end of my senior year of high school. I knew that I wanted to pursue my master's degree, so I applied to and was accepted into both Louisiana State University and Mississippi State University graduate programs," Shugart explained.
When Shugart analyzed his situation, he understood that he had parents that assisted in his undergraduate studies. Still, he also has two younger siblings that must go to college and did not want to remain a financial strain on his parents.
"Knowing that I did not want to gain any more student debt, I began to think of ways to fund my education. First, I researched the Military and its benefits, particularly in the United States Air Force. I then reached out to a recruiter and found that taking this route could do more than help me further my education; it could also help prepare me for the real world and mold me into an, even more well-rounded individual," Shugart said. 
Military service is not new to Shugart, who shared how both his grandfather and father spent time in the Military.
"My family influenced my decision to serve in the Military. My grandfather served in the United States Army during the Vietnam War, and my father retired from the United States Navy after serving for 20 years. So, I will be the first to serve in the United States Air Force," he said.
During the transition from his junior to senior year, Shugart talked about the effect of the pandemic and how losing a close family member impacted his life in a significant way.
"Going through my last semester of college during a pandemic was quite a challenge, and on top of that, taking care of and then losing my grandmother during it made it even more challenging," said Shugart. However, I found ways to stay positive through it all and did not let the situation discourage me. She was very proud and supportive of me. It only fits that I continue to make her proud," he added.
During his commencement ceremony, Shugart was recognized as one of three individuals named the class Valedictorian. Through his military journey, he hopes to continue excelling as he furthers his education.
"I plan to enroll in a graduate program within the next year. Now I am still undecided on which institution I will be attending for my master's in Kinesiology. It will be a decision that I make once I settle down and see what option best fits my military lifestyle," he explained.
Shugart's goal is to one day become a collegiate athletic director. Everything he has planned and in the works is in connection to obtaining that goal.
During his time at MVSU, Shugart shared how the institution helped him and how one staff member helped him tremendously.
"MVSU has prepared me in many ways for my future. Throughout my time at MVSU, I learned the importance of staying focused, networking, time management, and teamwork. However, the largest impact on my life was Coach Lee Smith. The very first day I stepped foot on campus, he took me in with open arms. He understood the goals that I wanted to achieve, and he helped guide me in the right direction," he said.
"Coach Smith was always straightforward with me and took the time to teach me the ins and outs of some of the things that will go into being an athletic director. He allowed me to get hands-on experience, had an answer to all my questions, and gave me useful advice when needed. He is the true definition of live for service," Shugart added.
Shugart said if he had the chance to speak with an MVSU student struggling to find their purpose, he would encourage them not to give up.
"There are many people that have no idea what they want to do in life; you are not going through the situation alone. Take time to self-evaluate and talk to someone who understands you and your situation. Just because you may not know your purpose now does not mean you do not have one. Sometimes it takes a little longer for people to find theirs. Stay positive and remember that patience is a virtue," he said.