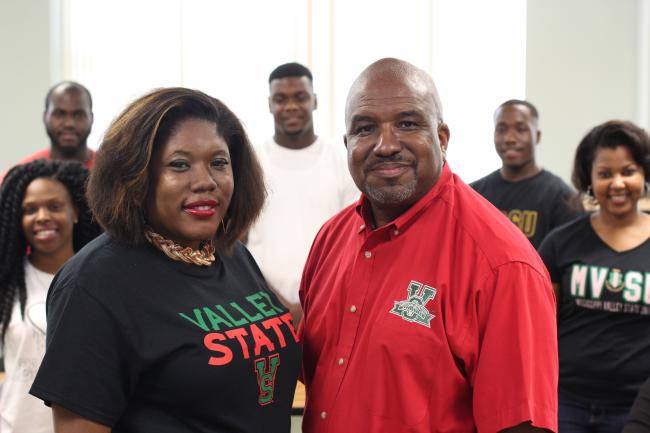 Pictured from left are Latonzia Evans, SYE coordinator, and Renardo Hall, dean of University College.
It can be difficult for a freshman to adapt to a collegiate setting, and even after the first year of college, students are still in shambles about whether or not college is right for them.
The University College staff at Mississippi Valley State University (MVSU) is helping to ease the transition from the first to the second year of college through its Sophomore Year Experience (SYE) program.
SYE is a retention tool that is used to ensure that students develop a connection to the University. 
"We tend to spend more time focusing on the freshmen and seniors," said Renardo Hall, dean of University College.  "According to research, sophomores are often the forgotten class."
Hall said, "Ensuring students' academic success in the second year of college is important, because this is the time when students lose sight of the direction of their career path and when they typically declare a major."
To increase and promote sophomore retention, University College does academic advising, hosts workshops and encourages leadership development.
"SYE is an advocacy and empowerment program," added Hall.  "Students are given leadership opportunities, community service experiences, and academic support and enrichment workshops."
The program has an 'Academic Success Coach' component, which is used to mentor students. Mentors are assigned as 'Success Coaches' to track and monitor the attendance and academic progress of all sophomore students.  They also provide intervention and referral to campus resources, if needed.
In addition to academics, SYE also provides incentives and stimulating activities for the students.
"Every two weeks, we offer workshops on various topics ranging from interview techniques to academics," said Hall.  "We also link students with tutorial services and help them to make connections with their faculty."
"We want to ensure that our students successfully matriculate through college, and although I am new to this department, I have already noticed an increase in student retention," he added.
SYE received initial funding from the Jessie Ball DuPont Grant.  MVSU will financially sustain the project through its operational budget and/or Title III funds.