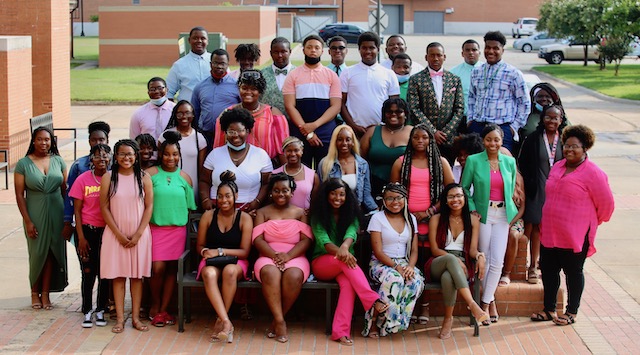 Students in the Mississippi Valley State University Upward Bound II (UBII) program have been hard at work since April participating in a series of learning activities in STEM education and video production.
The group participated in STEM training when the program hosted its first Teaching Through Technology Training in April. Recently, the students completed and premiered a short film entitled "I Too Matter" on campus.
Students from the UBII program are comprised of young people from local school districts ranging from West Tallahatchie, East Tallahatchie, Montgomery County, and Carrolton. Jerome Petty, program director, commended the students for their hard work and ingenuity.  
"The students are gifted. They are so creative, and they make the job of our staff and easy. We have a STEM lab with all sorts of special equipment, and it helps expose underserved students to software that will enhance their lives and serve as a beacon of light for their future endeavors. The training and the video project helps to show our students that they are powerful beyond measure."
In April, the Upward Bound II connected with T3 Alliance to provide a technology opportunity to programs worldwide.
"There were two strands of the training. Strand-one consisted of building a computer using a Raspberry Pi. In addition, students worldwide had the opportunity to integrate the core T3 Alliance principles of Growth Mindset and Design thinking, said Petty.
"Strand II consisted of the ins-and-outs of using a laser cutter safely, making cool projects, art, and other tools through Adobe or On-shape software for making designs and programming artwork," he added.
Domenic Giunta of Alaska presented from the newly STEM Mainframe Lab of the MVSU UBII, and the students were a part of the training.
"During the training, our goal was to keep students engaged about school to keep them on a pathway to get to college. By teaching how to use the equipment it is a hands-on approach to create excitement as they continue their path to college," said Giunta. 
On July 8, students from UBII premiered a short film production entitled I Too Matter. The film's focal point was centered around gun violence.
"The message was if every individual put down their guns, the violence would cease," said Petty.
The entire cast consisted of MVSU UB II participants, and the students also did the camera work.
Also, UB II participants created a phone application to alert others of their mood before speaking with them on the phone. During the incoming academic year, students will enhance the app using a Raspberry Pi. The Raspberry Pi is like a small computer that allows students to interact with the world around them. The program is all in automation.   
Additionally, three students from the UB II program have earned opportunities to enhance their education beyond the program.
Liyah McCord, a West Tallahatchie student, was selected to participate in the 32nd Annual National Student Leadership Congress Virtual Program from June 14-18, 2021. Also, Jatarious Lang and Jabari Stokes of J.Z George High School in Carrolton were offered to join the Mississippi School for Mathematics and Science.