ITTA BENA, Miss.—Mississippi Valley State University is pleased to announce Dr. Abigail S. Newsome as the Associate Vice President for Academic Affairs.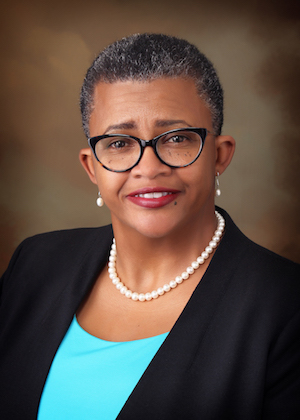 An MVSU alumna, Newsome brings to the position more than 20 years of extensive and diverse experience in academia as a researcher, professor and administrator. 
The Itta Bena native began her career at MVSU in Aug. 1997 as an assistant professor of biology and has served in her most recent capacities as an associate professor of biology since Aug. 2015 and as the coordinator for MVSU's Bioinformatics graduate program—the only master's degree program of its kind in the state— since Aug. 2017. 
During her tenure at MVSU, she has secured more than $7 million in external funding. 
"I am extremely pleased that Dr. Newsome was deemed the top choice of the search committee and will join the Office of Academic Affairs as the Associate Vice-President," said Provost/Senior Vice President of Academic Affairs Dr. Kathie Stromile Golden. "Dr. Newsome's knowledge and skills are complementary to mine and will, in my opinion, enable Academic Affairs to make cutting-edge contributions to both the University and academic units." 
Newsome has worked as a visiting professor for The University of the Virgin Islands since Aug. 2003. She previously served as a faculty research scientist for the United States Department of Agriculture and as a summer faculty researcher at Lawrence Livermore National Laboratory.
Each summer since 2014, Newsome has worked with MVSU students to arrange and lead short-term study abroad experiences during which students engage in cultural immersion and research.
She was selected as MVSU's 2020 Recipient of the Institutions of Higher Learning Excellence in Diversity and Inclusion Award.
Newsome has chaired or co-chaired the MVSU's Commencement Committee, Financial Aid Appeals Committee and Athletic Compliance Committee.
Additionally, she has served as a member of the University's Special Events Committee, Natural Sciences and Environmental Health Department's Curriculum and Promotion and Tenure Committee and the International Programs Committee.
"She is undoubtedly committed to the University, as exemplified by her work ethic and willingness to assist with campus-wide activities and community events," said Golden. 
"Dr. Newsome and I have collaborated on a number of projects across the years, and I am excited about our being able to work together at this level, which will enable Academic Affairs to better facilitate the University's quest to establish itself as a premier institution of higher learning," she added.  
Newsome has presented at numerous conferences and published or contributed to several publications, including the International Journal of Engineering and Advanced Technology and the Journal of Pure and Applied Microbiology.
In addition to her duties at MVSU, Newsome has served as a board member for the University of Mississippi Press, the Greenwood and Conventions Visitor Bureau, a Local Advisory Board Member of the Boys and Girls Club (MVSU Unit) and as a past board chair of the Boys and Girls Club of the Mississippi Delta.
Newsome graduated from MVSU in 1988 with a Bachelor of Science degree in Biology. She furthered her education at The University of Southern Mississippi, where she earned a Ph.D in Molecular Biology in 2001.
She has received certifications in Silicon Genetics Microarray Analysis I, II & III; Biotechnology Information (National Center for Bioinformatics); and in Genome Research (The National Institutes of Current Topics in Health/The National Human Genome Research Institute).