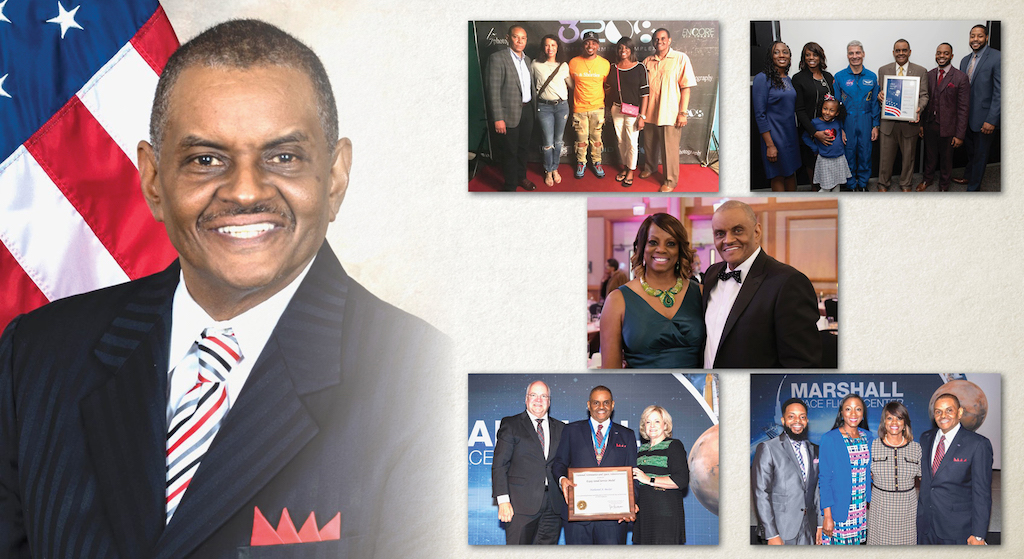 By: Donell Maxie, Communication Director 
A person's legacy is about the richness of the individual's life, including what that person accomplished and their impact on people and places.
The legacy of Nathaniel Boclair, III., is the story of a person whose passion for serving others, love of family, and love for Mississippi Valley State University ignited the formation of The Nathaniel A. Boclair, III Endowed Scholarship at MVSU. The scholarship honors the 1979 graduate who passed away in November of 2020.
"The foundation is in my late husband's honor because he loved Mississippi Valley State University, and education is important to us," said Sharon Boclair. My husband loved God, family, and friends, MVSU, NASA, NASCAR, and corvettes; in that order, Sharon said, laughing.
During his life, Sharon shared that her husband loved helping young people but was always drawn to helping those with the potential but may not have realized all they could do in their current reality.
"He always talked about how he loved to take C-students who may have been looked over because of issues. So, when we did the scholarship, I thought about those students and wanted to be certain to include them in it," she said.
The scholarship was established from contributions in memory of Nathaniel A. Boclair, III. The family established the scholarship with the initial $25-thousand requirement within five weeks of setting up the endowment.
During the next eight months, the endowment fund grew to $64 thousand. Edward Boclair and Kenneth Boclair helped to support the scholarship fund by contacting their business associates and friends for financial support for their brother's scholarship endowment. In addition, the Boclair children, Melvetta Leach-Peck, Alexander Mathis, Latoya McComb (Kelvin), and Nate Boclair, IV., pledged their financial support annually. The efforts from the brothers and children have helped the funds raised as of September 2022 to total $85 thousand.
The purpose of the scholarship is to provide financial assistance to need-based and academically talented full-time students enrolled and in good standing at MVSU with a major in computer science or mathematics and a resident of the Mississippi Delta or Leflore County.
Mr. Boclair graduated from MVSU, receiving his Bachelor of Science in Computer Science and Mathematics. While attending MVSU, he was initiated into Kappa Alpha Psi Fraternity Incorporated, Zeta Zeta Chapter, in 1979. He also was a star on the MVSU Tennis Team.
Sharon explained what she thinks about what the scholarships will mean to the parents of the young people who receive the assistance. 
"Each year, I want at least one parent or parents not to worry about tuition for their child," she said. When I think about the calls I received from young people who shared what my husband meant to them and what he did for them, it makes me smile, and I want that same feeling for the students and parents this foundation helps."
Professionally, Boclair served as a leader and a mentor at the National Aeronautics and Space Administration (NASA) for more than 40 years. He joined Marshall Space Flight Center in 1977 through the Cooperative Education Program at MVSU. He worked within the Data Systems Laboratory until he transferred to the Systems Analysis and Integration Laboratory in 1982.
During his time at NASA, Boclair served in various areas, including the Flight Operations Branch of the Systems Analysis and Integration Laboratory and Data Management Branch, the Chief of the Huntsville Operations Support Center (HOSC), and Manager of Space Systems Operations.
One of Boclair's other loves was the world of NASCAR. He frequented races, and Deon Payne recalled how Boclair brought him and other men to enjoy the sport.
Over the years, Nathaniel A. "Buster" Boclair III brought so many brothers to the NASCAR Races at Talladega who usually would not attend. He gave more to this world than he took, and the love he shared will have a lasting impression on those lives he touched," said Payne. 
"We commit ourselves to his legacy by contributing to the Nathaniel Boclair Scholarship Endowment at Mississippi Valley State University, his beloved alma mater. This will give deserving young people resources and the opportunity to realize their dreams while at the same time preserving Nate's legacy. He blessed my life through his untiring loyalty and friendship," Payne added.
Payne shared that they affectionately called their group the NASCAR Diversity Committee and named Nate as the chairman. He said, "Nate loved people, he enjoyed seeing everyone around him have fun, and he would do whatever was in his power to help a fellow brother."
At the Talladega race on April 24, 2022, the group paid tribute to Nate. Sixteen brothers, most of who had attended the races with Nate over the past 20 years and a couple of men that never had the opportunity to meet Nate, attended the race in his honor.
Nick Benjamin, one of Boclair's NASA mentees, said, "Mr. Boclair was a man who wore many hats, had many talents, received many accolades, and with that, he never let any of that get in the way of being a man of humbleness, character, and dignity," he said. "He always expected excellence from the people around him. He made you step your game up from his presence," Benjamin added.
Benjamin said as he got to know Boclair, he saw just how much of a giant of a man he was, and soon after, Boclair became his mentor.
"He is one of the biggest reasons that I am where I am today with NASA. He not only was a mentor, but he also treated me as family, and I will always cherish that. He will always be remembered for who he was at NASA, but I will always remember the mentor and friend he was to me," said Benjamin.
Dr. Kevin Barnes explained how Boclair's support, coaching, and willingness to invest in him are primarily why he now serves as the team lead for the NASA branch that Boclair led for many years.
"Nate believed in the power of mentoring, the ability to share the knowledge gained over a long and successful career. In addition, he cherished his ability to give back to the students attending HBCUs and Minority Serving Institutions by providing summer internship opportunities to students within the branch," said Barnes.
"Nate never concerned himself with position, title, or perceived rank in the organization, as he treated each student with respect, which made them feel valued. Although they were only part of the team for a brief period, their opinions and thoughts mattered. His impact on all of those who knew him is immeasurable. As such, I have made it a lifelong career goal to continue the mission Nate started and continue to mentor the next generation of students in his honor," Barnes added.
Make all donations payable to Mississippi Valley State University For Bolclair Scholarship Endowment. Send to: Sharon Boclair, 7565 Addison Drive, Huntsville, Alabama 35806.