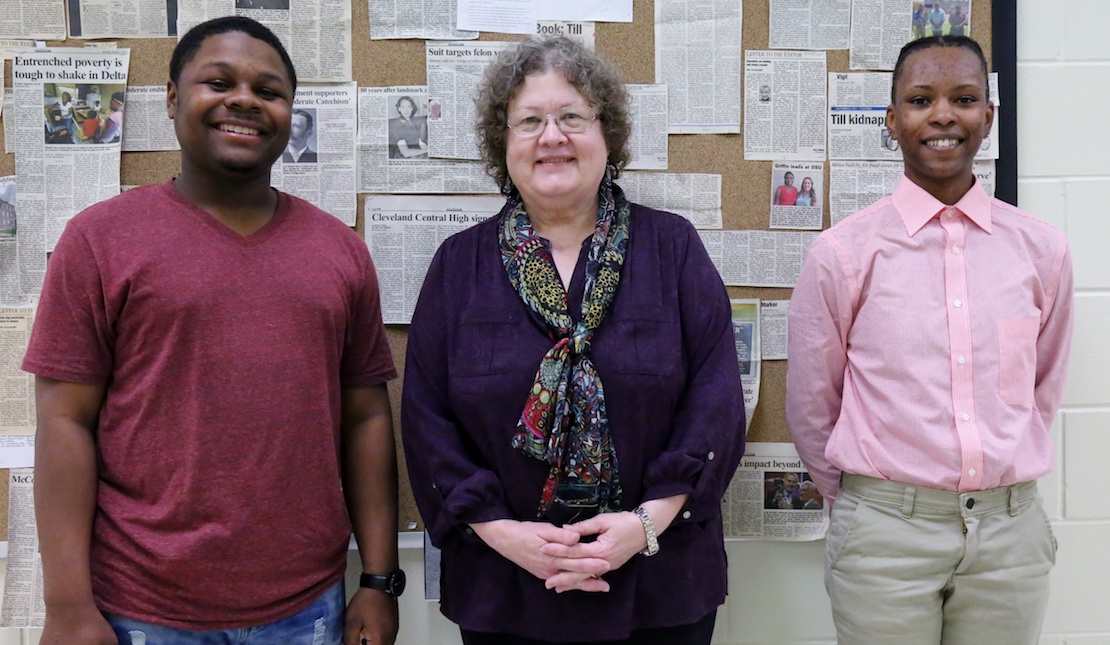 ITTA BENA, Miss.— Jermarlius Rushing of Cleveland and Egypt Williams of Itta Bena have a lot in common.
The Mississippi Delta natives are both History majors who will cross the stage at Mississippi Valley State University in May to receive their bachelor's degree.
But the commonality between Williams and Rushing has grown even more as hosts of a new MVSU radio program. The pair are the voices of "History Behind the News," a WSVD 91.7 radio show on current news topics and their historical background.
The show launched in January 2018 under the vision of Dr. Kathryn Green, an MVSU History professor.
"I am trying to develop a way where our history students and other students who are interested can analyze the news from a historical perspective," said Green. In other words, they can see what's behind these new things that we're seeing."
The first show aired Jan. 12 and Jan. 14 and served as an introduction to the preparation involved in researching the Cleveland (Miss.) School District desegregation case.
The second show, which aired Feb. 9 and Feb. 11, included an interview with the Rev. Edward Duvall, an active member of the Cleveland community, who discussed the parallels between public education and the desegregation case.
A graduate of one of the schools involved in the desegregation case, East Side High School, Rushing said he felt compelled to do the research.
"It was an experience just doing the research alone on the topic," said Rushing. Growing up in Cleveland and knowing what I thought I knew, I never wanted the consolidation. When we did the research and saw how long this had been drawn out and all the damage it caused, it changed my perspective."
Williams has also found the research aspect to be insightful. 
"It's great to know about history. It's not boring or repetitious; it helps us to understand what could happen in the future if we're not mindful of what happened in the past," she said. With this program, we are trying to get more people to look at the news see what's going on around them."
Before starting the radio show, Dr. Green charged Rushing and Williams with surveying the students at MVSU and the results were surprisingly positive.
"The survey showed that the majority of the students don't find history boring and that they would be extremely interested in a history-based news show," Rushing said. 
When examining the survey, Rushing developed an interesting theory concerning students' perceived lack of interest in History.
"I think it's not a lack of interest, but a drive away from history. When we are in high school, we weren't taught history; we learned how to take a test," he said.
"There is also so much emphasis on STEM disciplines and other programs that it's swaying students away from history," he added
However, Rushing now has a better appreciation for history.
"History is not what we think it is. It's not just remembering dates or studying Columbus. History is connecting events and understanding how we got to or what led us to where we are," he said.
Williams expressed similar sentiments.
"I was initially apprehensive about taking on (the desegregation case), but now I understand the why behind what happened and that is exciting," she said. My sister is nearly 20-years older than me, and she thinks she knows more and probably does. But while she knows who may have done what, I now understand why they did what they did."
Tune in to "History Behind the News" Fridays at 10 a.m. and Sundays at 5:30 p.m.  In addition, a recording to the program is accessible by visiting www.mvsu.edu and clicking the MEDIA tab (located on the menu at the top of the homepage).
For questions or comments, contact Green at klgreen@mvsu.edu; Rushing at jrush2013@gmail.com; or  Williams at egyptwilliams96@yahoo.com.