ITTA BENA, Miss.—Mississippi Valley State University students recently completed a crash course on avoiding online danger during a special lecture entitled "Cyberspace, Cybersecurity, and Cybercrime."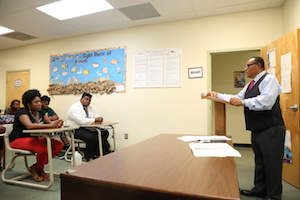 MVSU students from various majors assembled Wednesday, June 13, for the discussion, led by MVSU Criminal Justice Chair Dr. Emmanuel Amadi. The event was designed to enhance student's knowledge and understanding of cyberspace, cybersecurity and cybercrime.
During the lecture, Amadi detailed each concept by defining and describing the terms and sharing how they each uniquely affect the World Wide Web.
"The internet is a critical part of the cyberspace and was initially setup to provide open and unrestricted access to information and data," Amadi said.
He advised students that it is important to know how to protect their computer systems and networks, including mobile devices.
In addition, Amadi discussed hacking, illustrating how hackers infiltrate computer systems and networks to infect them with viruses.
The event was supported by funds awarded by the Charles Koch Foundation.