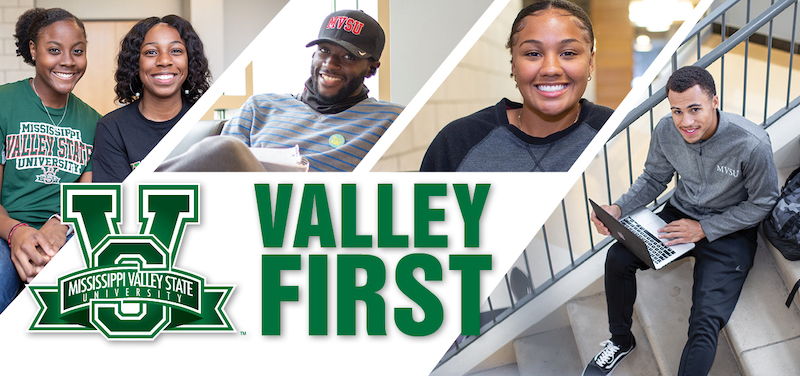 Mississippi Valley State University is excited to introduce a new scholarship to encourage upcoming first-year college students to elevate their education by enrolling at MVSU.
Dr. Jerryl Briggs Sr. announced the Valley First Scholarship initiative, which will offer scholarships to high school students who enroll as first-time, full-time freshmen for Fall 2023.
The scholarship program offers guaranteed funds to first-time freshmen who meet the minimum admission requirements and have been admitted to the university. Students will receive $1,000 ($500 for Fall 2023 & $500 for Spring 2024). 
The scholarship will be first come, first serve, and for students to be guaranteed the scholarship, they must have returned the university's intent-to-enroll form to the Office of Admissions.
"I am excited to introduce the Valley First Scholarship," said Dr. Briggs. "Funding a college education is challenging, and here at MVSU, we believe it is our responsibility to help students transition from high school to college. The Valley First scholarship will be in addition to any other university-supported scholarship a student may receive. Scholarships are hands down the best alternative funding source for our students because it's free, and students don't have to return any funds they receive," he added.
To qualify, students must have graduated from high school in the fall or spring immediately preceding enrollment into MVSU. For new first-year students starting in the Fall 2023 semester, you must have graduated high school after November 1, 2022.
Students who qualify for the scholarship must maintain full-time status (minimum of 12 hours) throughout the fall semester.
The Valley First Scholarship is a financial effort by Dr. Briggs and the University to continue offering students financial assistance as they navigate college. The university has intentionally found ways to assist students with financial hurdles.
In the fall of 2021, MVSU offered MVSU students who were Pell-eligible and maintained full-time enrollment an additional $3,000 in financial assistance during the Fall 2021 semester in the 'Valley in Motion Grant.' The university also gave students an additional $1,000 in textbook assistance.
Additionally, MVSU offered current students a fresh start in 2021 by forgiving debt for students with balances enrolled on or after March 13, 2020 - Summer 2021. With the clearance of balances, students could have financial holds removed from their accounts, allowing them to register for the Fall 2021 semester at MVSU.
For first-time freshmen attending MVSU, it is one of Mississippi's most affordable public universities. The university offers a variety of financial aid options, including academic, athletic, and private scholarships. In addition, with the "One Fee at the V" initiative, there are no out-of-state tuition fees.