By Donell Maxie, Communications Director
The Division of Academic Affairs at Mississippi Valley State University is pleased to announce Deborah Purnell as its 2020-2021 Humanities Teacher of the Year recipient.
"I am honored to be named Teacher of the Year by the Mississippi Humanities Council. This award could only have happened with the support of my department chair and the wonderful administration at Mississippi Valley State University," said Purnell.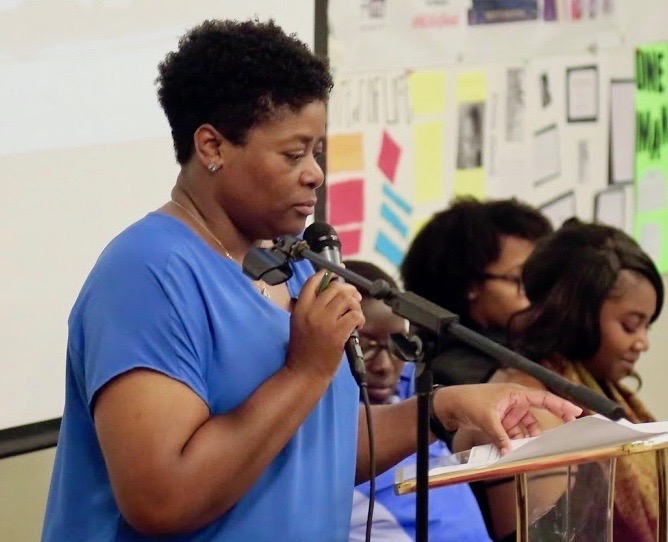 The Mississippi Humanities Council Public Humanities Awards recognizes outstanding work by Mississippians in bringing the humanities' insights to public audiences. This year's awards event will be presented virtually and stream over the Humanities Council's Facebook and YouTube channels on Friday, March 26 at 7 p.m.
Purnell will hold a virtual presentation at 11 a.m. Tuesday, March 16, 2021. Those interested can view the presentation via zoom. The title is "How Invisibility, Isolation, and Intersectionality Works to Further Class and Racial Antagonism for African American Women in John Singleton's Higher Learning."
Purnell, an English instructor and director of the MVSU Writing Center joined the Valley faculty in January of 2015 and shared her thoughts on Singleton's third feature film, Higher Learning.
"The film premiered in cinemas across America in 1995. Higher Learning experienced nationwide violence, as well as racial tensions during its opening week and several weeks due to the 1994 arrest of former NFL great O.J. Simpson, who allegedly murdered his ex-wife, Nicole Brown Simpson, and her friend, Ronald Goldman," she explained. 
"In wake or in response to the rising condemnation of all African American men because of Simpson's arrest, Singleton created Higher Learning and released it mere weeks before Simpson's 1995 murder trial." While the film has achieved cult acclaim in the 20 years since its release, it is not without issues," she added.
Purnell's presentation will acknowledge the film's highlighted themes of racial profiling and violence but also shine a light on how it fails to feature the voice of America's most-educated population, African American women.
"What's more, the two black women in the film are relegated to stereotypical roles, and one of the women is murdered at the end of the film to bring about peace," she said.
Purnell graduated from MVSU with a degree in English and a Master's of Arts degree from the  University of Mississippi in Journalism and English. She also has a Master of Fine Arts Degree from Full Sail University in Creative Writing. She resides in Oxford, Mississippi, with her dog Waffles.
Although the 2020-2021 school year came with its own new set of challenges, humanities faculty at Mississippi's colleges and universities continue to engage in significant work in their classrooms (or home offices), nurturing students' capacity to think critically and creatively, to evaluate points of view, synthesize information and weigh the evidence.