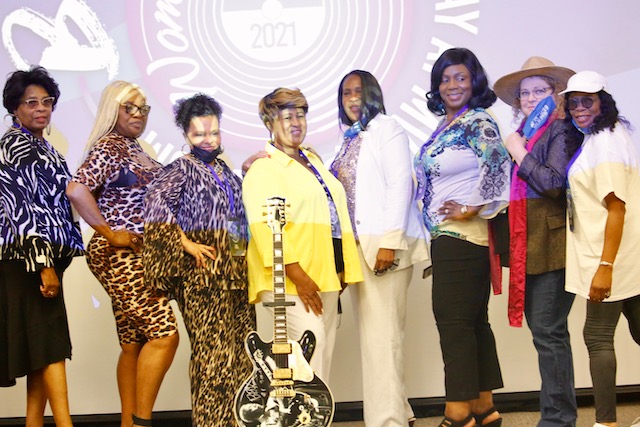 By: Jasalyn K. Lucas, Communication Specialist
The Mississippi Valley State University community recently received a touch of the blues when the institution hosted the 7th annual B.B. King Day Symposium.
Just like the iconic B.B. King mesmerized the world with his musical abilities, this year, it was the women who brought the thrills and sang the roof off of the Carver A. Randle Auditorium.  
Many trailblazing women have had a heavy influence on blues music. Because of that fact, the committee thought it necessary to pay tribute to "Women in Blues" during Symposium.
The special guests for the program included Teeny Tucker, Vickie Baker, Nellie Mack, Rachele Coba, Ms. Jody, Nellie Tiger, Ana Coday, and B.B. Queen.
Women of all ages in blues were celebrated during this event to inspire other African American women.
"We want to not only honor these female blues performers but also inspire more African American young people, especially females, to embrace the entire musical spectrum that comprises a critical component of our culture," Margaret Clark, B.B. King Day Symposium committee chair, said.
The symposium started with pre-day lectures on Wednesday, Sept. 1, 2021, where students engaged with Tucker and Baker during their presentations. Students were able to ask questions, sing songs and even dance with Baker during her presentation.
Following the lectures, a Celebration of Gospel event featuring the MVSU Valley Singers in collaboration with Coahoma Community College Concert Choir to conclude the pre-day event.
On Thursday, September 2, the celebration day was held and kicked off with a welcome from MVSU President Dr. Jerryl Briggs and a moment of silence in memory of several blues legends who passed.
The event started with a history session led by Tucker, with a short film titled "Wild Women Don't Have the Blues." This film showed the roles of 6 trailblazing women in blues music history, such as Ma Rainey, Mamie Smith, Bessie Smith, Alberta Hunter, Mahalia Jackson, and Sister Rosetta Tharpe, to name a few.
Despite their struggles, women paved the way and broke barriers in music and blues.
"Women created the ceiling we now call "sky is the limit." They were the role models and gateways leaders to performance platforms and record sales. These women didn't have to break the ceiling, they set it, and it remains high," said Dr. Alphonso Sanders.
After the history session, Tucker moderated a group of panelists, Nellie Mack, B.B. Queen, and Ana Coday, to discuss breaking music's glass ceilings and their journeys as musicians and traveling. After the panel, they all joined the stage with their guitars and played some tunes for the crowd.
Shortly after, Tucker led another session about "Women and the Changing Musical Landscape." Other trailblazing women in blues were discussed, such as Big Mama Thornton, Big Maybelle, Koko Taylor, Etta James, Mavis Staples, and Shemieka Copeland.
Wrapping up the day with another panel that included Nellie Tiger, Ms. Jody, and Rachelle Cobra, who talked about the younger generation of women in contemporary blues. They also talked about managing their careers, fame, and family.
"Women will continue to be the forefront of music, no matter what style or performance mode. The blues song is not in the lyrics; it has to be heard in your voice. So sing on sista' if you feel it," said Sanders.
Later in the evening, an event of blues performances was held at the B.B. King Museum and Delta Interpretive Center in Indianola, MS.
Blues is the heartbeat of the Mississippi Delta, and Mississippi Valley State University will forever honor all of the artists connected to it.
This year's event's sponsors included MS Blue Foundation, MS Blues Trail, Greenwood Convention & Visitors Bureau, MS Delta National Heritage Area, Delta State University, Delta Center for Culture & Learning, and Margaret W. Cla.