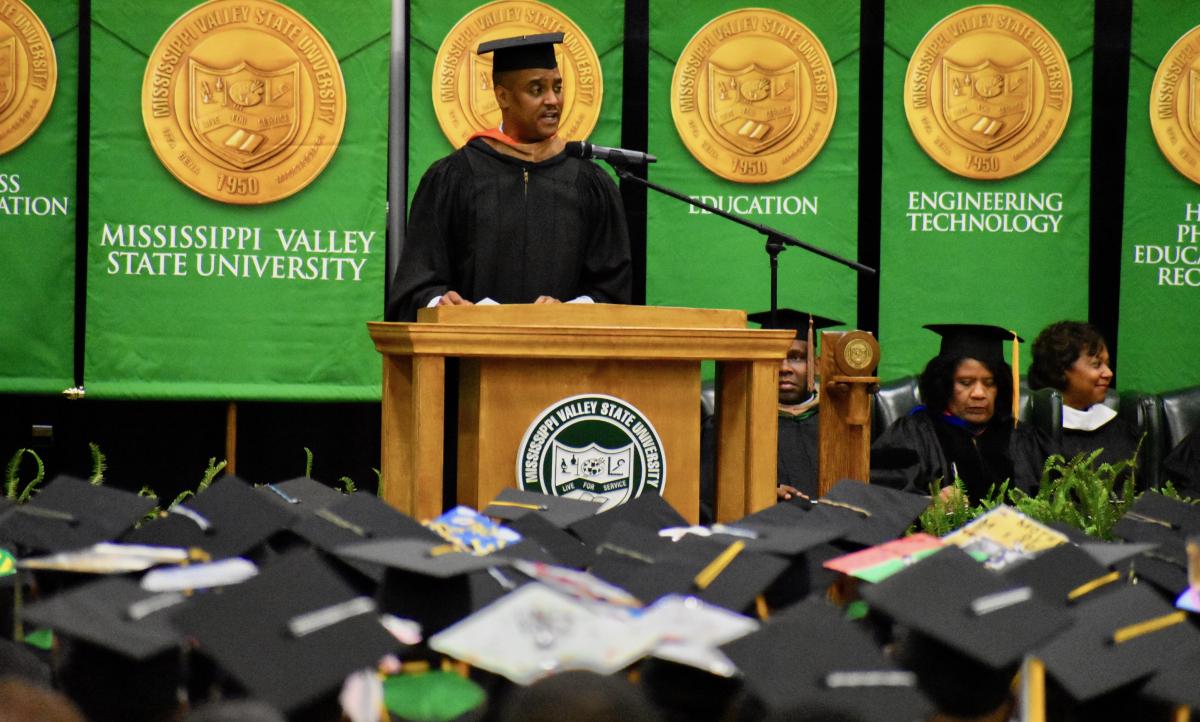 ITTA BENA, Miss.—President of Toyota Mississippi Sean Suggs equipped the "giant slayers" of Mississippi Valley State University's Class of 2018 with five stones to help them conquer success during Saturday's 66th Commencement Exercise. 
"You're graduating from one of the best Universities in the country. Did you know that only 35 percent of the 325 million folks in the United States have a 4-year degree? That means you're an elite class. I would say that you are giant slayers" said Suggs to the more than 500 MVSU graduates seated in the R.W. Harrison Sports Complex during the 8 a.m. and 11 a.m. ceremonies.
Alluding to the biblical story of David and Goliath, Suggs said that while David defeated Goliath with just one stone, he initially picked up five smooth stones from the stream.
"I imagine he picked up five because he wanted to have a backup plan," Suggs said.  You have proven that you are a giant slayer with the first stone by sitting here today as graduates. But what will you do next?" 
Suggs continued his commencement address by sharing words of wisdom on how the graduates can keep "slaying" with the other four stones of success. 
His advice for stones 2 and 3 was to dream big and trust your intuition.  
"Dreams with no goals are just dreams," he said. Set daily goals and objectives to live out your dreams."
Asking those in attendance to repeat the Japanese phrase "Ikigai," which translates as "your reason for being," Suggs challenged the graduates to find and live out their purpose.
The fourth and final stones were to be risk takers and to have a great attitude about life. 
"At Toyota, we challenge our team member to take risks every single day—to be creative, challenging and to be courageous," said Suggs, who is responsible for the manufacturing and administration functions of Toyota's Blue Springs-based plant. Every great leader I've ever been around have been leaders who have tackled challenges and taken great risks."
Suggs said that, ultimately, attitude is what will set MVSU graduates apart. 
"I believe your attitude is the engine; it's the asset that you have to separate you from everyone else," he said. Your attitude can shift the tide and make you and the company you're working with great."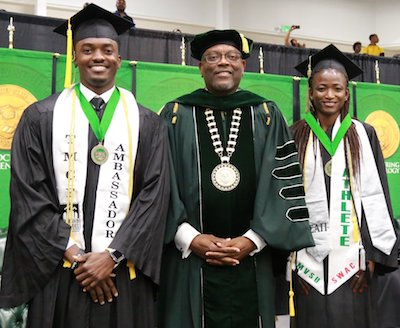 During the ceremony, graduates Henry Akaeze of Lago, Nigeria (B.S. in Computer Science and B.S. in Mathematics) and Laadi Issaka of Accra, Ghana (B.S. in Health, Physical Education and Recreation) received special recognition for earning a 4.0 cumulative grade point average.
Also featured during the ceremony were the "Golden Graduates", who commemorated 50 years since their graduation as the 16th graduating class of the then Mississippi Valley State College. 
"You all came here for a degree, and you've achieved that," said MVSU President Dr. Jerryl Briggs during closing remarks. But the education that you all received is priceless. We know that education changes lives; education changes communities. Education can change the world. So make sure you use it as a tool for growth."
Briggs' final bid to the Class of 2018 was to share their knowledge and love for MVSU with the world. 
"As graduates, my charge to you is to give—give back to others and help someone else," he said. Congratulations, I'm so proud of you all, and I know you're just getting started."