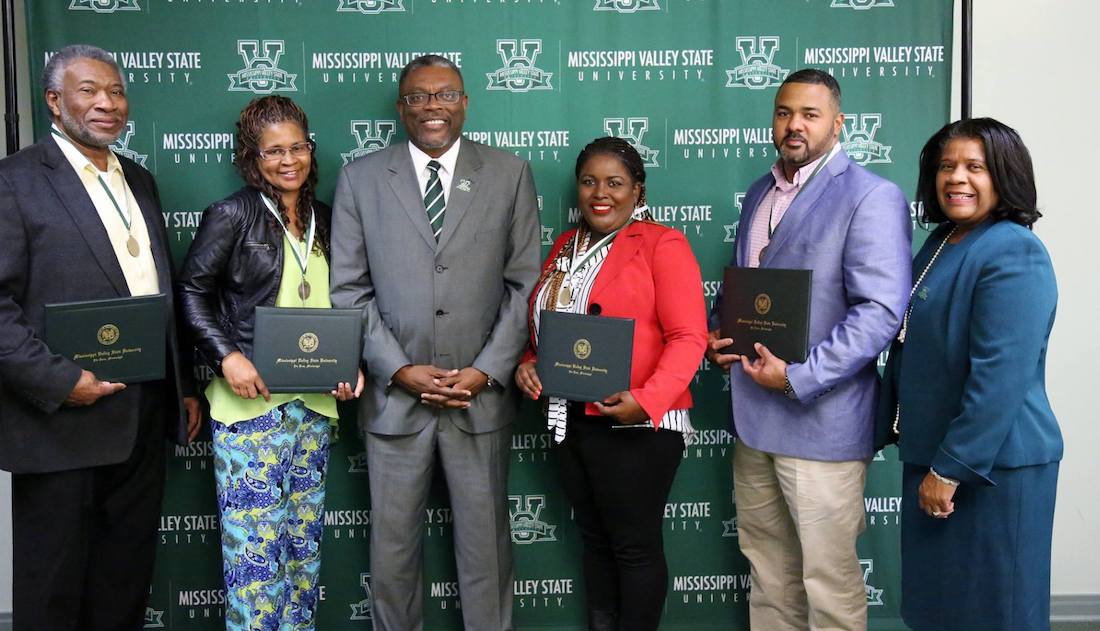 ITTA BENA, Miss.— Four individuals who had some college hours but hadn't earned a degree   received an early Christmas present—a bachelor's degree from Mississippi Valley State University by way of the Complete to Compete (C2C) program.
MVSU celebrated its first group of C2C graduates during a special ceremony, hosted at 11 a.m. Dec. 14 in the William Sutton Administration Building.
A state-wide initiative, C2C encourages Mississippi adults who have some college coursework to finish what they've started.
During the ceremony, the graduates shared the unique circumstances that hindered their degree completion.
For Mark Myles of Belzoni and Tommie Rush Jr. of Indianola, it was the need to support their growing families.
Myles said he'd earned an associate's degree, but always wanted to complete a bachelor's degree for further advancement in the workforce to help support his wife and two kids.
"I took time and reached out to Mrs. (Shearra) Hardwick at MVSU about the C2C program, and it worked out for me," he said.
Rush said his journey began in 1978 when he attended an out-of-state university as a star football player. However, after just one year, the school faced dire financial problems and was forced to let their football team go.
"I had two choices—I could go to Mississippi Valley or Delaware State," Rush said. I chose to come to Mississippi Valley and it was the best thing I've done."
Soon after starting school at MVSU, Rush took on a full-time job. His grueling schedule included working from 10 p.m. to 6 a.m. before heading to classes at MVSU at 8 a.m.
He would eventually stop attending college.
"I've worked the same job for 37 and a half years. I've been married for 34 years, and I have four adult children, so I've had a great life," Rush said.
Yet, he always carried the desire to finish what he started at MVSU.
"I've always wanted to complete my degree so that I could become the first male in my generation to graduate from college. Now, I can represent," he said with a grin.
Gertrude Stewart of Greenville said she was attending MVSU, but stopped when her mom became ill.
"Because I'd gotten a little older, I didn't want to return to the classroom with young students who were fresh out of high school, so I'd really given up on getting my degree," she said.
Fortunately, she ran across an article in her local newspaper about the C2C program and decided to learn more. She said the process was very easy, and she had dedicated faculty and staff members at MVSU to help along the way.
Now with a bachelor's degree in tow, Stewart said she can work towards her goal of becoming a teacher and will receive a pay raise at her current job.
MVSU C2C graduate Gloria Sturdevant of Metcalfe expressed a similar sentiment.
She's been working for the Children's Defense Fund's Southern Rural Black Women's Initiative for Social Economic Justice for 14 years and learned about the C2C program from an MVSU Chief of Staff and Legislative Liaison La Shon Brooks.
"That was in early September, and here I am today," she said. "It just blows my mind."
Sturdevant said having a bachelor's degree will help her to complete more of her life goals.
"I just feel like I'm called to do work in the Mississippi Delta, and this degree will really help me to accomplish a lot more," she said. I just want to say thank you to Valley and the C2C program."
MVSU Vice President of Academic Affairs Dr. Constance Bland said the C2C program was designed to help more Mississippians earn a college degree with little or no additional course work.
"Approximately two years ago, all of the public colleges and universities in the State of Mississippi were asked the question, 'Can we do more to increase the number of college graduates in the state?'" Bland said. Today, we see the fruits of our labor."
According to Dr. Elizabeth Evans, MVSU associate vice president of Academic Affairs, the circumstances of MVSU C2C graduates are reflective of the reality for many Americans.
"Research shows that approximately 31 million Americans have completed some college without earning a degree—whether that's an associate's degree or a baccalaureate degree," Evans said. "C2C is designed for all adult learners who have some coursework completed in Mississippi. That institution does not have to be Mississippi Valley State University, but you know we want it to be."
In addition to degree completion pathway, the C2C offers a "reverse degree" component that allows individuals who have taken some junior college courses before transferring to a university to receive an associate's degree and the option to return to a four-year institution for a bachelor's degree.
The program also offers tuition-assistance grants to qualified individuals, Evans said.
MVSU President Dr. Jerryl Briggs invited the four graduates back to campus to participate in the Spring 2018 Commencement Exercise.
"This type of event, for me, is very special because it shows the dedication and hard work, as well as the support and love, that this university has for the community," he said.
"I know you're proud, I know your family's proud, and we are proud of you here at the University. I'm appreciative of you all for taking advantage of this opportunity and choosing Mississippi Valley State."
Degrees award included:  Mark Myles of Belzoni, Miss., Bachelor of Arts in General Studies with concentrations in Advanced Learning and Engineering Technology; Tommie Rush, Jr. of Indianola, Miss., Bachelor of Arts in Advanced Learning with concentrations in Business Administrations and Accounting; Gertrude Stewart of Greenville, Miss., Bachelor of Arts in General Studies with an concentration in Advanced Learning; and Gloria Sturdevant of Metcalfe, Miss., Bachelor of Arts in General Studies with concentrations in Advanced Learning, Public Administration, and Physical Education.
To learn more about the C2C program, visit www.msc2c.org or call (662) 332-8389.
CLICK HERE to see more photos from the ceremony on MVSU's Facebook page!