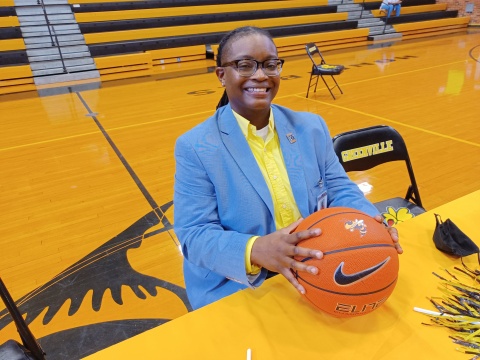 Courtesy of David W. Healy, with the Delta Democrat Time
Janee' Ford was not trying to make history when it was announced that she would be the new head coach of the Greenville High School boys basketball.
Ford became the first-ever woman to lead the boys' basketball team in the school's history, which was established in 1866. In addition, she is likely the first-ever woman to coach a high school boys basketball team in the Mississippi Delta.  
"I just want to coach young student-athletes," she said. "Whether it is boys or girls, my goal is the same. I want to teach them the skills they need to not just succeed in the classroom but life."
While Ford, 32. was not looking to break down this particular barrier, she said she certainly understands its significance and the responsibility that comes with it. 
"It means a lot, especially because I graduated from here," Ford said. "I sat in these same chairs that the young girls are sitting in now. I am doing something for the young girls at Matty Akin Elementary and Trigg Elementary. I am showing them that if they want to coach a boy's team, it is possible. I am showing them that whatever they want to do in life is possible. I would have never imagined this moment to have happened, but it has." 
Greenville Public School District Superintendent Debra Dace and Greenville High School Principal Tarrinasha Jones collaborated to hire Ford and athletic director Michael Banks. After an extensive search, Ford was the obvious person for the coaching position.
A big factor in hiring Ford, said Dace, was that Ford had recently spent five years coaching the boy's basketball team at Coleman Middle School. A number of the boys Ford coached in middle school are expected to play on the Greenville High basketball team.
"We took into account the work she has done in the past, serving as the head boys basketball coach at Coleman Middle School. The last two years she has coached at Coleman, I have seen the passion, the drive, and the dedication she has for student-athletes," said Dace.
"I also think hiring her sends a great message to our students. It tells them that if you have a dream, you should continue to pursue that dream. You have to continue to work hard despite what anyone says, and eventually, you will knock down some of the barriers that exist."
Ford said her ongoing relationship with the players on the team was a big reason she applied for the position.
"I have been in the gym with these kids since they were sixth grades," she said. "I have coached them, and I have also taught them in the classroom. They are all student-athletes. The game of basketball has no gender.
Ford said she expects to have tryouts for the team in the coming weeks. Greenville High School is currently on a virtual schedule because of COVID-19. However, students are expected to return to campus on Sept. 8.
The Greenville High School basketball teams missed an entire season last year because of COVID-19.
Ford played basketball at Greenville-Weston High School from 2003-2007. She graduated from Mississippi Valley State University in 2013, and she is expected to receive her master's degree from Jackson State University later this year.
Ford replaces Delmar Sprouse, who announced in March that he was stepping down. Sprouse spent five years at the helm of the Hornets and, in his last two years, led the team to back-to-back playoff appearances, including a trip to the state tournament in Jackson in 2018.
Ford said she knows there will be pressure to succeed in her trailblazing role.
"There is always pressure to succeed as a coach," she said. "My male counterparts will have pressure as well because we are all coaching to win our district and then go to the state playoffs.