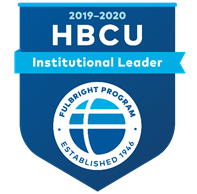 Mississippi Valley State University (MVSU) is proud to be named a Fulbright Historically Black College and University (HBCU) Institutional Leader for the 2019-2020 academic year. 
For the second consecutive year, the U.S. Department of State's Bureau of Educational and Cultural Affairs (ECA) recognizes the noteworthy engagement that selected HBCUs have achieved with the Fulbright Program, the U.S. government's flagship international educational exchange program. MVSU has been named one of 20 HBCUs to receive this distinction.
Fulbright HBCU Institutional Leader status has been conferred on this group of 20 HBCUs, including MVSU, because they have demonstrated noteworthy support for Fulbright exchange participants during the 2019-2020 academic year and have promoted the Fulbright Program opportunities on campus.
ECA established the HBCU Institutional Leader designation in 2019 to recognize the strong partnerships between the Fulbright Program and HBCUs and encourage HBCUs' entire network to increase its engagement with Fulbright. This initiative is part of the U.S. Department of State's long-standing commitment to building diversity and inclusion within the Fulbright Program and all Bureau's international exchange programs.
"To date, five current and previous MVSU faculty members were awarded Fulbright Teaching and Research Award.  Of these, two remain at MVSU," said Dr. Kathie Stromile-Golden, MVSU Provost/Senior Vice-President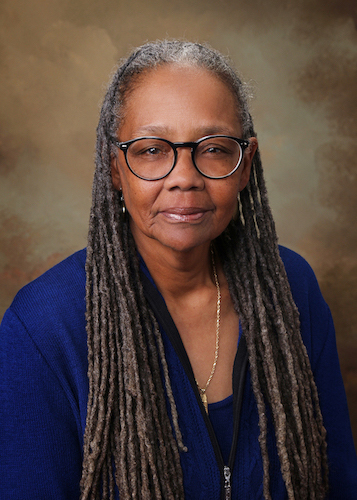 for Academic Affairs.
"Participation in the Fulbright Foreign Language Teaching Assistantship Program has enabled MVSU to offer critical languages (Arabic, Chinese, Russian, and Portuguese) for more than eight years. We have invited more than eight scholars for the Fulbright Scholar in Residence Program for short-term visits to the campus and co-hosted Scholars in Residence from Uganda and Cameroon. Overall, the various Fulbright Programs have facilitated our vision of introducing our students to other peoples, cultures, and societies," added Golden.
Dr. Lokesh Lokesh Shivakumaraiah, Executive Director of International Relations at MVSU, shared that the Fulbright Programs provide a great opportunity for faculty to engage in research and academic collaboration with scholars and organizations worldwide.
"Fulbright support students with short-term and degree-seeking study abroad programs. Valley has hosted 27 Foreign Language Teaching Assistants Programs that taught Arabic, Russian, Kazakh, Spanish, and Chinese language courses. Our faculty have participated in Fulbright U.S. Scholar Programs. During Fall 2021, we will be hosting two FLTAs who will be teaching Russian and Arabic languages and will be applying for Fulbright Scholar-In-Residence programs," he said.  
Acting Assistant Secretary of State for Educational and Cultural Affairs Matthew Lussenhop praised the designated institutions, saying, "Congratulations to this year's 20 Fulbright Historically Black College and University Institutional Leaders. We salute you and your institutions for your engagement with the Fulbright Program, and for your commitment to providing life-changing opportunities to students, faculty, and administrators,"  
Lussenhop explained how HBCU participation is critical to fully represent the diversity of the United States through the Fulbright Program.
"Fulbrighters from HBCUs carry their identities and school pride with them abroad, allowing people from other countries to learn about these accomplished individuals and this dynamic group of American institutions and their distinguished legacy. Foreign Fulbrighters hosted by an HBCU return home with new knowledge, an appreciation of the United States, and a broadened perspective on America," he added.
The Fulbright Exchange Program is the U.S. Government's premier international academic exchange program. A hallmark of the Fulbright Program has been its longstanding commitment to diversity, striving to ensure that its participants reflect U.S. society and societies abroad.
The Program's robust diversity strategies and initiatives have included collaboration with a host of diversity-related associations and organizations such as the White House Initiative on HBCUs, the Hispanic Association of Colleges and Universities, the National Clearinghouse on Disability and Exchange, the American Association of Community Colleges, Diversity Abroad, as well as a host of others.
The Fulbright Program also works with diversity-focused media and is engaged with hundreds of minority-serving institutions and other diverse colleges and universities. The Program is keenly aware that its efforts to increase and enhance diversity must be coupled with inclusion and has taken various measures to help ensure that its diverse grantees have successful and rewarding exchange experiences abroad. 
2021 marks the 75th Anniversary of the Fulbright Program. Celebrations throughout the year will highlight the impressive accomplishments and legacy of the program and its alumni over its first 75 years, both in the United States and around the world. A dedicated 75th-anniversary website (www.fulbright75.org) will be updated throughout 2021 to showcase Fulbright alumni, partner countries, and anniversary events.
The Fulbright Program was created to increase mutual understanding between the United States and the people of other countries. The primary source of funding for the Fulbright Program is an annual appropriation made by the U.S. Congress to the U.S. Department of State's Bureau of Educational and Cultural Affairs.
Fulbright is active in more than 160 countries worldwide and partners with participating governments, host institutions, corporations, and foundations in foreign countries and the United States. Many of these organizations also provide direct and indirect support.
ECA sponsors the Fulbright Program, and several non-profit, cooperative partners implement and support the program on the Bureau's behalf. For further information about the Fulbright Program or the U.S. Department of State, please visit http://eca.state.gov/fulbright or contact the Bureau of Educational and Cultural Affairs Press Office by e-mail ECA-Press@state.gov.
On June 3, the Fulbright Program will host a Fulbright HBCU Symposium to discuss Fulbright opportunities and resources for HBCUs, the benefits of a Fulbright experience, and the Fulbright Program's role in supporting HBCU campus internationalization, global awareness, and engagement.
This public workshop is open to all HBCU faculty, staff, stakeholders, and individuals from other institutions interested in attending. This symposium will celebrate the Fulbright HBCU Institutional Leaders by spotlighting the unique role HBCU students, faculty, and administrators play in representing American higher education and the American experience in our country and worldwide.
Highlights will include remarks by the Acting Assistant Secretary of State for Educational and Cultural Affairs, Matthew Lussenhop; a keynote address by Fulbright alumna and President of Prairie View A&M University Dr. Ruth Simmons; and workshop sessions to assist HBCUs in strengthening their relationship with the Fulbright Program.
The event will close with a panel of representatives of Fulbright HBCU Institutional Leaders who will share how their campuses use the array of Fulbright Program offerings to meet their institutional goals.
The workshop is free to attend and open to the public.  Registration is required.  Please find more details about the event and register here.
For more information about this and other planned events to celebrate HBCU engagement with the Fulbright Program, please see the calendar entry on the Fulbright 75th-anniversary website: https://fulbright75.org/event/2019-2020-fulbright-historically-black-colleges-and-universities-hbcu-institutional-leaders/.