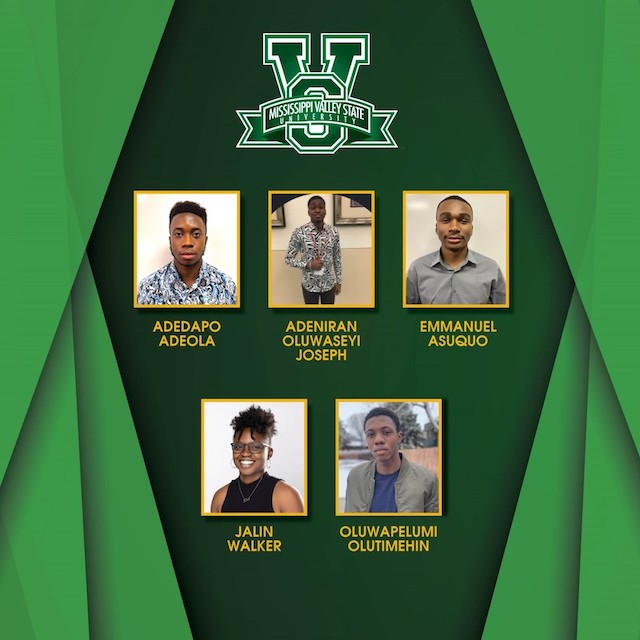 Jasalyn Lucas, Communication Specialist
Itta Bena, Miss- This summer, students from the Mathematics, Computer, and Informational Sciences (MCIS) Department of Mississippi Valley State University have promising internship opportunities with some top companies. MCIS students will be working with companies such as Google, Morgan Stanley, Amazon, Camp Cobbosee, Twitter, and Apple. These MVSU students from the MCIS department include:
Jalin Walker, Baton Rouge, LA. (Mathematics/Math Education); Emmanuel Asuquo, Nigeria (Computer Science & Mathematics); Adeapo Adeola, Nigeria (Computer Science & Mathematics); Adeniran Oluwaseyi Joseph, Nigeria (Computer Science and Mathematics) Oluwapelumi Olutimehin, Lagos, Nigeria (Computer Science); and Onyebuchi Oparanadu, Lagos, Nigeria (Computer Science and Mathematics). 
The students shared their excitement and expectations for their internships this summer.
Jalin Walker, a senior, has an internship with Camp Cobbossee. Walker heard about the Camp Cobbossee internship opportunity through an app called Handshake.
"I'm very excited to make connections. I get to travel to states I've never visited with this internship. Aside from that, I think I'll meet some great people along the way," said Walker.
Walker also added, "while there, I believe I'll learn a lot about another culture and part of the United States while also learning to be a better person."
This internship will last nine weeks and take place in Monmouth, Maine.
Emmanuel Asuquo, an upcoming senior and the Mister MVSU elect for the 2022-2023 academic year, did research to find the internship that would best fit his major, Computer Science and Mathematics.
Asuquo says he is excited about his internship and ready to meet people in the same field as him. "I will get to understand what it is like to work for a company and gain more experience in my line of work," said Asuquo.
Asuquo will be interning at Morgan Stanley for ten weeks, where he will be learning how to expand his computer programing skills and create software.
Adedapo Adeola, an upcoming senior at MVSU, has an opportunity to intern with Apple and HBCU Scholars Program.
"Valley prepared me for the internship through their unique academic map and class structure. I was very excited about the opportunity," said Adeola.
Adeola added, "Apple has always been one of my dream companies, and getting notified that I got an internship from Apple filled my heart with a sense of happiness and fulfillment."
Adeola says that the emails from career services have helped him get this internship opportunity. He also feels that learning outside the classroom grants a chance to learn about new software and opportunities.
"I expect my experience at my internship to be insightful and prepare me for how things are done in an industry setting. It also gets me ready for the roles and expectations of a Software Engineer," he said.
Adeniran Oluwaseyi Joseph, a junior at MVSU, will intern with the popular social media network Twitter. Joseph expressed that Twitter has been a dream company for him to work with.
"I was thrilled and excited when I got the email offering me an internship position at Twitter. I worked hard towards this in terms of preparation, so to finally get my reward was great," Joseph said.
He says that the technical and coding skills taught at MVSU have prepared him for this internship opportunity and expects this internship experience to challenge him in a good way.
"It's a great opportunity for me to gain hands-on learning experience and development. In addition, taking on exciting challenges and working on cutting-edge technology projects that impact people's lives will be very pleasant," said Joseph.
Oluwapelumi Olutimehin, a junior MVSU student, has an internship with Amazon, and he says that the MCIS program at Valley helped him ace the interview with excellent preparation.
Olutimehin is thrilled about this internship; he says, "I expect it to be a nice experience. I feel it will be a great learning opportunity and an opportunity to contribute to something meaningful and major."
He added, "I'll have the opportunity to work with experienced software engineers and learn from them. I will also learn from new state-of-the-art software and technologies."
Onyebuchi Oparandu, a junior student at MVSU, has an opportunity to intern with the popular search engine, Google.
This is Oparandu's second internship with Google. He started interning with Google as a part of their Second-Year Student Training in Engineering Practicum (STEP).
As a result of the excellent performance in the STEP program, Oparandu is transitioning to Google's Software Engineering Internship program. He expects his experience to be challenging, insightful, and unforgettable.
"I believe I will learn a lot of things from this internship by learning how to effectively analyze and solve problems on a much larger scale and work in a corporate environment where I must trust and believe in my teammates' abilities," said Oparandu.
He also added, "I believe I will learn about new computer science concepts and how to apply them in various scenarios and how to create and design products that have the potential to address the needs of different people with different identities and beliefs."