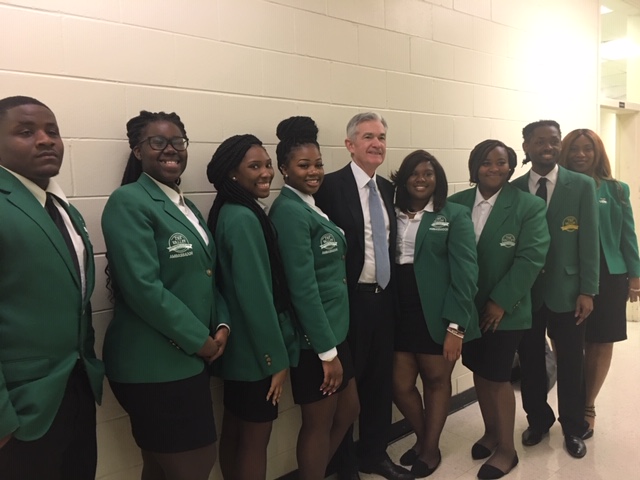 ITTA BENA, Miss.—Industry, banking and community development leaders from more than two dozen states were on the campus of Mississippi Valley State University Tuesday, Feb. 12, having candid, action-oriented dialogue regarding financial service gaps that limit economic mobility for rural people and places.
HOPE Enterprise Corporation and Credit Union hosted the two-day event, themed "Rural Places, Rural Spaces: Closing Financial Service Gaps in Persistent Poverty America", which capped-off in the Carver A. Randle Auditorium of MVSU's Social Science Building with a policy forum. The forum was highlighted by a keynote address from U.S. Federal Reserve Chairman Jerome Powell.
Prior to delivering his speech Tuesday, Powell met with a group of MVSU students for a conversation about the function of the Federal Reserve. The students also had the chance to learn more about Federal Reserve careers and internships with Federal Reserve Board Chief Human Capital Officer Tameika Pope.
"Meeting with Chairman Powell was incredibly beneficial because it provided us, as students, with a different understanding in regard to public policy and banking," said MVSU junior Deveon Treadway of Chicago.  "I did not know some of the things that Chairman Powell shared with us, and it was a great opportunity to ask some questions about what goes on behind the scenes in our country. Out of any other place, my school was chosen, and I'm very appreciative of that."
The forum, which featured several robust panel discussions, kicked-off with a welcome from MVSU President Dr. Jerryl Briggs.
Briggs said he's grateful that MVSU is a part of the work that companies like HOPE are doing to raise the profile of the Mississippi Delta.
"We realize the importance of what this university means to the community and the number of graduates from this university who are doing some outstanding things," said Briggs. "We're on the rise—we're being strategic in our growth; we're being strategic in our partnerships, and we're ensuring that this university will be viable and sustainable for the next 100 plus years."
During the event, Hope Enterprise Corporation/ HOPE Credit Union CEO Bill Bynum also formally introduced the Historically Black Colleges & Universities- Community Development Financial Institutions (HBCU-CDFI) Mobility Strategy Guide.
HOPE, along with the Federal Reserve Bank of Atlanta and the HBCU Community Development Action Coalition worked with MVSU and Jackson State University to assess community and economic development needs and opportunities in neighborhoods adjacent to their campuses. The results were compiled in the strategy guide, which details lessons, best practices, and resources identified through the process that can be adopted by other HBCUs and CDFIs seeking to collaborate towards upward economic mobility for HBCU communities and stakeholders.
"We still believe that education is the most direct way for one to climb the economic ladder," Bynum said.
During his keynote address, Powell used the platform to address challenges of persistent poverty, found in many rural areas like the Mississippi Delta.
He said that education and workforce developments, entrepreneurship and access to financial services are all remedies that can help address challenges of rural poverty.
"MVSU's mission, providing young people an affordable college education, is itself a very powerful ending poverty program. For its graduates, of course, but also for other communities that are touched by the university," he said.
Recounting MVSU's humble beginnings as a vocational college, Powell said that through it all MVSU has continued to produce teachers who "enrich, inspire, and spark the imagination of children" in the Mississippi Delta.
He continued by highlighting the crucial role that MVSU and other HBCUs play in their communities, noting that for much of the 20th century, HBCUs were the primary means for Black men and women to obtain the education needed for middle class or professional jobs.
Powell also highlighted the fact that larger percentages of HBCU students compared with students at predominantly white institutions (PWIs) come from low-income families and are the first in their families to attend college.
"This university and other HBCUs support intellectual leadership, creativity and innovation. I want to honor (MVSU) for your proud history and your continued commitment to a better future for your students and the region where many of your students were born and will build their lives and raise their families," he said.
According to Powell, data at the national level shows a strong economy with unemployment low and economic output growing at a steady pace.
"But we know prosperity has not been felt as much in some areas, including many rural places," he said. "Poverty remains a challenge in many rural communities. Unemployment and mortality rates remain high in these communities…many of these disparities have existed for generations and, in some places, have roots in discrimination."
Powell argued that education benefits both the student and the community. He said that while it is true that some young people leave their hometowns to seek greater opportunities, many young families are drawn back home by family and social ties. He then used MVSU graduate Timothy Lampkin as an example.
After relocating to Mobile, Ala., Lampkin returned to his hometown of Clarksdale to launch several businesses, including Higher Purpose Co., a non-profit organization committed to helping people of color start and grow their own businesses.
"As with Tim and his clients, entrepreneurship opportunities can motivate residents who have left rural communities to return home. Successful communities find ways to help residents turn skills into profitable small businesses," he said.
Powell closed by reiterating the importance of access to financial services—the focus of the forum.
"Access to safe and affordable financial services is vital, especially among families with limited wealth—whether they're looking to finance an education, start a business or simply manage the ups and downs of life," Powell said.
"Family income and savings represent the largest source of students' funding of an education. However, more than half of students and their families also 'borrow' to finance their studies. Racial wealth disparities make black students more likely than white students to borrow for their education," he added. 
Pointing out most banks' reliance on credit scores when evaluating loan requests, Powell also noted the fact that high poverty regions tend to have a large percentage of people with "no" or low credit scores.
"This combination of low wealth and low credit scores limits access to credit or causes borrowers to turn to higher cost sources of credits. Fortunately, CDFIs are helping potential borrowers improve their credit and providing them with safe and affordable credits," he said.
Before his final remarks, Powell reiterated his argument that people in rural communities who are struggling with persistent poverty need access to high-quality education from pre-school through college, support for their aspirations to own their own business, and access to safe and affordable credit.
"I will conclude by applauding both MVSU and HOPE for their long-term contribution towards bettering the lives of the people in Itta Bena and similar rural communities," he said.
Bynum expressed gratitude to the Valley community for its role in making the event a success.
"We thank Mississippi Valley State University for providing the perfect venue for this conversation about economic mobility—making sure that everyone has the opportunity to climb the economic ladder," he said.
"Quite frankly I can think of very few institutions who play a more important role in accomplishing this than Mississippi Valley State University, here in the heart of one of the most economically distressed parts of the United States…They are producing leaders and people who are going to spread out around the country and make sure that students like them have opportunities."
Click HERE to view more photos from the event on MVSU's Facebook page!