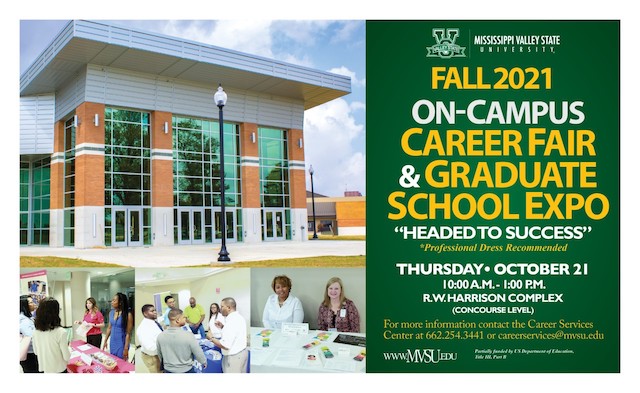 The Career Services Center at Mississippi Valley State University will welcome over 40 organizations for the Fall 2021 Career Fair from 10 a.m. to 1 p.m. Thursday, October 21, 2021, in the R.W. Harrison Complex. 
As MVSU moves forward with making things as normal as possible on campus for students, the Career Services Center will host an in-person career fair while offering a virtual career fair and graduate school expo.
This event collaborates with the Student Government Association who has a theme of "Headed for Success."
Essie Bryant, MVSU's director of career services, said, "We will stay in compliance with the CDC and MS Department of Health guidelines for health and safety precautions which only require a mask indoors."
Bryant said that students would have the opportunity to network with over 40 vendors of companies, school districts, and graduate school representatives.
The fair is available to all students in all classifications and majors and employers from all industries. During this year's event, attendees will engage with prospective employers, participate in mock interviews and receive a free professional headshot.
"This event is an excellent way to foster students' career development beginning with their freshman year through graduation," said Bryant. Being able to offer an in-person career fair is a big step that both students and employers are looking forward to," she added.
Employer participation in this semester's career fair consists of recruiting full-time, part-time, and paid internship opportunities. In addition, students will have a chance to have a mock interview conducted by career fair representatives during the career fair.
"This is a valuable opportunity that every student should take advantage of, to help learn how to answer difficult questions, develop interview strategies, improve communication skills and work on areas of improvement, Bryant said."
Also, Trent Calvin Photography will be on-site, providing free professional headshots. You can sign up through the QR code or the Genius link for the headshots offered on October 21, 2021, at the Career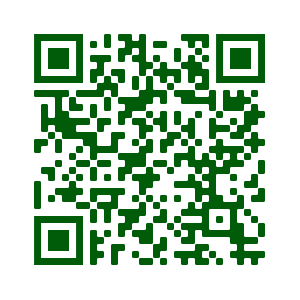 Fair. https://www.signupgenius.com/go/70A0D49A9A62BA7F49-headed.
Companies and School Districts that have signed up include:
Academic Partnerships
Arkansas Colleges of Health Education
Chicago Police Department
City of Memphis
Consolidated Electrical Distributors, Inc.
Core Civic
Dollar General
Double Quick-Refuel
Dr. Arenia C. Mallory Community Health Center
Forrest General Hospital
Gracon LLC
Grambling State University
Greenwood Leflore Consolidated School District
Internal Revenue Service (IRS)
Logan University
Madison Metropolitan School District (WI)
McAfee Safety Analysis, Inc.
Memphis Teacher Residency
Memphis Theological Seminary
Mississippi Achievement School District
Mississippi College Office of Graduate and Professional Studies
Mississippi State University Graduate School
MVSU Graduate Programs
Navy Medical Officer Recruiting of Central Mississippi
Rankin County School District
Ross University School of Medicine
Saba University School of Medicine
Starkville Oktibbeha Consolidated School District
State Federal Credit Union
The Graduate School - North Carolina State University
The University of Memphis School of Law
The University of Tennessee Health Science Center Pre-Health Scholars Internship Program
Truett McConnell University Office of Graduate Admissions
Tulane University School of Professional Advancement
University of Tennessee College of Social Work
University of Tennessee Health Science Center - College of Health Professions
University of Tennessee Health Sciences Center College of Nursing
Urban Ed Academy
Waffle House
William Carey University - Master of Biomedical Science Program
WIN Waste Innovations
For questions or more information, contact Bryant at (662) 254-3851 or e-mail careerservices@mvsu.edu.