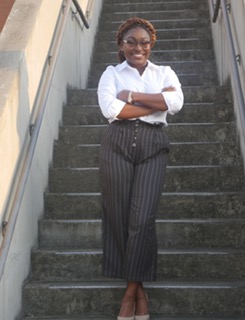 ITTA BENA, Miss.—This summer, Mississippi Valley State University's Tayia Hayes of Tutwiler has been working and studying with the United States Department of Agriculture's (USDA's) Insect Cryobiology and Entomology (ICE) Network at North Dakota State University.
The ICE Network is a group of undergraduates, graduate students, postdocs, North Dakota State University faculty, and USDA-ARS government scientists all working together to study insect physiology.
A collaboration between Biological Sciences and the USDA-Agricultural Research Service (USDA-ARS), the program is interested in using biological questions to solve agricultural problems, especially when it comes to bees.
Hayes was introduced to the opportunity through MVSU Professor Dr. Rachel Beecham, who then connected her with the program's director, Kendra Greenlee.
The ten-week program began on May 27 and concluded on Aug. 3.
"Things have been going great, and I feel research could be a possible career path of mine," said Hayes, a biology major at MVSU.
"The process in itself is extremely rewarding—especially when the data compliments your hypothesis. All in all this experience has been a great one and I hope to return or continue my research experience in other avenues," she added.
Hayes has been conducting entomology research with megachile rotundata, commonly known as the Alfalfa Leaf-cutter bees.
"The summer project that I have involves heat stress. My research attempts to see how heat affects the Alfalfa Leaf-cutter bees considering they are poikilothermic ectotherms—meaning they can't control their own body temperatures," Hayes explained. 
The goal of the ICE Network is to understand how bees overcome harsh winter conditions to successfully emerge and reproduce in spring. North American bees spend most of their lives overwintering in a physiological state that protects them from the damage caused by low temperatures and conserves resources necessary for reproduction during the growing season.
Since joining the program, Hayes said she has learned a great deal of information.
"This summer has taught me many things that I was not aware of—one of them being bees are becoming endangered and that they pollinate a large part of our diet through fruits and vegetables," Hayes said. "Without bees we will lose that essential food group."