The HBCU Campaign Fund (HCF) has released the annual Ten Most Dominant HBCU Leaders Award recipients & fourth class of 2021. Mississippi Valley State University President, Dr. Jerryl Briggs Sr. was selected as one of the honorees.
The Ten Most Dominant HBCU leaders Award & Class is a national recognition ranking created by the HBCU Campaign Fund, a non-profit that advocates for historically black colleges and universities (HBCUs) and Minority-Serving Institutions (MSIs).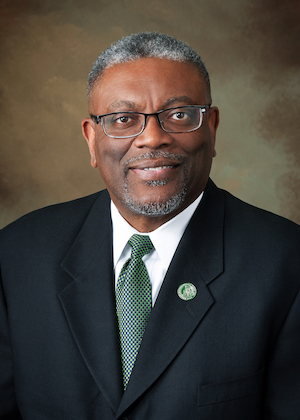 "I am honored and thankful for this recognition. The service we provide to our students is vital, and it is the job of the entire campus community to ensure that our students receive the best education possible. Individually we are good, but together we're great. Mississippi Valley State University is truly In Motion," said Briggs.
Joining Briggs on this year's list of chancellors and presidents are Wayne A.I. Frederick (Howard University), David Kwabena Wilson (Morgan State University), Jimmy R. Jenkins, Sr. (Livingston College), Glenda B. Glover (Tennessee State University), Kent J. Smith, Jr. (Langston University), Adena Williams Loston (St. Phillips College), M. Christopher Brown II (Kentucky State University), Brenda Allen (Lincoln University -PA) and Leroy Staggers (Morris College).
According to HCF's President & CEO, Founder Demetrius Johnson Jr., the fourth selected group of leaders have "proven their responsibilities for shaping policies, changing perspectives, and making decisions that affect millions of individuals lives in the higher education space, and the daily needs of what an HBCU or Minority-Serving Institutions contributes."
Briggs has over 30 years of professional experience in higher education and was unanimously selected to become the eighth President of Mississippi Valley State University (MVSU) on October 19, 2017. Before being named President, Dr. Briggs served as Acting President and as Executive Vice President/Chief Operating Officer at the University.
Briggs is an avid supporter of HBCUs and said, "HBCUs are most dear to my heart. They have been a part of my life, both educationally and professionally. I deeply value our experiences, and we must assure future generations have these same experiences on our campuses."
During his tenure at MVSU, Briggs has helped re-establish the University College model, which successfully improved the University retention rate by 10 percent for fall 2014 and 12 percent for fall 2015.
Also, he worked collectively with MVSU staff to increase overall university enrollment that resulted in a more than 200 percent increase in dual enrollment students for fall 2016 and an overall 11.4 percent increase over the past three years.
Briggs also managed a $17 million capital improvement project for the University's athletic complex, with additional planning underway for renovations to residence halls and other campus buildings.
He also solidified a partnership with FedEx Logistics, a FedEx Corporation subsidiary, to launch its Historically Black Colleges and Universities (HBCU) Program, making MVSU the prototype as the program's first HBCU partner. The partnership included opening a FedEx Logistics satellite office on MVSU's campus staffed with MVSU students. In addition to receiving a competitive wage and valuable work experience, the students are also eligible to receive full benefits and tuition assistance while they are in school, with the potential for full-time employment upon graduation.
During his tenure as President, Dr. Briggs has prioritized campus safety and infrastructure to complete a $500,000 outdoor lighting project and upgrades to the University's video surveillance system. The lighting project entailed light-emitting diode (LED) retrofitting of 516 exterior light fixtures to address safety concerns, lighting quality, and energy consumption. As part of the surveillance system upgrades, 346 cameras were added to university buildings' interior and exterior.
Click here to see the complete listing of award recipients and fourth-class inductees.
###
About the HBCU Campaign Fund
The HBCU Campaign Fund (HCF) was founded in 2012 and is a non-profit educational organization that remains a strong advocate for students and higher education. The mission of HCF is to support the significance and raise funds for scholarships, programs, and for private and public HBCUs and MSIs. For more information, visit www.hbcucampaignfund.org.