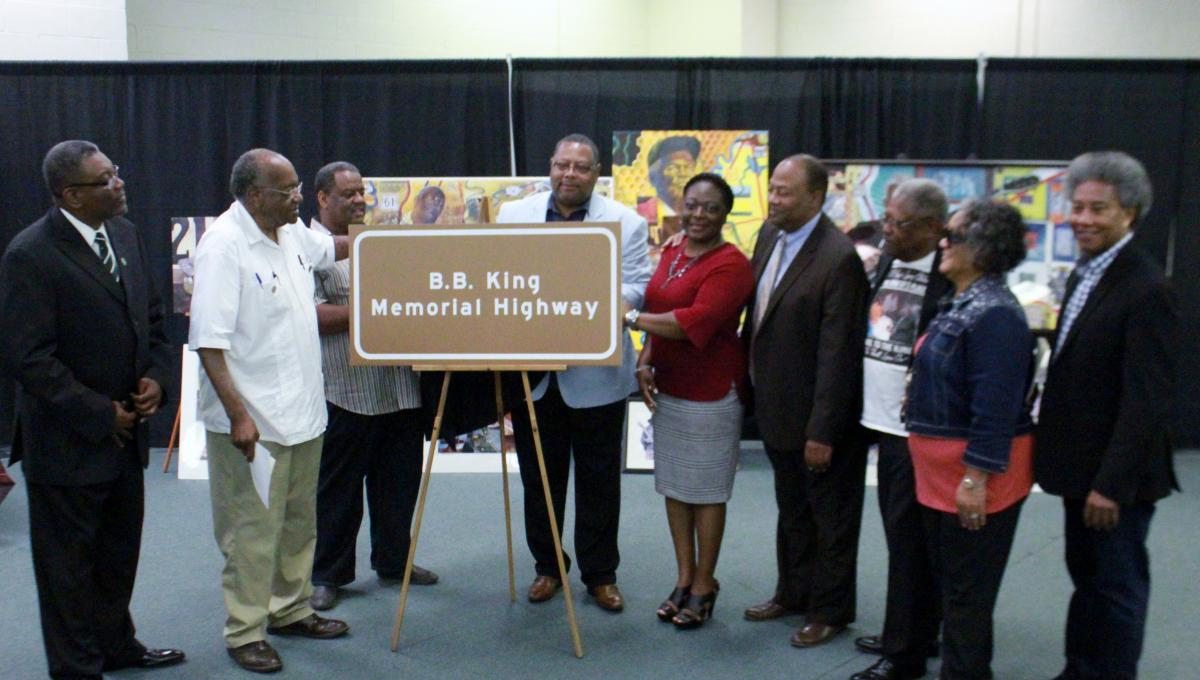 Mississippi Valley State University hosted the 3rd annual B.B. King Day Symposium on its campus Wednesday-Friday and welcomed a plethora of legendary blues musicians and blues contributors.
The event is held each year in celebration of the life and work of B.B. King and this year's event highlighted the "Chitlin Circuit Years."
"No one can talk about the blues and its role in the evolution of modern American music without talking about the "chitlin' circuit," said Dr. Alphonso Sanders, professor of music, chair of the fine arts department and director of the B.B. King Recording Studio at MVSU.
King's legacy was also celebrated with the naming of the section of United States Highway 82.
House Bill 907 enacted by the Legislature of the State of Mississippi designated that the section of the highway from Berclair Road to the point of its intersection with Valley of Scholars Boulevard in Leflore County is designated as B.B. King Memorial Highway. The dedication ceremony was held in the W.A. Butts Social Science Auditorium on Friday.
Senator David Jordan, District 24, spoke during the highway dedication ceremony and shared his memory of King when the legislature honored him at the state capitol. 
"B.B. King said he had been before many heads of state, but it was his first time ever being in the state capitol in his home state and wept," said Jordan. 
The celebration kicked off with symposium lectures on Wednesday with Malika Polk-Lee, director of B.B. King Museum; Bobby Rush, Grammy winning Blues artist; and Preston Lauterbach, author of "The Chitlin Circuit: Road to Rock n' Roll."
The symposium continued on Thursday with panel discussions, musical presentations, laughter, fun, food and memories.
Frank "Scrap Iron" Robinson, Jr. explained when talking about the Blues, "you have to have it in your heart to do this music."
People from all over the state and country visited MVSU for the celebration, but none traveled further than Ako Shichiji, who came from Tokyo, Japan for the symposium.
"I am a big fan of the blues and Mr. B.B. King," said Shichiji. I attended about 90 concerts of Mr. King between 1997 and 2014. I wanted to attend this event to honor him and his music and keep his legacy alive. I was very impressed with all the wonderful people I met here." She added.
Shichiji expressed how much she loves the blues and that it was Mr. King who introduced her to the genre.
"When Mr. King came to Japan I went to his concert and it was the first time I heard the Blues and it hit me like a thunderstorm," she added.
Greg Renda traveled from Alexandria, La. to be a part of the symposium.
"I heard about the symposium through the B.B. King Museum. When I found out about this I jumped on the chance to come. This has been an overwhelming experience," said Renda.
"How can you get this much talent in one spot at any price and listen to the real background of the chitlin' circuit and the blues. People don't have their guard up and they are telling it like it really is. This is my first one, but I plan to come back," Renda added.  
Vicky Baker, a 1984 MVSU graduate and blues singer shared her experiences and how much she loves music.
"When you are passionate about something you don't have a choice, it's like your heartbeat; you have to do it. It's what I think about before I go to bed at night; it's what I think about when I'm sleep," said Baker.
The celebration was on another level Thursday evening as blues musicians young and old along with blues enthusiast packed Club Ebony in Indianola for an evening of blues performances from various artists.