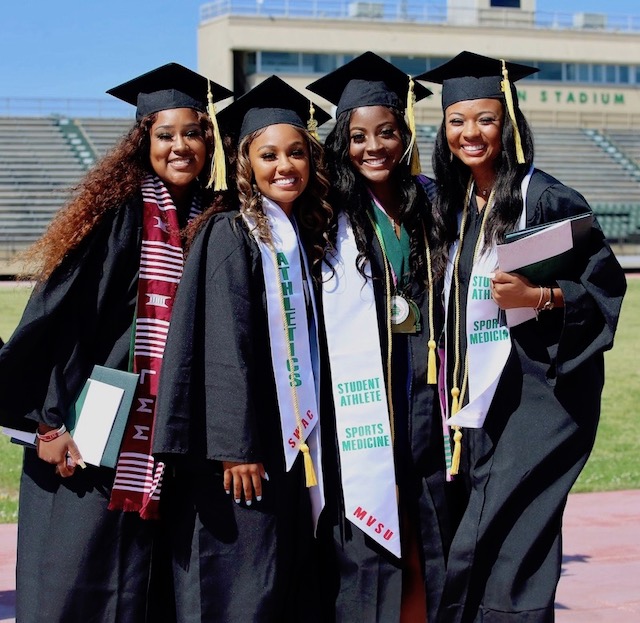 The four-year journey for many Mississippi Valley State University students culminated on Saturday, May 7, at the Rice-Totten Stadium for the school's 70th Commencement exercise.
Families and friends filled the stadium and watched as their loved ones received degrees from the Department of Business Administration, Criminal Justice, English and Foreign Languages, Fine Arts, Health Physical Education and Recreation, Mass Communications, Mathematics, Computer and Information Sciences, Natural Sciences and Environmental Health, Social Sciences, Social Work, and Teacher Education.
The university conferred degrees on 180 undergraduate students and 73 graduate students and honored 20 members of the 1972 class of MVSU (Golden Graduates).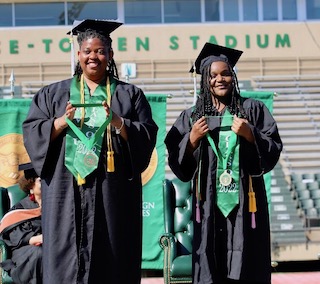 Dr. Jerryl Briggs, Sr., the eighth president of MVSU, presented an award of distinction to Jaylin R. Smith of Greenwood, who received a Bachelor of Arts degree in Mass Communications and Speech Communications, and Shakira Posey of Belzoni, who received a Bachelor of Arts degree in English. Both students earned a 3.97-grade point average.
If Bayeza, an award-winning playwright, director, composer, novelist, and educator, served as the commencement speaker and asked graduates if they were one in a million?
Bayeza shared how her father, a practicing surgeon and ringside physician, took her to meet Muhammad Ali when she graduated from college.
"I was completely unprepared to meet the greatest. I walk in, and he is sitting in all his majesty, and he asked me one question, 'are you one in a million? I didn't know how to answer that question, and it took me 40 years to answer it, and the answer is yes!"
She challenged each graduate in their unique way to work to move this nation toward its promise and show the world how democracy is done.
"I give you my very best wishes for a lot of good luck and a little of good trouble. Go forth and manifest your destiny," she said.
Bayeza also encouraged the grads always practice improvisation and to put 10-percent of their earnings away and tithe to themselves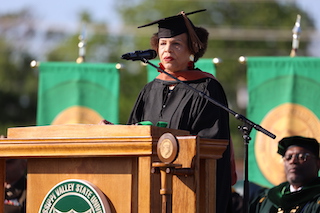 while also seeking out mentors and people who get them.
"Stay in touch with those you love and practice loving because anything gets better with practice. Dream big, and as Denzel Washington once told me, fail big too. At the end of every day, count five things you are grateful for and practice as a mantra that there is never anything in life worth taking your life," she expressed.
"Never think of yourself as a servant, but always serve your people. Always have a sense of humor, and stay true to your heritage and vision. See yourself as the future. I see you, and I have to wear sunglasses because the shine is so bright."