When John and Gladys McCall were informed that their then three-year-old son Jamarkus had autism, they were uncertain of his future.
Fast forward 18-years later, and the young man who was initially told he would probably be a C-student is about to graduate from Mississippi Valley State University with a 3.94-grade-point-average and a Bachelor of Arts degree in visual communication and graphic design.
For Jarmarkus, graduating with such high distinction is not uncommon, given that he also graduated from Amanda Elzy High School in Greenwood, Ms., as the 2018 class valedictorian.
The Sidon, MS., native has always believed in his ability, and that confidence began at home with his family, who challenged, loved, and supported him.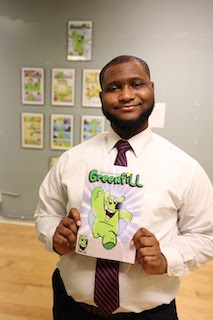 "My mom and dad have always been there for me and told me that I can do anything," said Jarmarkus. One of my biggest influences is my big brother (John McCall III). He is my best friend, and he helps me a lot," he added.  
His educational journey began at Amanda Elzy as it was one of the schools that doctors recommended to his parents that specialized in working with kids with autism.
While attending elementary, junior high, and high school, he was connected with instructors who worked to help bring him out of a silent phase and become comfortable opening up and talking to others.
"Jarmarkus has a serious speech impediment, and it affected his confidence and his ability to communicate clearly with others," said his father. However, with the help from teachers, his speech improved," he added.
"Teachers also helped Jamarkus build goals for himself as a student. For example, some teachers expected him to complete grade school as a C or D student, but he proved them all wrong," his father added.
Entering MVSU as a high school valedictorian allowed Jamarkus the honor of receiving a full academic scholarship. He decided to attend Valley because he wanted to remain close to his family.
"I love my choice to come to Valley. I have had a great time, and all the teachers have been great. I have learned so much, and it has helped me become a better artist," he explained.
Although his speech impediment was one of his main challenges in school, Jamarkus has excelled considerably as he completed most semesters with a 4.0-grade-point-average.
"Many of his teachers love him, and because they love him, they wanted to help him. He makes you want to help him," his dad said.
During his time at MVSU, Jamarkus had the opportunity of transforming his artistic ideas into an actual comic book. On April 28, 2022, Jamarcus presented his senior project, a comic book about a character named Greenfill. Jamarkus' personality and life experiences inspired the comic book.
"Greenfill is a lovable character who makes everyone feel that it is okay to make mistakes and to have someone understand them," said Jamarkus.
After graduating from MVSU, Jamarkus plans to attend graduate school, where he will study animation. He plans to continue Greenfill as a series eventually and wants to create other comic book ideas. He is also open to collaborating with people to develop illustrations for other comic books and children's books. Jamarkus envisions his hard work being displayed on television one day.