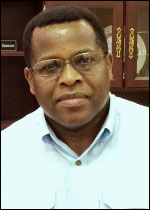 Chair's Message
Dear Prospective Social Sciences Student:
We are delighted that you have been admitted to Mississippi Valley State University as a choice for your higher education. We will even be more grateful if you would consider majoring in one of our social sciences majors in the Department of Social Sciences. The Department of Social Sciences  is home of five undergraduate programs: History, Political Science, Public Administration, Pre-Law and Sociology and a graduate program, Master of Arts in Rural Public Policy and Planning.
The Department of Social Sciences has more than fifteen full-time and adjunct faculty, trained in some of the finest universities in the world. The faculty is very experienced in what they do and their primary goal is to educate, motivate and inspire you to be the best you can be.
In the Department of Social Sciences, you can major in Government & Politics, and or Pre-Law if you are interested in pursuing a career in law, public service or not-for-profit agencies, or if you want to work for the local, state or federal government. You can also major in History if you are interested in teaching social studies in high or middle schools or major in sociology if you are people or research oriented.
The Department of Social Sciences sponsors the Mock Trial Team as well as clubs in History, Political Science, Public Administration and Sociology.
Faculty in the Department of Social Sciences assure you that your experience here will be enlightening, exciting and rewarding and as Chair, I will make sure that your concerns are addressed timely and your potential is maximized.
We are anxiously expecting to meet you and discuss further about our majors. You may contact the Department of Social Sciences at (662) 254-3352 or my office at (662) 254-3357 or email me at rjmushi@mvsu.edu  to make your transition to one of our majors' smoother and enjoyable experience.
Richard J. Mushi
Associate Professor of Public Administration
Chair, Department of Social Sciences
About Social Sciences
Description
In 1951, the Department of Social Sciences began offering the Bachelor of Science Degree in Social Science Teacher Education. Just as the needs of students and academic standards have changed over time, so too, have the Department's degree offerings and curricula. The Department presently offers five bachelor's degrees and a Master of Arts degree in Rural Public Policy and Planning.
Goals
The overall goal of the Department of Social Sciences is to have a competent faculty who will offer a curriculum that will prepare students with the necessary skills to function effectively in government agencies, industry, research and professional careers. Specific objectives pertaining to each degree program are stated under each degree program.
Degree Programs
The Department offers six degrees: Bachelor of Arts in General Studies, Bachelor of Arts in Government and Politics, Bachelor of Science in History, Bachelor of Arts in Pre-Law/Legal Studies, Bachelor of Arts in Sociology, and Master of Arts in Rural Public Policy and Planning. Students, with the assistance of an assigned advisor, are responsible for selecting course work that will satisfy both the University's and the Department's requirements for the particular degree program chosen. Requirements for graduation must be met under a curriculum included in a catalog. Specific requirements for each degree program are listed under course requirements.
Minors
The Government and Politics, History and Sociology degree programs offer minors.  In addition, the interdisciplinary Africana Studies minor is directed by the Coordinator of the History program.  For these minors, students select courses, as offered, from the English, Fine Arts, and Social Sciences degree programs.
Whatever the students' academic discipline, our faculty apply social science theories and research to real-world concerns. We engage in research, not only for academic publication, but also for public education. As a department we realize that research and action are fundamental to educating a new generation of scholars.
We endeavor to provide competent, supporting faculty and to offer relevant curricula that will assist in preparing students to enter and thrive in an ever-changing global environment. More specifically, our department strives to:
 Prepare students for entry-level positions in either the public, private, or non-profit sector;
 Prepare students for course work at the graduate level;
 Help students devlop the ability to think critically and reason logically;
 Assist students in achieving personal and career goals;
 Prepare students for responsible roles in society.
Students major in the Social Science because they want to change the world. We provide the skills so they can.
Clubs and Organizations
The Department of Social Sciences sponsors the following clubs and organizations: History, Model United Nations, Mock Trial, the Pre-law Club, Political Science, Public Administration, and Sociology. Some academic programs are affiliated with national honor societies: Pi Alpha Alpha—Public Administration Honor Society, Pi Sigma Alpha—Political Science, Phi Alpha Theta—History, the American Society for Public Administration (ASPA) and the Conference of Minority Public Administrators (COMPA)
Social Science Careers
Social science is a powerful academic foundation that provides you with the opportunity to develop skills employers value in employees including oral and written communication, interpersonal, teamwork, technical, analytical, critical thinking, organizational, and problem solving skills. A degree in social sciences prepares you for many career opportunities in many fields. Listed below are just a few of the career directions and potential employers each degree from Social Sciences will lead you toward.
Political Science
Political history archivist, public and private researcher, urban planner, customs agent or inspector, labor relations specialist, governmental relations, pre-law, veterans' claims representative, pollster, lobbyist, political aide, to mention few and potential employers include federal, state, local government; schools and colleges, corporations, media, political action committees, civic and taxpayer associations, regional planning councils, political party headquarters and candidates/campaigns.
Public Administration
Manager of wide range of government and nonprofit organizations, management analyst, program evaluator, human resources management specialist, budget specialist, emergency management specialist, policy researcher. Potential employers include national, state, local, and international government organizations; nonprofit organizations, courts, legislatures, policy research organizations, and private businesses, especially government contractors.
Sociology
Community organizer, market research analyst, statistician, opinion pollster, management trainee, government agencies at all levels, industrial sociologist, child welfare, case worker, demographer, social anthropologist, and many more. Potential employers include schools and colleges, governmental agencies, mental health agencies, court system, welfare agencies, large corporations, community agencies, financial institutions.
History
Archaeologist, college professor, historian, museum curator, archivist, research historian, secondary school teacher, and many more.
Pre-Law/Legal Studies
Civil lawyer, civil servant, corporate lawyer, criminal lawyer, diplomat, foreign service officer, government/regulatory official, lawyer, paralegal, teacher, legal assistant, legal secretary, and many more.
---