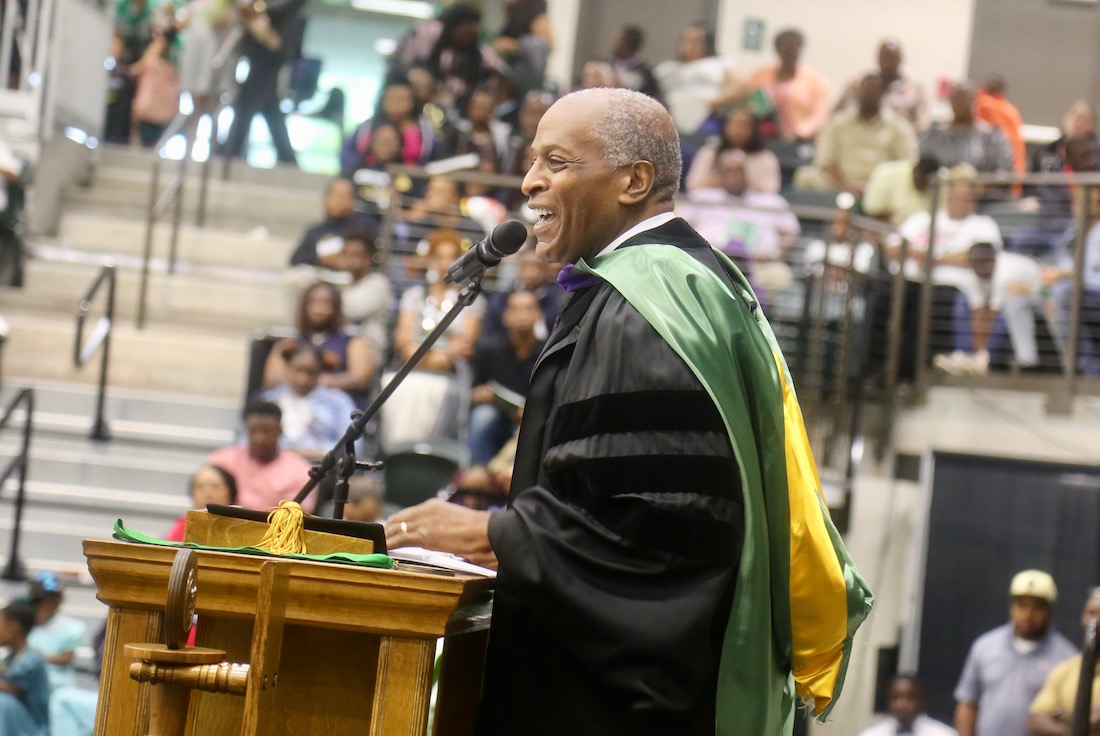 ITTA BENA, Miss.— Miracles happen all around us, and on Saturday, Attorney Victor McTeer told 480 graduates of Mississippi Valley State University that's precisely what they are.
"You are a miracle. I don't know what you did that was so miraculous, but you're here…you got this far. You're about to get your paper, and your future has endless promise. That is a miracle," said McTeer during the 8 a.m. and 11 a.m. ceremonies held in MVSU's R.W. Harrison Sports Complex.
McTeer then detailed his own tumultuous childhood—his mother passed away a few months after giving birth to him, and his father died unexpectedly two years later leaving him to navigate through life as an orphan in Baltimore, Maryland.
"I was adopted by two elderly black women who decided that they would use every opportunity they had to teach me one lesson, 'Boy, you're a miracle,'" he said. 
"They never let me forget the fact that I was born of a father who supported me, I was being raised by two women who adored me, and I was the child of a woman who died to have me. They told me that with a history like that, with a history like yours, you should have nothing but great expectations because you will do great things."
McTeer said that today's occasion was one worth celebrating.
"This is the most wonderful day of every college," he said. "This is the day that we get to see the product of everything that has been done. You are that product."
He then shared with the Class of 2019 several key points to take away as they begin their new journey.
The first was to believe in yourself.
"Knowledge is about changing the world and making it a better place. You are here to make the world a better place—not just for yourself, but for your families and your communities," he said.
McTeer said he found his life's work in Freedom City, Mississippi, located just south of Greenville.
"There, black folks were being kicked-off of the plantation solely for the reason that they dared to register to vote…I learned from them and soon found out that these were some of the smartest people I had ever met in my life," he said. "That is how I discovered I was a miracle; I had a passion, and I knew, for the first time in my life, what I wanted to do."
He then encouraged graduates to find their own passion.
"You have to find out what your passion is. You have to discover what it is that you want to do, and then you have to go about doing everything necessary to train for that position, to work for that position and gain experience."
McTeer also encouraged those in attendance to find a mentor.
"Mentors come in all shapes and sizes…find someone to help lead you along your path," he said.
He closed by reminding graduates of the importance of giving back.
"Learn to give to the people that gave to you. That is an obligation that we hold to our family, to our communities. If you think about all the people that helped you down the path—which one of them will you become?" said McTeer. "Look at the children today praying and hoping that they'll one day be sitting in your chair. You owe them that obligation."
During the ceremony, graduates Stormy Green of Southaven, MS, (B.S. in Health, Physical Education and Recreation) and Patrice Otero of Greenwood, MS, (Bachelor of Science in English Education) received special recognition for earning a 4.0 cumulative grade point average.
Also featured during the ceremony were 40 "Golden Graduates," who commemorated 50 years since their graduation as the 17th graduating class of the then Mississippi Valley State College. 
"This event really touches me because I know how special this is and I know what this means for you all as graduates, but I understand even more what this means for your families," said MVSU President Dr. Jerryl Briggs during closing remarks.
"You all are going to be world changers. In today's world, that's what we need, and we know that here at Mississippi Valley State University we change lives. I can't thank you all enough for choosing us to get a higher education. This degree means a lot, but the education you've received is priceless."
To view more photos from the ceremonies on MVSU's Facebook page, click HERE!