ITTA BENA, Miss.— Hard work and dedication are two of the main characteristics that often propel a college student to graduation and on to a successful career.
One Mississippi Valley State University student is on his way.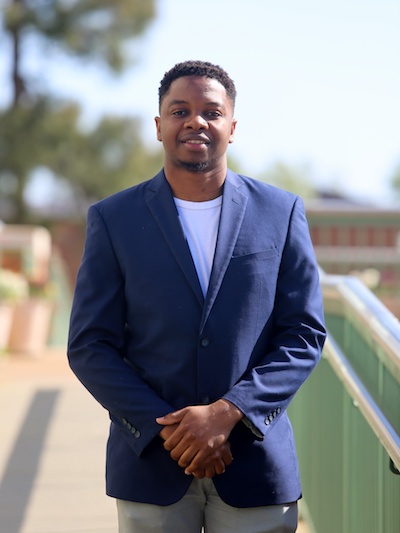 Victor Opurum will be graduating from MVSU Saturday, May 5, with bachelor's degrees in Mathematics and Computer Science.
Not only will the Nigeria native be crossing the stage to a degree but also a job; he has been offered and accepted a position with IBM in Littleton, Mass., as a software developer.
Opurum is set to begin his career on July 10.
"The journey from my freshman year doing research to performing internships at Dell and a company called SWAYS and now finally being able to put those experiences and technical skills to use to land a job with IBM is a dream come true," said Opurum.
From his humble beginnings as a youth in Imo State, Nigeria to his life at MVSU, Opurum said it has been all about the journey and the experiences he has shared with classmates, including many of whom are also international students.
"The job is great, but the journey to get here is what has been most exciting to me," said Opurum. Coming from Nigeria, I was always enthusiastic about opportunities. I came to Mississippi Valley in the fall of 2014, and I came with the mindset to work hard and achieve my goals."
One goal for Opurum was to become a software engineer or developer. This goal is rooted in his passion for creating specialized software applications for prominent organizations.
"IBM is a huge company and very innovative, so I'm excited to come onboard and contribute as well as learn from the great professionals there. I also will be giving back to (MVSU) as well because my school has helped me a great deal through the National Society of Black Engineers (NSBE)," he added.
His involvement with NSBE has played a pivotal role in Opurum's success.  It was during the annual NSBE convention that IBM reached out to Opurum to set-up an interview.
"Following my interview, they invited us to a reception and informed us of a successful interview. After that, they informed me that I had moved on to the next stage and was able to speak with a manager in North Carolina. I went through three stages and then I was offered the job," he said.
Opurum said what Valley has done for him is something he will never forget, and his motivation is to repay the faith that the institution had in him by representing it as best he can.
"This school and the organizations I had the chance to participate in has been very beneficial to me realizing my career goals," Opurum said.
"NSBE is a great platform for smart and like-minded students to get opportunities to join great companies," he added.
Before coming to MVSU, Opurum was a member of an organization called Education U.S.A. in Nigeria. A representative from Valley came to Nigeria and shared with Opurum great things about the University. 
"She encouraged the students at that time to apply to Valley, and that is when my friend Rowland Ifeanyi applied, was accepted and attended."
Having a friend come to the University provided Opurum with first-hand information on what the school was all about.
"Rowland shared with me, and when I arrived I also saw it for myself, the family togetherness that is here. Even though there are some cultural adjustments that I had to make being from a different place, I was always willing to embrace change for the better and always willing to learn as quickly as possible," he said. The people here made that transition easy."
Opurum, who had offers from other American institutions, said he chose MVSU for numerous reasons.
 "I came to Valley because I always wanted to combine math and science as majors and Valley allowed me to do that," he said.
"Another reason was that Rowland spoke well about the University and the fact that I would be able to have a personal relationship with my professors—that is not common at big schools with larger populations," he added.
Opurum said Valley's status as a historically black university is what sealed the deal.
"I did a lot of research on Historically Black Colleges and Universities (HBCUs) before I left Nigeria to learn what they were all about, and I wanted to come and make an impact to show that people who come from HBCUs can compete with people all over the world."
Mission accomplished, Opurum.