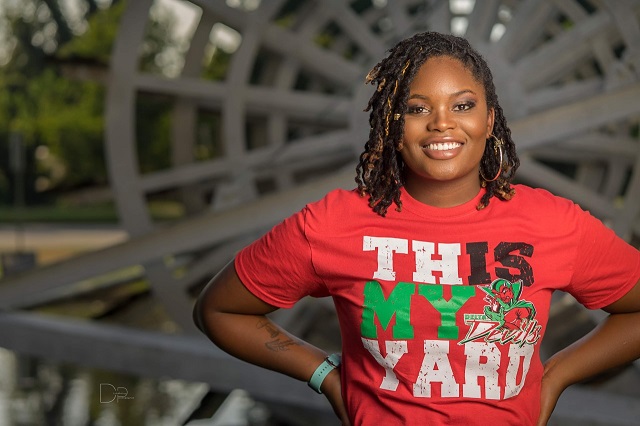 ITTA BENA, Miss.— "Complicated" is how Shaniqwa Barber of Greenville describes the first few years of her collegiate journey.
Although she faced personal hurdles, including starting at one school, then transferring to another, all while juggling a brief stint at military basic training, she eventually found her way. Despite the rough start, Barber prevailed and was among those who graduated from Mississippi Valley State University on Dec. 14 with a bachelor's degree in Computer Science.
Now, the Greenville, Miss. native has accepted a job to work as a software developer for FedEx in Collierville, Tenn., where she'll be in the corporate office working in the Cloud Engagement and Enablement Department.
A 2014 graduate of Greenville High School, Barber said she never imagined she'd be where she is today.
"I was shy and didn't talk to anyone when I first started college. I was so stuck in my life in Greenville that I didn't open up to make new friends," she shared.
Barber believes that if it had not been for her hard work and the commitment of the faculty in MVSU's Mathematics, Computer & Information Sciences (MCIS) department and one professor, in particular, she would not be in the position she is now.
"Initially, I commuted from Greenville, and one day, I heard students talking about internships, and I didn't know what that was about. I talked with Dr. (Candace) Carter-Stevens and asked if she thought I should move on campus. She said, 'Put your faith in God and move on campus.' That decision changed my college life," Barber explained.
"Thanks to Dr. Stevens' encouragement, I moved on campus and started working on weekends at my job at Pizza Hut instead of every day. It was like, 'Boom!' I got on campus and started doing work-study. I became a mentor for Robotics, I tutored, and I started going to conferences. Since I was on campus, I was exposed to more things. I attended an all-expense paid conference in New Orleans, and I was blown away by that," said Barber.
Also, Barber gained her first internship at the New Orleans conference. Following that experience, she said she returned to campus feeling empowered!
"My time at that internship gave me focus. When I returned, I felt unstoppable. Before moving on campus, I did not know how great my professors were and how much time and resources they provide us," she said.
"When I was on my own, my grades were suffering, but then I surrounded myself with people who were trying to accomplish the same goals as I was, and I started getting A's and B's," she added.
Finishing her college journey at MVSU is something that Barber describes as a "blessing."
"Valley gave me a solid foundation to learn whatever I need. I am so thankful to the MCIS department for helping to build my confidence, and as a result, I go out now and try to encourage young girls to go into the STEM disciplines. Because of my department, I feel ready for the world," she said.
With this chapter of her life closing, Barber said she wants all students following her to know that it is okay to step out of their comfort zone.
"I would encourage students to build relationships with other students and faculty. I want them to understand that the faculty is not their enemy—they are here to help."
"I want them to step out of their comfort zones, step out on faith and do something different to get different results," she added.
To learn more about MVSU's  Mathematics, Computer & Information Sciences (MCIS) department, call (662) 254-3422, e-mail mcis@mvsu.edu or visit www.mvsu.edu.