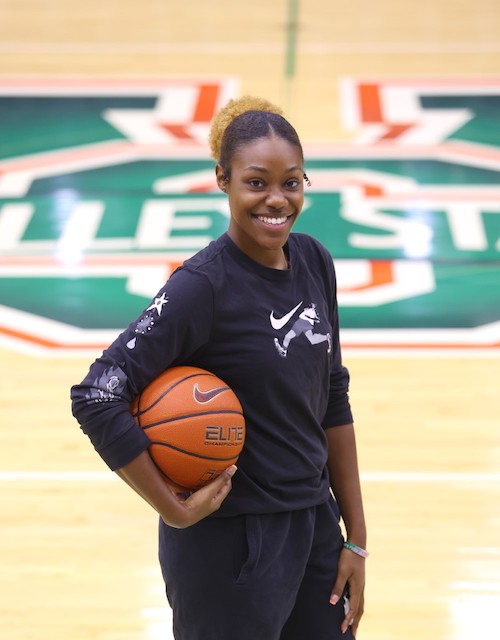 Athletics in the Totten Family is a way of life, so when Trasity Totten decided to become a basketball coach, it was a given. The twist in her story is that she has been named a new assistant coach with the Mississippi Valley State University Men's Basketball Team.
The 23-year-old Greenwood High graduate who played her college ball at The University of Arkansas at Pine Bluff and one graduate year at Grambling State University is excited about the opportunity to coach the sport she loves.
"I always wanted to coach, but I thought my first opportunity would be with a women's team. Being named one of the assistant coaches is a dream come true, and I am so thankful to Coach Ivory for giving me this chance. Hopefully, this will blaze a trail for other young ladies who may want to coach on this level," Trasity said.
Hakim McClellan, MVSU Director of Athletics, said bringing Trasity on board is a move he supports and is excited about for MVSU.
"We are excited to welcome Trasity to the MVSU family," said McClellan. "She has exemplary leadership qualities and great character. I think she is hard-working, passionate, and dedicated to helping to build a championship program. That commitment extends equally to the success our student-athletes will have off the court," he added.
Entering a new role can make a person anxious, and for Trasity, it is no different. She knows it is a huge step, but she is willing to take it to help her grow as a basketball coach.
"It's a little pressure, but it's nothing that will make me feel uncomfortable," she said. I am strong in who I am, and I know the game. Of course, men move faster and may be physically stronger, but basketball is basketball," she added.
Trasity is the daughter of MVSU Football Hall of Famer Willie Totten and expressed how she has been around MVSU for most of her life and is home to her. She also shared her father's role and influence on her life.
"I have been around coaching all my life. Being around my dad and my uncle Roger it's just second nature for me," said Trasity. My dad always told me if I let you quit now, you will always want to quit. That lesson translates to life, and so I believe in never giving up, hard work, and having a strong positive mindset," she added.
Her strong work ethic and positive mentality caught the attention of MVSU Head Men's Basketball Coach George Ivory.
Ivory is in his first year as the head man at MVSU, but he was familiar with Trasity during his time as the head coach at UAPB when she was a player on the women's team.
"Trasity has been around sports all her life. When she came to UAPB, she would help us with basketball camps and come around and help us with things around the office. I figured then she would make a great coach, so I think it is a great opportunity to hire someone from the area who knows a lot about Mississippi," said Ivory. 
The fact that Trasity is a young female coach on a men's team is not one of Ivory's concerns.
"I don't look at the fact that she is a female, I look at it as a chance to give a person an opportunity to get started, and I think she will do an outstanding job going from being a great basketball player and transitioning to the sidelines," Ivory added. 
"The little bit she has been doing with the players so far has been good. We have great young men who respect her and her authority. They understand that she is a coach, and the team has been responsive to her running drills and giving instruction," Ivory said.
Trasity initially approached Ivory when he was serving as acting director of athletics about an intern possibility. Her graduate program is sports administration, so Ivory agreed, and once she began working, he was thoroughly impressed with her discipline and eagerness to learn.
"She showed just how essential she could be in helping to run a program, and that's the type of work ethic a head coach wants in an assistant," Ivory explained.
Trasity said, "Coach Ivory, let me work. I was making calls, learning how to negotiate contracts, paperwork, and basketball-related things."
She believes this season will be tremendous in her development as a basketball coach. But, as she prepares for the season, Trasity knows that the key to maintaining respect from her players will be staying true to her character.
"I know that I will have to be firm and consistent. I cannot play with them sometimes and then try to get serious. Working to earn the player's respect by giving them respect is key to the relationship I am building with them," Trasity explained.