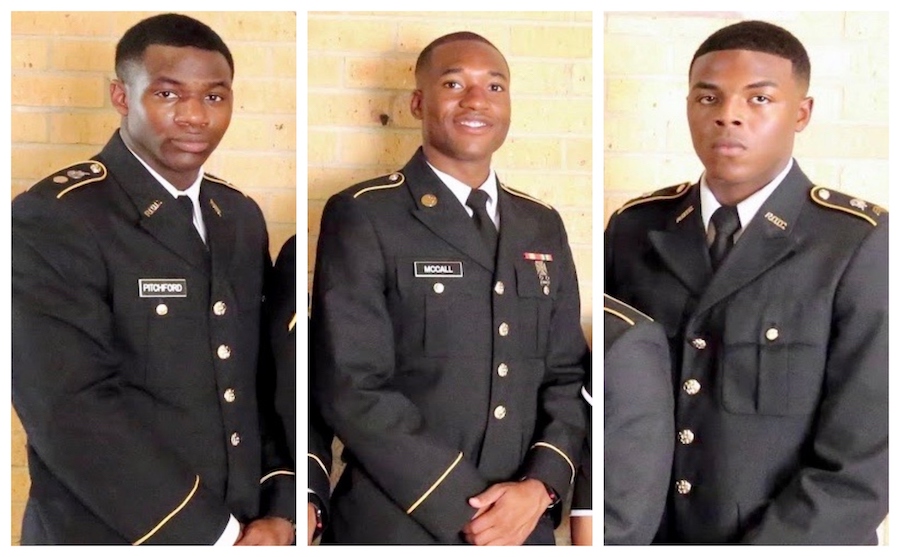 ITTA BENA, Miss.—Three Mississippi Valley State University students joined students from three other Mississippi colleges to participate in a virtual Commissioning and Bar Pinning Ceremony on Thursday, April 30.
Thirteen ROTC students from MVSU, Jackson State University (JSU), Millsaps College and Mississippi College participated in the virtual event, hosted by Major General Janson D. Boyles, the adjutant general with the Mississippi National Guard, and Lieutenant Colonel Steven C. Robinson, department chair & professor of military science at JSU's Army ROTC.
MVSU was represented by students Crimson Driver (Active Duty, Quartermaster Corps), Brandon McCall (Active Duty, Infantry Branch) and David Pitchford (Active Duty, Field Artillery Branch).
Pitchford, a Mathematics major from Belzoni, said that the moment meant a great deal to him.
"This means that I will officially be looked at as a leader in the military. I've finally accomplished a goal that I initially set when I enlisted into the military," he said. "I plan to show the world that I have what it takes to make it to the top. I plan to serve for 20-25 years and get promoted on time by exceeding standards and passing all necessary tests."
Being a member of the MVSU ROTC program has benefitted Pitchford as a student and is an opportunity he said he's grateful for.
"This program has caused me to look inside myself and seek more. I initially joined because I wanted to have my schooling funded. My recruiter, Sfc Williams, told me all about it, and I went after it. After joining, I grew a stronger love for the military and decided to make a career out of it," he said.
McCall, an Engineering Technology major from Greenwood, MS said that one of his "dreams" is now a reality.
"I count this as one of my largest accomplishments thus far," he said.
McCall, who has also served as president of the MVSU Student Government Association for the past two years, said he plans to continue to develop into the best leader that he can be.
"With my new military career, I plan to further hone my leadership skills until I am ready to move further into politics and government," he said.
McCall added that the experiences he's gained through the MSVU ROTC program have been beneficial.
"The ROTC program gave me the ability to grow as a leader and develop as a military professional while also providing me the opportunity of a brighter future," he said.
I chose to join the military because I have always felt that my purpose in life was to help others, and the military has given me the platform to not only do so here at home but the ability to impact others globally."
Driver, a Engineering Technology Major from Yazoo City said he joined the military on April 10, 2015 and said it has been one of the defining experiences of his life.
"I have met a multitude of people and have done things that I would have never imagined. To be commissioned as an officer was one of my dreams and Mississippi Valley State University provided me the opportunity to turn my dreams into a reality," Driver said.
To watch a replay of the ceremony, visit www.facebook.com/JSUarmyROTC.