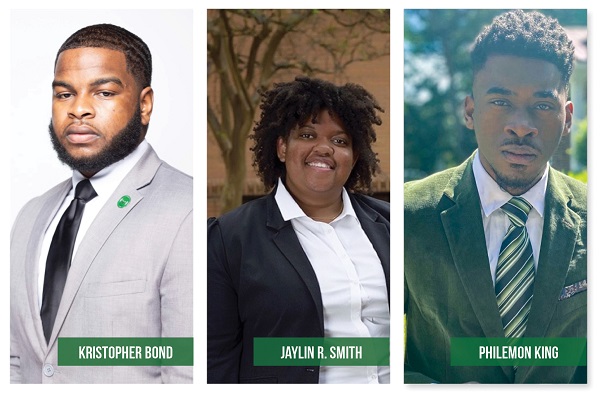 ITTA BENA, Miss.—Three Mississippi Valley State University students recently joined forces to secure a $500 microgrant during the 2020 Virtual HBCU Student Leadership Conference.
Hosted July 16-18, the three-day virtual conference was designed for student leaders currently enrolled at Historically Black Colleges and Universities (HBCUs) across the country.
As part of the virtual event, a student Social Impact Microgrant Competition was sponsored by the 100 Black Men of America-Greater Montgomery Chapter.
MVSU students Jaylin R. Smith of Greenwood, Miss., Kristopher Bond of Harvey, Ill., and Philemon King of Greenville, Miss. snagged the prize with their team—the "Mean Green Education Machine."
Each student team was tasked with designing a community initiative using one of the following initiatives: How to increase voter registration and/or voter education in your community? Or, How to impact the health of Black men and women in your community? 
The trio chose initiative one and was challenged to put together a five-minute pitch to present their concept via Zoom. The presentation was also required to include the team's purpose, community demographics, projected impact, and a detailed budget of how the $500 microgrant would be utilized.
Smith, a junior Mass Communications and Speech Communications major, said the competition was challenging but she and her teammates were up for the challenge.
"Putting the project together during the pandemic was challenging; nevertheless, no obstacle is too big to overcome when thriving for success, especially for the name of Mississippi Valley State University," she said.
Along with Smith, Bond, a junior Business Administration major, and King, a senior Computer Science major, said the funds will help support a very worthy cause.
"We will use the grant to host an event named "Voting at The Valley". The event will educate students about voting rights and processes while also registering them to vote in Leflore County," explained Smith.
The team said they've already put plans in motion for the event.
"We plan to start the proposed project during the first week of school by advertising for the event and recruiting volunteers," said Smith.
"We will also reserve the space needed for the event and develop ways for it to take place while safely social distancing," she added.
Themed "Won't Back Down: Leadership in Crisis", this annual student leadership conference ensured HBCU student leaders from around the country received high-quality leadership training despite the COVID-19 pandemic.
The conference provided interactive workshops to suit the needs of the HBCU Student Government Associations (SGAs), Royal Courts, Campus Activity/Programming Boards, and National Pan-Hellenic Council (NPHC) leaders.
To learn more about the annual HBCU Student Leadership Conference, visit www.unitementoring.com/hbcu-student-leadership-conference.