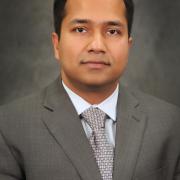 Thomas J. Calhoun, Jr., Ph.D., Vice President for Enrollment Management/Student Affairs at Mississippi Valley State University, is proud to announce the appointment of Dr. Lokesh Shivakumaraiah to the Division of Enrollment Management and Student Affairs as the new Assistant Vice President for Enrollment Management.   
Dr. Shivakumaraiah has been working in the position since September, and in his role, he oversees the Offices of Admissions, Financial Aid, Student Records, and University College. Dr. Lokesh holds a Ph.D. in Computer Engineering from Mississippi State University.  
"I am very pleased to welcome Dr. Lokesh (Shivakumaraiah) to the Division of Enrollment Management and Student Affairs. He brings extensive experience managing enrollment processes," said Dr. Calhoun. Dr. Shivakumaraiah is especially well versed in the development of automated systems that help to streamline the complexities of the various enrollment processes. He was previously Director of International Programs and Assistant to the Provost at MVSU," said Dr. Calhoun.  
Dr. Shivakumaraiah said, "I am delighted to have this opportunity to continue to serve Valley and support our enrollment management and retention goals. I look forward to working with our enrollment management team to engage all of our stakeholders both within and outside the university to help us meet our enrollment targets, improve student retention and support, and increase the visibility of our undergraduate and graduate programs," he added.  
Dr. Calhoun said bringing Dr. Shivakumaraiah on board could not have happened at a more opportune time.  
"The timing of his appointment could not be better, as MVSU is upgrading our various technologies to meet current standards and best practices for the collegiate Enrollment Management enterprise. His leadership will be critical to our continued success as MVSU is on the pathway for enrollment growth," Calhoun added.