ITTA BENA, Miss. — The Mississippi Valley State University Office of Student Leadership and Engagement has been keeping MVSU student leaders "in motion" this summer in preparation for the upcoming school term.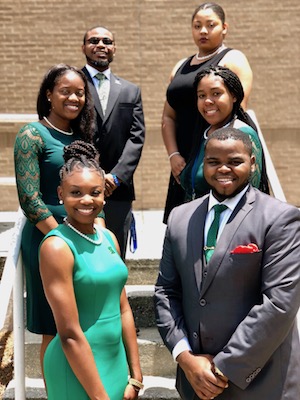 Seven student leaders, along with Director for Student Leadership and Engagement Pamela Hilton and Dean of Student Conduct Raynaldo Gillus, recently traveled to Savannah, Ga. for the 22nd Annual Student Leadership Institute (SLI).
SLI is a six-day intensive, interactive, and stimulating learning program designed for newly elected Historically Black College and Universities (HBCU) student leaders (including Student Government, Class Officers, Greek Councils, Student Ambassadors, Programming Boards, Kings and Queens) who are committed to uplifting their organizations and their university.
During the event, MVSU student leaders had an opportunity to meet workshop presenter Terrance Terrell, a 2004 graduate of MVSU. Terrell is an actor and author who has written two children's books— "Blacky" and "SHE". He is well known for his acting role in hit TV series, "Criminal Minds." 
MVSU student leaders attending the conference included: Miss MVSU 2018-2019 Stormy Green of Southaven, Miss.; Mr. MVSU 2018-2019 Tony Holland of Oxford, Miss.; SGA Vice-President Niasia Harrington of Indianola, Miss.; SGA Chaplain Arlencia Barnes of Indianola, Miss.; Pan Hellenic Vice-President Erryion Clark of Belzoni, Miss. and Junior Class President Janice Citchens of Tutwiler, MS.
SLI is sponsored by the National Association of Student Affairs Professionals (NASAP)—a professional organization on the leading edge regarding issues, solutions, and professional development opportunities for student affairs professionals serving at HBCUs and for those professionals who serve minority populations in diverse settings around the country.
To learn more about NASAP, visit www.naspa.org.