ITTA BENA, Miss.—Two budding Mississippi Valley State University leaders recently had the opportunity to learn more about leadership and politics during a nationally recognized program designed to address the underrepresentation of women in American politics.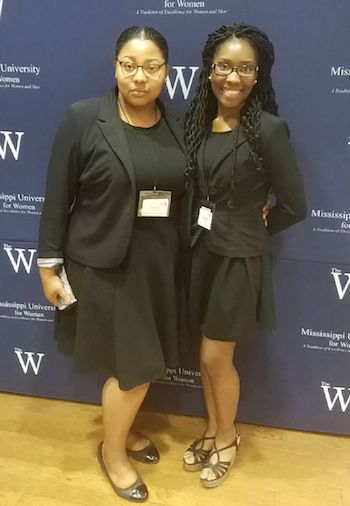 MVSU's Office of Student Leadership and Engagement recently sent rising sophomore Chelsea Washington of Yazoo City, Miss., and rising junior Janice Citchens of Tutwiler, Miss. to represent the University during the NEW LeadershipTM Mississippi program.
Hosted May 20-24 on the campus of Mississippi University for Women (MUW), the national bi-partisan program was developed by Rutgers University and designed to expose participants to new ideas and opportunities as they consider their future careers.
The program consisted of a very strategic and rigorous selection process to which both Citchens and Washington were selected. 
During the five-day, residential institute, college women from across the political spectrum were given the opportunity to learn about the important role that politics plays in their lives and encouraged to become effective leaders in the pollical arena.
Citchens, who plans to become an attorney, said the program was very insightful.
"The program was extremely beneficial. Dynamic speakers presented on an array of topics— from tactics on running a campaign to tips on maintaining a positive image," she said. Sharing that experience with some of the brightest minds in the state gives me hope. Mississippi's future is in good hands."
Washington expressed a similar sentiment.
"The NEW Leadership program was an amazing experience during which I met other young ladies with different perspectives and aspirations. This program gave me an incredible outlook into public service and how to be one of the few women in politics," she said.
As part of the program, participants traveled to the state capitol to meet women who lead several of Mississippi's public agencies.
They also had an opportunity to meet Attorney Constance Slaughter-Harvey, the first African American woman to graduate from the University of Mississippi's School of Law.
NEW LeadershipTM was hosted by MUW and the Stennis Center for Public Service.