Mississippi Valley State University's Lee Charles Smith has announced today that he is stepping down as Head Coach of the Devilettes Softball team after 19 seasons with the program.  
Smith has decided to retire from coaching but will continue in his role as Associate Athletic Director.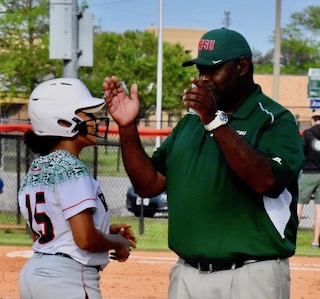 "I would like to thank all of the former athletes and current players who chose to come and play for me and attend this university," said Smith. I love Valley, and I am so thankful for the opportunity given to me almost 20-years ago. I want everyone who has supported us over the years to continue to provide that support to this program," he added.
MVSU Athletic Director Dianthia Ford-Kee expressed her appreciation for all Smith has done for softball and the MVSU athletic department.
"Under Coach Smith's leadership, MVSU softball teams set the bar for all other sports teams.  His teams are respected not only in HBCU athletics but across the NCAA.  I am honored to have had the opportunity to watch his athletes compete on and off the field," said Ford-Kee.
Smith said the decision to retire from coaching was his alone, and he felt that the time was right to transition in his career.
"Having the opportunity to move into athletic administration full-time here at the university will allow me to continue to support MVSU athletics and give back to a university that has given me so much," Smith explained.  
As head coach of the MVSU Softball team, Smith amassed a 414-533 (.437) record. His 414 wins make him the winningest coach in MVSU athletics history. Smith is also the second coach in the history of the program.
The 2000 MVSU graduate began working with the Softball team as a student assistant under the program's first head coach, Bernita Alexander, in 1996.
After graduating, he was employed with the university and later named head coach for the 2001-2002 season. 
Under Smith, the Softball program claimed eight Southwestern Athletic Conference (SWAC) Championships, had eight NCAA regional appearances, won two games in regional in 2004, and had a regional victory in 2009. In addition, Coach Smith was named SWAC Coach of the Year nine times and has won nine SWAC Eastern Division Championships.
"My experience at Valley has been awesome. To work with this program since its inception and to be given the opportunity at 25-years-old to coach means the world to me," said Smith. I have worked with great athletes on and off the field. I have coach academic All-Americans and All-SWAC performers. Our student-athletes have done amazing things in their lives, and I feel honored to have had the chance to share in their lives. The most important thing to me is that the parents and student-athletes trusted me. These students came a long way to go to school in the Mississippi Delta and play softball."