ITTA BENA, Miss.— A Mississippi Valley State University faculty member was recently extended an invitation to present research during a national conference designed for professionals associated with the agricultural industry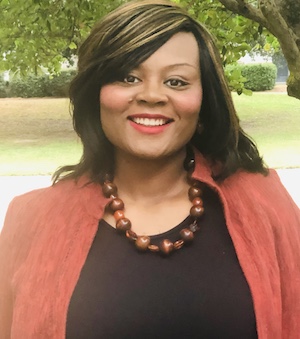 Dr. Cassandra Hawkins, assistant professor of Rural Policy and Planning, presented on the topic "Understanding Food Systems in Mississippi: An Examination of the Prevalence of Food Insecurity" during the 76th Professional Agricultural Workers Conference (PAWC), hosted Dec. 2-4 at Tuskegee University.
PAWC is a forum committed to creating a world that values and promotes equitable access to information and technology for sustainable development of communities and natural resources.
Evolving out of Dr. Booker T. Washington's Farmers Conference that was first hosted in 1892, PAWC now includes representatives from the national land grant community, and from the state, federal, and private sectors.
Hawkins' presentation explored how food insecurity impacts Mississippi's food systems and provided strategies to reduce its prevalence.
Her study concluded that food systems in the state need to be transformed for the disparity among families based on specific sociodemographic factors. In addition, improved policies and programs designed to address the inadequacy of food consumption in Mississippi should be in place to reduce the prevalence of food insecurity. 
"Dr. Hawkins participation in the project continues to build capacity to research food insecurity at the heart of the Mississippi Delta," said Dr. Richard Mushi, chair of MVSU's Social Sciences Department.
Hawkins has been fully engaged in efforts to address food systems in Mississippi.
In October, she presented research at a college forum organized by the School of Social Work at Mississippi State University during the World Food Day. Her presentation highlighted food insecurity and strategies for social workers to assist their food-insecure clients in Mississippi.
She was also appointed to the Mississippi Food Policy Council Executive Board in August 2018.
Following the appointment, Dr. Hawkins remained a member of the Mississippi Food Insecurity Project with Mississippi State University, a research project that examines food access and food insecurity in the state of Mississippi.
The project provides current USDA-ERS food insecurity data including socio-economic, food assistance, local food activities, food store availability, and health data for all 82 counties in Mississippi.
To learn more about PAWC, visit www. pawc.info.
For more information about MVSU's Rural Public Policy and Planning graduate program, call (662) 254-3352.