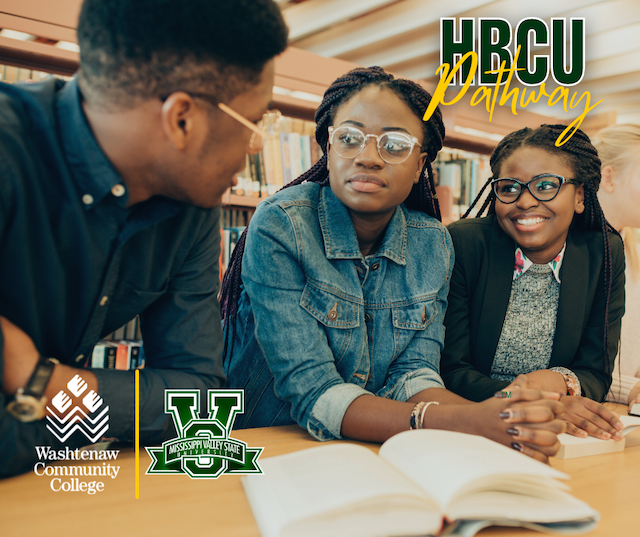 Mississippi Valley State University is excited to announce its newest partnership with Washtenaw Community College (WCC) located in Ann Arbor, Mich. Announced ahead of National Transfer Student Week (Oct. 18-22), the news marks the first comprehensive agreement – with benefits such as guaranteed admission and access to in-state tuition – between a Michigan two-year school and a Historically Black College & University (HBCU).
The partnership creates a pathway to success for students transferring associate degrees. Along with MVSU, the community college is in partnership with Jackson State University (JSU) and Southern University at New Orleans (SUNO). 
Dr. Jerryl Briggs, President of MVSU, was excited to connect the school's rich academic tradition with WCC in this Partnership.
"We here at MVSU are so excited to join in partnership with Washtenaw Community College. Having a pathway for students to transfer seamlessly between our institutions shows our mutual commitment to student success and further supports the importance of higher education achievement. We look forward to starting and building on this tremendous opportunity," said Briggs.
Kylon Alford-Windfield, MVSU's Executive Director of Enrollment Management, said, "this partnership allows MVSU to advance the provision of high-quality, accessible, and affordable education for the populations WCC serves."
"The creation of this new transfer pathway will aid in the increase and diversification of our enrollment. Washtenaw Community College produces high performing, academically inclined students, which we will welcome with open arms," Wingfield added.   
The Washtenaw Community College HBCU Pathway program creates opportunities for student success. It transfers equity by providing a clear, direct, affordable, and supportive pathway for community college students to attend HBCUs.
In addition to guaranteeing admission to MVSU for WCC students who complete requirements, the partnership opens access to in-state tuition and scholarships and waives application fees.
The new initiative also provides student support and mentoring from staff, faculty, and HBCU alumni, arranges college tours at HBCUs, and hosts community-building activities, monthly career workshops, and a student leadership summit.
During National Transfer Week, representatives from MVSU will discuss the partnership and transfer information during a panel session hosted by WCC. Current and prospective WCC students and families, as well as members of the community, are invited to register to attend the virtual session from 6-7:30 p.m. (EST) Wednesday, Oct. 20.
"Creating a pipeline for student success is essential to our mission, and it starts with access, nurturing students with big dreams, and helping them realize the opportunities to further their education. Our new HBCU pathway is designed to support students from high school through community college and then through completion of their bachelor's degree," said WCC President Dr. Rose B. Bellanca. "We are excited to announce our first HBCU partnerships with Jackson State, Mississippi Valley State, and Southern University in New Orleans."