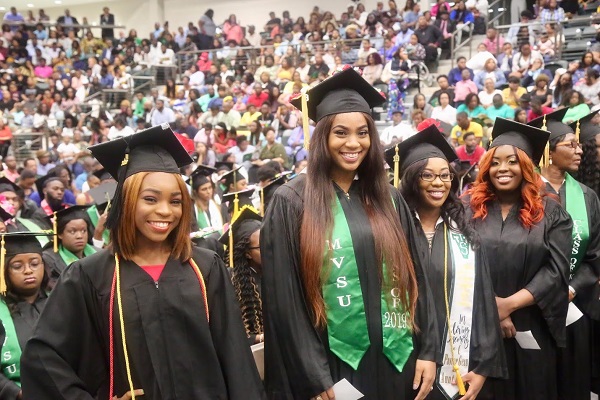 ITTA BENA, Miss.— For the first time in several decades, Mississippi Valley State University students who complete their degree requirements during the fall semester won't have to wait until May to walk across the stage and realize the dream of earning a college degree.
MVSU has announced plans to host a Fall Commencement Exercise at 10 a.m. Saturday, Dec. 14, in the R.W. Harrison Complex.
Dr. Jerryl Briggs, Sr., the University's eighth president of MVSU, will serve as the commencement speaker.
"According to Valley alumni, the fall commencement is not new," shared Fall Commencement Chair Dr. Curressia Brown, who also serves as the acting chair/assistant professor in the MVSU Department of Business.
"The return was initiated by President Briggs in response to a desire by those completing their requirements in December to enjoy the pageantry of the commencement exercises," she added.  
According to Brown, the desire to prioritize students' needs played a major factor in reinstituting the fall commencement.
"For those who would immediately begin their careers or transition into the next level of graduate or professional education, and for international students or those who reside outside our region, the cost of returning to campus in May was prohibitive. Fall Commencement allows these students and their families to share in the joys of their celebration," she explained.
Brown said the entire campus has really "bought" into the addition of the fall commencement exercise.
"Thanks to the outstanding personnel on our campus who do the 'work' of commencement, preparation has been an exciting process. Those behind the scenes are experts at their tasks, and each area and auxiliary unit involved is working diligently to ensure that the fall commencement under the leadership of Dr. Jerryl Briggs, Sr. will be a remarkable tribute to a phenomenal graduating class," she said.
Ultimately, Brown said the goal is to help students and their families commemorate the special occasion.
"Graduation, at any level, is a sacred celebration—not just for the individual obtaining the degree, but for the 'village' standing with and behind that graduate. Our goal, like those tasked with planning and executing this ceremony, is to ensure that the service is distinguished," she said.
With more than 30 years of professional experience in higher education, Briggs was unanimously selected to become the president of MVSU on Oct. 19, 2017. Before being named President, he served in the capacities of acting president and as executive vice president/chief operating officer at the university.
During Briggs' tenure as President, he has prioritized campus safety and infrastructure with the completion of a $500,000 outdoor lighting project and upgrades to the University's video surveillance system.
He also solidified a partnership with FedEx Logistics, a subsidiary of FedEx Corporation, to launch its Historically Black Colleges and Universities (HBCU) Program, making MVSU the prototype as the program's first HBCU partner.
Briggs managed a $17 million capital improvement project for the University's athletic complex. He also oversaw the renovation of two campus residence halls with additional planning underway for renovations to other campus buildings.
Before joining MVSU, Briggs served as Vice President for Student Affairs and Enrollment Management at Central State University in Ohio. Prior to Central State University, he has held various positions within higher education administration, including serving for ten years at Lincoln University (PA) as Vice President for Student Affairs and Enrollment Management, and Dean of Students. He has also held positions at Clark Atlanta University, the College of William and Mary, Georgia Institute of Technology, the University of Illinois-Urbana/Champaign, and North Central College.
Briggs earned his Bachelor of Science degree in Chemistry Education from Xavier University of Louisiana, a Master of Arts degree in Human Relations and Supervision from Louisiana Tech University, and both an educational specialist degree in Higher Education Administration and a doctorate in Educational Policy, Planning and Leadership from the College of William and Mary in Williamsburg, Va. He also completed Harvard University's Institute for Educational Management program.
Briggs is a native of New Orleans and is the father of two sons – Isaiah and Jerryl, Jr.
For questions or more information about MVSU's Fall Commencement Exercise, contact Brown at (662) 254-3609 or cbrown@mvsu.edu.