ITTA BENA, Miss.—A recent distinction has provided one Mississippi Valley State University faculty member with the opportunity the participate in a unique international learning exchange.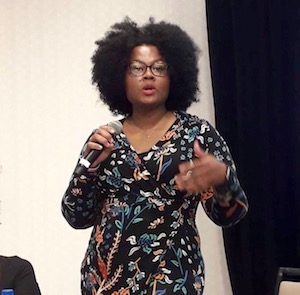 MVSU's Dr. Cassandra Hawkins, assistant professor in the Rural Public Policy and Planning, was recently nominated and selected as a member of the 2019-2020 Class of Whisenton Public Scholars.
As a Whisenton Public Scholar, Hawkins was also extended the invitation to attend the 2019 Deliberative Democracy Institute (DDI) in Dayton, Ohio.
The Whisenton Public Scholars Fellowship is a public scholars exchange in collaboration with Joffre T. Whisenton and Associates and the Kettering Foundation. Launched in 1998, the program involves faculty and administrators from schools with a mission to serve minority communities, including Historically Black Colleges and Universities.
The Whisenton Public Scholars fellowship trains individuals within the academy to engage with the public to promote and advance democratic values.
Dr. Hawkins' involvement as a Whisenton Public Scholar will occur over two years. During that time, she will experiment with citizen-centered democracy to promote civic engagement within higher education, including naming and framing community issues and working with the public to make choices in the context of teaching, research, and service.
"With this opportunity, I will learn strategies and techniques to implement deliberative practices to better align the civic engagement strategies of Mississippi Valley State University," said Hawkins.
During the first year of the research exchange, Dr. Hawkins will participate in discussions surrounding democratic self-governance, as well as the role of higher education in democracy.
From July 8-12, Hawkins attended her first research exchange held at the Kettering Foundation—the 2019 DDI—as a Whisenton Public Scholar.
DDI is a learning exchange in which people from diverse nations explore a range of ideas that can improve public life at the community level and beyond by encouraging citizen participation and advancing knowledge of democratic practices.
This year's event brought together participants from a total of 40 countries, including scholars, journalists, community leaders, civil society practitioners, and others.
"It was exciting to not only represent Mississippi Valley State University but the state of Mississippi," said Hawkins. "I had the opportunity to work with individuals to address a specific fundamental problem of democracy and listened to participants share the numerous challenges citizens face in their communities."
During the different sessions and institutes, Hawkins explored deliberative practices as a tool to address these issues. Her engagement with other participants helped her to start considering how implementing a deliberative forum could help her address issues in Mississippi, especially surrounding food systems and food insecurity.  
"I am looking forward to how my participation as a Whisenton Public Scholar will transform my current work in rural public policy and how I engage with communities," she said.
Hawkins said she is excited about the fellowship and how she can incorporate deliberative practices in her classes and train students in the Rural Public Policy and Planning Graduate Program and her research interests.
Currently, Hawkins is conducting a research study, entitled "Prevalence of Food Insecurity in the Mississippi Valley State University Community." This study aims to explore the prevalence of food insecurity among students, faculty, and staff at Mississippi Valley State University.
Hawkins is requesting that all faculty, staff and students share their experience with food insecurity by completing the online survey, which can be found at http://bit.ly/mvsufoodsecure.
For individuals, who would like to complete the paper survey, email a request to Hawkins at cassandra.hawkins@mvsu.edu. For this study, there is no compensation.
For more information, please contact Hawkins at (662) 254-3361 or cassandra.hawkins@mvsu.edu.