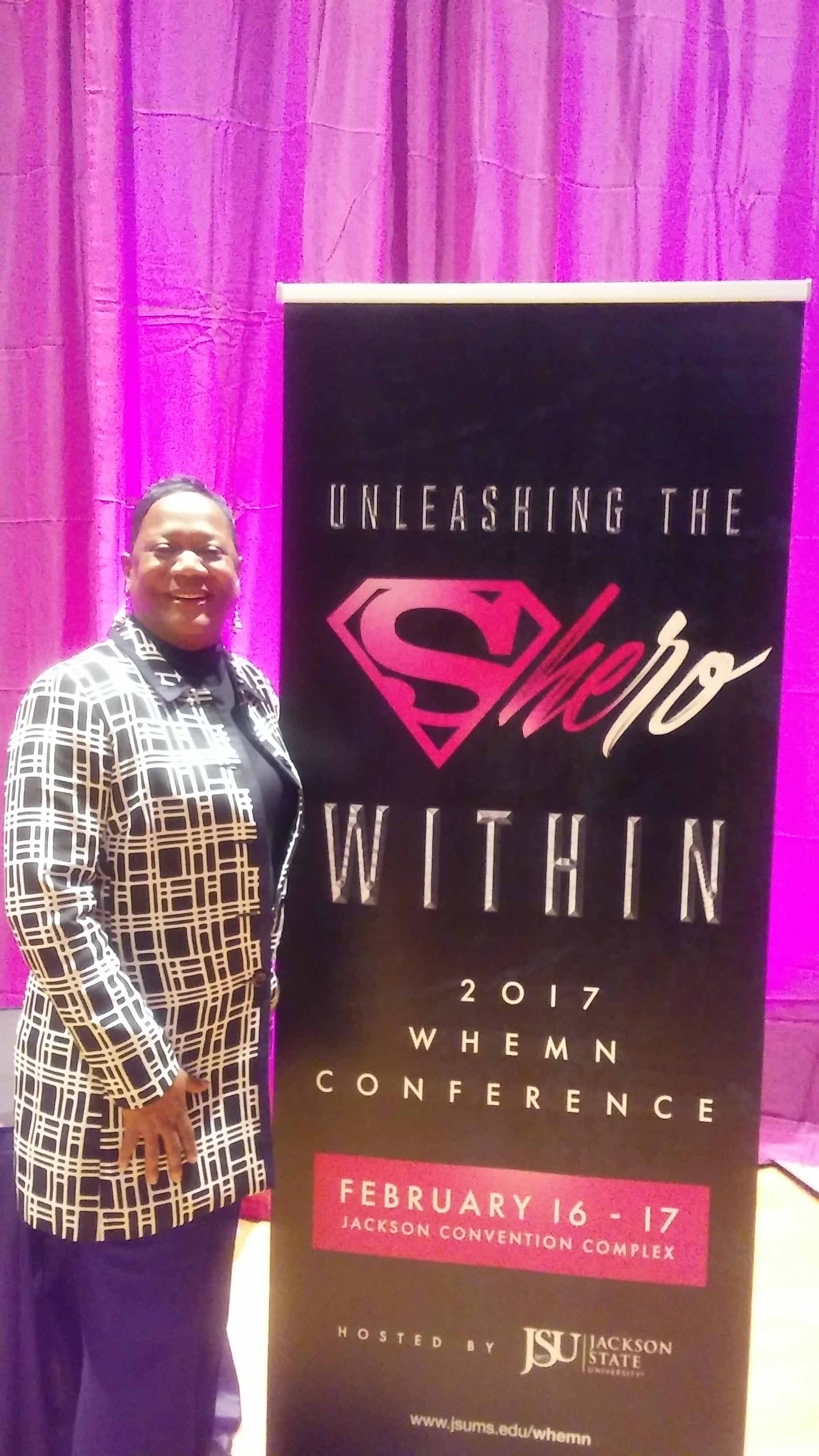 "Unleashing the Shero Within," was the theme of the 2017 Women in Higher Education – Mississippi Network (WHEMN) conference held in mid-February in the downtown Jackson Convention Complex. 
Jackson State University hosted the event and it was a Mississippi Valley State University staff member who was honored in a major way during the conference.
Dr. Yolanda Jones, director of the Student Counseling Center, received the 2017 Shero Award.
"I am deeply humbled to have received the 2017 Shero Award in my home state," said Jones .  So many have sacrificed for me; therefore, I wake up daily attempting to reciprocate. To have been selected from all of the other nominees was confirmation that I must continue to dedicate my life promoting and supporting others in my walk of life. 
In addition to the award, Jones shared she is thankful and appreciative for having the opportunity to take part in the WHEMN Conference.
"This was one of the most innovative networking opportunities that I have ever experienced. I left this conference with a renewed sense of hope and humility," she added. 
The conference's mission is to identify, develop, advance and support women in higher education in Mississippi. To that end, WHEMN is dedicated to promoting and supporting women in leadership in higher education, assisting in career development and mentoring of women in higher education, and enhancing the visibility of women administrators on Mississippi's campuses.
Throughout the conference, the Greenwood native attended sessions aimed at empowering women leaders to harness their special talents and abilities; identify and conquer weaknesses; understand their purpose; and discover the skills necessary for effective leadership for themselves and their teams. 
 
Jones began as an outreach counselor at MVSU in 2002 and was promoted to director in 2007.
She currently serves on the Mississippi Blues Commission and instrumental in the development of the MVSU Boys and Girls Club.
She is very active on campus and serves on several committees. Dr. Jones has received numerous local and state awards, including the Congressional Black Caucus Award; Top 30 under 40; and was recently included in the Congressional minutes after Congressman Bennie Thompson honored her for her dedication to serving others and giving back to her community. Dr. Jones has received the Title III Project Manager of the Year three times, including the honor for 2016.