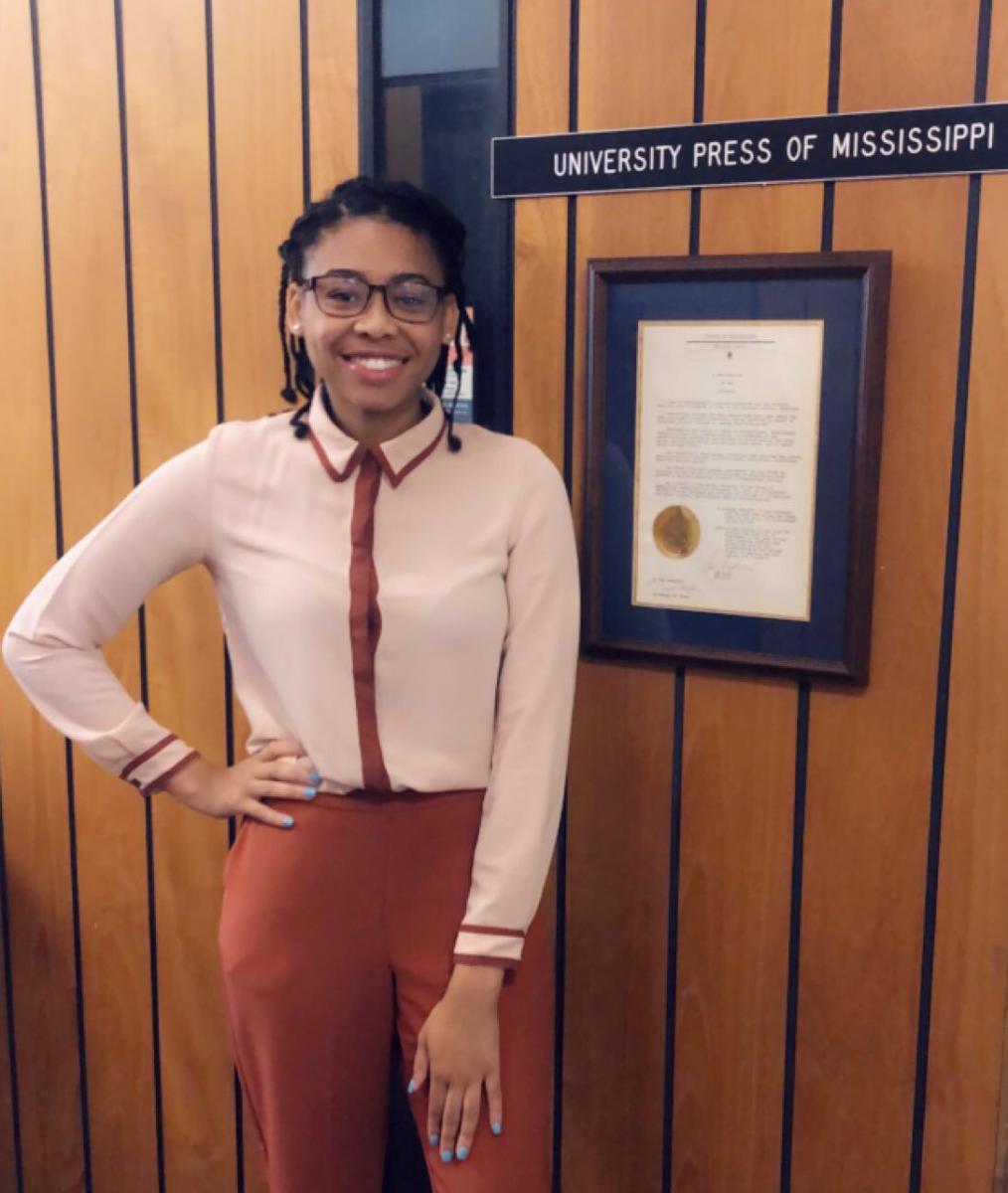 ITTA BENA, Miss.—Mississippi Valley State University's Jamireia Hampton is spending this summer at the University Press of Mississippi (UPM) as a McRae Publishing Intern.
Through the McRae Publishing Internship, the UPM offers a singular educational opportunity to young men and women interested in book publishing to start their careers as interns and gain valuable practical knowledge about the publishing industry.
Hampton, who was recently recognized as an Outstanding Scholar by the MVSU English and Foreign Languages Department, received the internship with UPM after a successful interview with the editors. As an intern, Hampton will learn about publishing while providing assistance to and working under the supervision of the UPM's full-time staff in a variety of tasks. 
MVSU English and Foreign Languages Chair Dr. John Zheng said his department is thrilled that Hampton was awarded the McRae Publishing Internship.  
 "This is the second time for an English major from Valley to receive the McRae Publishing Internship, and the department of English and Foreign Languages congratulates Ms. Jamireia Hampton as a role model for Valley in Motion," Zheng said.
Hampton, a Kemper, Miss. native, said she is excited about the opportunity to work with UPM.  
"I am honored to be an intern at the University Press of Mississippi," said Hampton.
"I hope to gain insight into the roles within the press. We know that authors get praised, but the press is vital to gathering information so that books can be published," she added.
Hampton recently served as a White House HBCU Competitiveness Scholar in the Fall of 2018. The senior is the president of the Epsilon Pi Chapter of Alpha Kappa Alpha Sorority, Inc., a member of the Alpha Kappa Lambda National Honor Society, and a career ambassador with the Career Services Center.
Hampton also serves as a student ambassador with the MVSU Office of Student Leadership and Engagement, the chaplain for the MVSU collegiate chapter of the National Council of Negro Women and a member of the Gateway Leadership Ambassador Program. 
As the only university press in Mississippi and the largest publisher in the state, UPM represents the state to the rest of the nation and the world via its distinguished list of titles on scholarly, regional, and national topics.
The McRae Publishing Internship, generously supported by the Richard and Selby McRae Foundation, provides valuable, hands-on experience for students interested in publishing.
Previous interns have gone on to jobs in publishing or related fields or continued their education by attending university-affiliated publishing programs.  
To learn more about UPM, visit www.upress.state.ms.us.