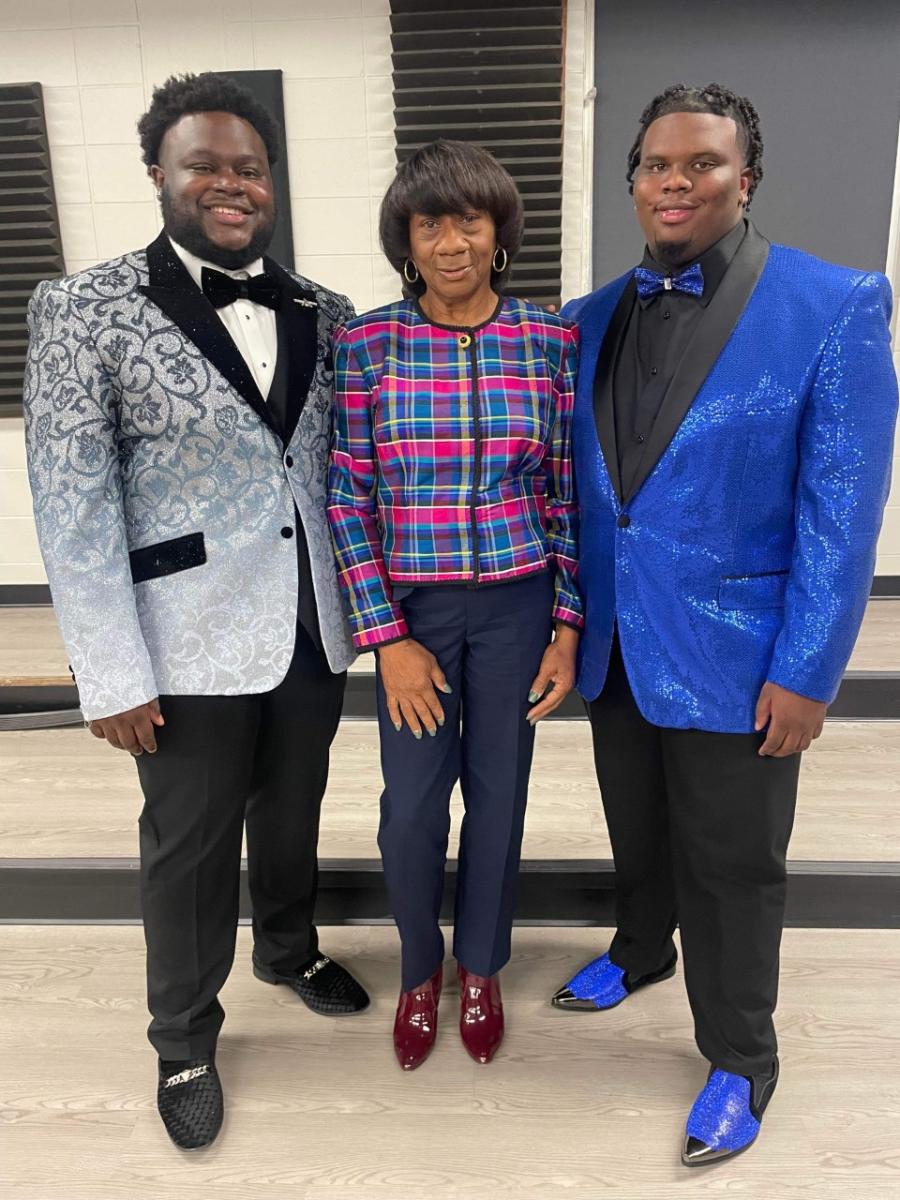 By LaTunya Evans, Communications Specialist 
As the vessels keeping family traditions alive, a grandparent's role is vital in developing their grandchildren's lives. Grandparents shape and influence their grandchildren's beliefs and ideas through caretaking, storytelling, and bonding. 
One grandmother's influence on her grandsons will be fully displayed when all three walk across the stage on May 6, 2023, at the MVSU 71st Commencement Ceremony.   
Shirley Johnson, Aaron Weddington,  and Marquice McCallum will receive their college degrees from MVSU.   
Johnson is overly excited about sharing this momentous occasion with her grandsons.   
"After completing my bachelor's degree from MVSU, I was encouraged to return for my master's. However, once I realized my grandsons were graduating high school the same year, I decided to enroll back into school so we could enter college together," said Ms. Johnson. 
Johnson received a Bachelor of Arts degree in Criminal Justice from MVSU in 2019 but wanted to continue her education to be an example for her grandsons. 
"I received my GED in the 70s. However, I wanted a higher education degree, so I pursued my associate of arts degree from Coahoma Community College. I knew my grandsons would be considering college soon, so I wanted to be an example of encouragement for their decisions to college," explained Johnson. 
Weddington shared how his grandmother impressed them with the value of education and the benefits of MVSU. 
"My grandmother always stressed the importance of education to us growing up. At first, I did not know what I wanted to do after high school, but my grandmother quickly convinced me to attend MVSU," he said.  
Attending college is a costly experience, and Johnson was aware of that. So, after persuading her grandsons to attend MVSU, she transported them to choir auditions at the school. 
"She knew we had decided on MVSU for school and both of us loved music, so she asked us if we wanted to try out for the choir. Of course, we said yes because that was not an opportunity to waste. After auditioning, we were offered scholarships to MVSU," recalled McCallum. 
After receiving a choir scholarship from MVSU, McCallum, and Weddington decided to major in music. 
While both cousins credit their grandmother for attending college and choosing MVSU, another person believed MVSU would also be a great fit. 
"When I was in Youth with a Vision (mentoring group), I grew a bond with the organization's director, Justance Stewart, through singing. From there, he became the choir director at Humphreys County High School, where Aaron and I joined the choir to sing. He was an alum from Valley, so he encouraged us to attend Valley," explained McCallum. 
With their grandmother and choir director encouraging them to attend MVSU, McCallum and Weddington knew they had made one of the best decisions of their lives. 
"Before coming to MVSU, I did not know what to expect about college. Not many people in my family went to college, but because my grandmother did and she chose Valley, I knew I made the correct decision," said Weddington. 
"Although I loved music, before coming to Valley, I could not read music. This made me nervous because I did not know if majoring in music was the best decision. However, after working with Dr. (Brandon) Cash in the music department, I can proudly say I can read music today," continued Weddington. 
McCallum also credits the music department for making his experience at MVSU one to remember.  
"Singing in the choir has been an amazing experience. I have strengthened my voice to the point of receiving chills with every note I sing. I have also had the experience of learning music in other languages," said McCallum. 
While learning to sing in multiple languages created a fascination with singing for McCallum, it also created a new challenge for him. "We have sung songs in French, German, Italian, and many more languages. It was fun, but learning the language was initially difficult." 
"You must understand what you are singing before you sing it to display the necessary emotion in your face, body language, and voice. For example, you don't want to sing a sad song in German with a smile," continued McCallum. 
Johnson was aware of her grandsons' love for singing, but she was unaware of how well their singing had progressed. Then, in March of 2023, Ms. Johnson and other family members had the opportunity to hear the two young men sing during their senior recital at MVSU. 
"The recital was an amazing experience. You're surrounded by friends and family who have never heard you sing before, so you and your family don't know what to expect. They don't know how you will sound, and you don't know how they will react," said Mr. McCallum. 
"Surprisingly, everyone enjoyed the recital and was very supportive of us. It was an amazing feeling for your family to experience something you worked so towards," followed Mr. Weddington. 
Being the supportive grandmother she was, Ms. Johnson was also present at their recital. At that time, she knew her efforts in influencing them to attend MVSU were worth it. 
"I was so amazed at how well they could sing. I did not know my grandsons had voices as they did. They brought tears to my eyes at their recital," explained Ms. Johnson. 
Johnson's ability to influence and encourage others rubbed off on one of her grandsons, Weddington. While attending college together, he persuaded her to join a Greek organization. 
"Aaron constantly told me I needed to pledge to get the full college experience. I did not know much about Greek life, so I asked him for help. After working with Aaron to learn more, I decided to join Sigma Gamma Rho Sorority, Inc. It was one of the best decisions my grandson encouraged me to make," she added. 
 Shortly after convincing his grandmother to join Greek life, Weddington decided to join an organization himself.   
In the Spring of 2021, Aaron joined the Beta Theta Chapter of Omega Psi Phi Fraternity, Inc. According to him, joining the fraternity had always been his dream. 
"Since I was young, I have always wanted to pledge Omega Psi Phi. MVSU made that opportunity possible for me, which is why I love my alma mater even more," said Weddington. 
As their time at MVSU ends, the three of them are pleased with their decision to attend MVSU together. 
"I am glad I decided to wait on my grandsons because they made this college experience wonderful. We did not do much together in college because I chose to commute, but we did create many memories together," explained Ms. Johnson. 
Ms. Johnson continued to explain how not being tech-savvy was a challenge at first, but her grandsons were present to help with anything she needed.   
"I am not fluent in technology, so sometimes I have trouble using the computer to complete schoolwork. However, Aaron and Marquice were always one phone call away to help," said Johnson. 
Determined to complete her schoolwork to earn her degree, Johnson did not allow any obstacles to detour her from her goal. 
"You know, when I decided to go back to school and continue my education, so many people told me to reconsider because I was getting up in age," she explained. 
"But I decided to ignore them because I had my mind set on my goal. As long as I have breath in my body, I will continue to do whatever I want with my life. I want anyone to know you can do whatever you want, regardless of age, race, or gender. It is your life," said Ms. Johnson. 
This very mindset Johnson possessed also impacted her grandson's view of life. 
"I am a living witness of anything you put your mind to, you can achieve. Only a few people believed I would be graduating from college but look. I will be doing that May 6," McCallum said.   
After graduating, McCallum plans to move to Atlanta, GA, to use his music degree to help struggling singers find and train their voices to become better artists. 
"Some people have amazing voices but have not had a great coach to help them better train their voices. I want to be the person to help," McCallum explained. 
While McCallum has decided on his plans after MVSU, Johnson, and Weddington are still deciding on their next move. 
"Honestly, I do not know what route I want to take with my music. I am interested in sports and teaching because I do not want to be bound to one avenue. I do plan to attend MVSU for my master's degree, though. But I am not sure about the program I will choose," explained Weddington. 
Johnson said, "I have worked in law enforcement for over 25 years. So, I have had my career. I also went back to school to have my degrees behind my name. I have no plans for what I want to do, but I will be doing something very soon. I love to keep busy." 
Receiving college degrees was Johnson, Weddington, and McCallum's goal; with that goal completed, their loved ones had planned a surprise celebration to recognize their achievements.
"My son and daughter, Aaron's mother and Marquice's dad, said they planned a celebration for the three of us, but they will not tell us what it is. I am not too worried about it because they are throwing it. I am just glad to be able to celebrate this with my grandsons," said Johnson.