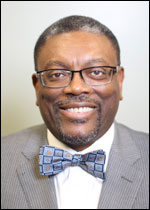 Jerryl Briggs, Ed. D.
Executive Vice President/COO
B.S., Xavier University of Louisiana
M.A., Louisiana Tech
Ed.D., The College of William and Mary
Dr. Jerryl Briggs currently serves as Executive Vice President/Chief Operating Officer at Mississippi Valley State University.  Dr. Briggs brings over 25 years of professional experience in higher education administration.  Before joining Mississippi Valley State University, he served as vice president for student affairs and enrollment management at Central State University in Ohio.  Prior to Central State University he has held various positions within higher education administration, including serving for ten years at Lincoln University (PA) as vice president for student affairs and enrollment management, and dean of students.  He has also held positions at Clark Atlanta University, the College of William and Mary, Georgia Institute of Technology, and the University of Illinois.
Dr. Briggs is a longtime member of several professional organizations, including the National Association of Student Personnel Administrators (NASPA), American College Personnel Association (ACPA), National Association of Student Affairs Professionals (NASAP), Association for Student Conduct Administration (ASCA) and Association of College and University Housing Officers-International (ACUHO-I).  He has also presented professional workshops that addressed the topic "student success at HBCUs" at various conferences.  An avid supporter of HBCU's, Dr. Briggs says, "HBCU's are most dear to my heart.  They have been a part of my life, both educationally and professionally.  I deeply value our experiences, and we must assure future generations have these same experiences on our campuses."
"Dr. Briggs has always acted in a professional manner and has maintained strong ethical standards.  During my tenure in the presidency of Central State, Jerryl has proven to be a valuable member of the executive staff and I had the utmost confidence in his ability and unwavering dedication to our students and the broader higher education profession", said John W. Garland, president emeritus of Central State University.  He has received several honors, including the Outstanding Service Award from Clark Atlanta University, and the Student Affairs Administrator of the Year Award from Lincoln University.  Dr. Briggs also serves as a board member and national advisor for the Community Foundation for Financial Literacy based in Atlanta, Georgia, and Cure Our Nation Organization, based in Washington DC.  Dr. Briggs has also authored a chapter regarding Greek life in Brown, Parks, and Phillips' African American Fraternities and Sororities: The Legacy and the Vision, 2012.
Dr. Briggs earned his Bachelor of Science degree in chemistry education from Xavier University of Louisiana, his Master of Arts degree in human relations and supervision from Louisiana Tech University, and his Doctor of Education degree in educational policy, planning and leadership (higher education) from the College of William and Mary.  He also completed Harvard University's Institute for Educational Management program.