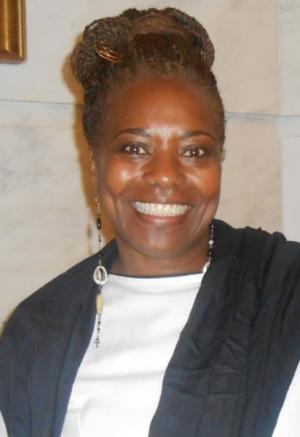 Cassie Sade Turnipseed, Ph.D.
Assistant Professor of History
Department of Social Sciences
W.A. Butts Social Science Building Rural Public Policy Office
Office Phone: 662-254-3025 
Email: cassie.turnipseed@mvsu.edu
LINKS
http://www.csadeturnipseed.com
Biography
C. Sade Turnipseed is IHL's Mississippi Diversity Educator of the Year, for the year 2017. Turnipseed is also the proud recipient of a Mississippi Valley State University 2018 summer research grant to study the Gullah Geechee Cultural Heritage Corridor formally. This research will formulate the first textbook and accompanying documentary entitled, The Gullah Geechie: Making a Way Out of No Way, for the benefit of high school and university students, teachers, and film festival viewers that offers academic insight into the world the Gullah Geechee community built and their significant contributions to the America's economy and physical culture. In addition, Turnipseed is spearheading the anthology entitled, Up From the Cotton Fields-Revisited, to chronicle the evolutionary growth of Mississippi Valley State University, since its founding. University Press of Mississippi has expressed interest in publishing both scholarly works.
As Founder of Khafre, Inc, and da' House of Khafre, Turnipseed successfully initiated: the Healthy U Gourmet Academy for Youth in the Mississippi Delta; the Cotton Pickers of America Monument, Sharecroppers Interpretive Center, and the Cotton Kingdom Historical Trail project; the annual Sweat Equity Investment in the Cotton Kingdom Symposium and Cotton Pickers Ball. Vernon Press is currently preparing the collected works and papers from this annual event for publication.
Before her arrival to the Delta, Turnipseed was a community outreach (Public Relations) specialist with the visionary force to be at the helm of numerous cultural arts programs, throughout S.F. Bay Area, Washington, DC, and Los Angeles areas. Including Khafre Cultural Community Center and Sade's Court in downtown Oakland. Turnipseed also served as Programming Director for Peralta Colleges Television; and as community outreach associate for KQED-TV, in San Francisco. Turnipseed is currently the long-time host and producer of the number one (locally generated) talk show in the Mississippi Delta region, Delta Renaissance, which airs weekly during prime time on the NBC affiliate network. 
Turnipseed was invited to participate in the Center for Advancing Opportunity (CAO)'s State of Opportunity in America Summit, a two-day conference "convening the nation's leading researchers in the field of education, criminal justice, and entrepreneurship. The Summit is an initiative created by a partnership with the Thurgood Marshall College Fund, the Charles Koch Foundation, and Koch Industries. Turnipseed was also invited to Ghana, by the UNAID's Global Alliance of Mayors and Leaders from Africa and of African Descent, to participate in the 4th WORLD SUMMIT OF MAYORS AND LEADERS FROM AFRICA AND OF AFRICAN DESCENT: Cities Leading Sustainable Human Development and Economic Empowerment for Africa and the Diaspora. The event was held on June 1-3, 2015, and hosted by His Excellency Mr. John Dramani Mahama, President of the Republic of Ghana. On October 23, 2012, Turnipseed received a US Congressional Honor by Congressman Bennie G Thompson, for her commitment to preserving the rich history and heritage of the Mississippi Delta. In 2008, Mississippi Governor Haley Barbour selected Turnipseed to be one of three Fellows for the Delta Regional Authority's, Delta Leadership Institute. She has also received the NAACP Youth Outreach and Cultural Learning Award, in 2012.
As the official Diaspora representative to the Pan African Film Festival, Ouagadougou, Burkina Faso (FESPACO), Turnipseed volunteered in this capacity between the years 2003-2009. Turnipseed sat on the Board of Directors for The Blues Foundation, in Memphis TN; Blues Society, Indianola, MS; the Mississippi Delta Arts Alliance, Belzoni, MS; and, the National Association of Black Storytellers, Baltimore, MD. Turnipseed is the recipient of numerous community services and arts advocacy awards for her volunteer efforts; and, ran an impressive 2013 mayoral campaign as the Independent candidate for Mayor in the city of Indianola, MS. She received over 43% in a two-week general election campaign against the Democratic incumbent. Turnipseed is an internationally acclaimed public historian who has been invited to speak and facilitate workshops in Ghana, China, Barbados, Norway, France, Burkina Faso, Ivory Coast, and Nigeria.
​Professor Turnipseed currently teaches African, American and World History at Mississippi Valley State University; and has taught previously at University of District of Columbia, California State University, Northridge. She is the founding Director of Education and Community Outreach for the B.B. King Museum and Delta Interpretive Center, in Indianola, MS; and, the Cultural Arts Director for the Mississippi Action for Community Education, (MACE—producers of the MS Delta Blues and Heritage Festival). Turnipseed's true passion is her work with young people. As demonstrated in every endeavor, Turnipseed makes it known that "if it does not involve the children, it does not involve me." As demonstrated in the founding of Healthy U, The Harmonica Parade, and the Young Publisher's Network (YPN) established in 2006. In essence, the philosophical approach and teaching strategy applied to Turnipseed's workshops, classes, and teaching strategies is one that emanates from an ancient African dictate to historical appreciation and cultural understanding: It begins with knowledge of self. You cannot fully function in society, nor appreciate the significance of lessons from the past, if you have no understanding of your own history. 
Educational Background
PH.D.              Public History, Middle Tennessee State University (2016)
M.B.A.             Marketing and International Management, Golden Gate University (1997)
M.S.                Telecommunications, Management, Golden Gate University (1997)
B. S.                Media (Radio and Televsion) Communications, San Francisco State University (1991)
Positions Held
Assistant Professor, History. Department of Social Sciences, Mississippi Valley State University, 20113– present. 
Healthy U Youth Empowerment Program, da'House/Khafre, Inc. 2011 – 2012.
Lecturer,Youth Bridges Mentoring Program, BB King Museum – 2018.
Visiting Professor, Errol Barrow Centre for Creative Imagination, University of Barbados, 2007– 2008.
Young Publisers' Network, Red Clay Publishing/Khafre, Inc. 2005 – 2013.
Adjunct Professor, Department of African Studies, Cal State University, 2002 – 2004. 
Adjunct Professor, Department of Communications, El Camino College, 2002.
Adjunct Professor, Department of Communications, West Coast University, 2002.
Instructor, Art Department, Los Angeles Unified School District, 2001 – 2003.
Instructor, EnglishDepartment, Los Angeles Unified School District, 2000 – 2001.
Adjunct Professor, Department of Communications, University of  the District of Columbia, 1998.
Scholarly Presentations
INTERNATIONAL CULTURAL EXCHANGE:
CARIBBEAN:
Creative Writing Workshop, The Blues History, Errol Barrow Centre for Creative Imagination, University West Indies, Barbados, October 2008
Creative Writing Workshop, Ida B. Wells: American Shero, Errol Barrow Centre for Creative Imagination, University West Indies, Barbados, October 2009
Writing Workshop Facilitator, Harriet Tubman Writin' Workshop, National, 2007
AFRICA:
INVITATION: Fourth World Summit of Mayors and Leaders from Africa and of African Descent, June 1-3, 2015, Accra, Ghana.
INVITATION: College of Humanities Research Conference 2015, at University of Ghana, from June 18-20, 2015, Accra, Ghana.
FESPACO/PRAI: Diaspora Coordinator, The Paul Robeson Award Initiative (2009), Sade Turnipseed, Chair
FESPACO/PRAI: Diaspora Coordinator/Presenter, The Paul Robeson Award Initiative (2007), Charles Burnett, Chair
Best of the Best African Television Market (BOBTV)— Diaspora Coordinator/Presenter, Abuja, Nigeria 3/06
FESPACO/PRAI: Diaspora Coordinator/Presenter, The Paul Robeson Award Initiative (2005), Harry Belafonte, Chair
FESPACO/PRAI: Diaspora Coordinator/Presenter, The Paul Robeson Award Initiative (2003), Maya Angelou, William Greaves, Chair
FESPACO 2005 "Telling Our Story" The Documentary, Producer, 2005
EUROPE:
Presenter, Inclusive Museum Conference 2017 - University of Manchester, London England, 9/15-17/17
INVITATION: Panelist, Mississippi Delta Blues, at the Notodden International Blues Festival 2008, Notodden, Norway
PUBLIC LECTURES/PRESENTATIONS:
Presenter, United Nations Commission on the Status of Women, March 12-23, 2018, New York, NY
Presenter, J.A. Fair School District, 2/22-23, 2018, Little Rock, AR
Presenter, Center for Advancing Opportunity, "State of Opportunity in America Summit," Washington, DC, 2/5-6/2018
O Holy Night - First Presbyterian Church, 12/30/2017, Greenwood, MS
UNITED STATES:
The 6th Annual Cotton Pickers Ball for Khafre, Inc @ da House of Khafre, Indianola, MS, Nov 10, 2017
The 6th Annual Sweat Equity Investment in the Cotton Kingdom Symposium for Khafre Inc @ MVSU, Nov 10, 2017
3rd Annual Historical Narrative Student Competition, 10/2017-11/2017
The 2nd Annual Sweat Equity Investment Brown Bag @ MVSU, Nov 9, 2017
Presenter, Jackson State University, 11/2/2017, Jackson, MS
Presenter, 18th Annual Graduate History Conference-University of Memphis, 10/20/17, Memphis TN
Presenter, The 3rd Conference on the Social Sciences, Sociology and Globalization in Asia 9/1-3, 2017, Hiroshima, Japan
Presenter, Inclusive Museum Conference 2017 - University of Manchester, London England, 9/15-17/17
Presenter/Facilitator, College of Charleston Conference "Transforming Public History from Charleston to the Atlantic World," 6/14-17/17
Invited Speaker, Borough of Manhattan Community College, NY, 2/24/17
Invited Guest, Maya Angelou's Dedication, Wake Forest University, Winston Salem, NC, 2/16-19/17
Acceptance Speech, Diversity Educator of the Year, IHL in Jackson, MS, 2/16/17
Keynote Presenter: "Embracing Our Greatestness," Reflection and Youth Development Museum, EE Bass Auditorium, Greenville, MS, 2/11/17
Keynote Presenter: Celebrating Our Legacy, Mound Bayou, MS, Dec 2, 2016
Presenter: Preserving Black Communities and Townships, Houston, TX, Nov 16-19, 2016
Presenter: The 5th Annual Cotton Pickers Ball @ da House of Khafre, Indianola, MS, Nov 11, 2016
Plenary Session Presenter/Organizer: The 5th Annual Sweat Equity Investment in the Cotton Kingdom Symposium @ MVSU, Nov 11, 2016
Judge/Organizer: 2nd Annual Historical Narrative Student Competition, 10/2016-11/2016
Coordinator: The 1st Annual Sweat Equity Investment Brown Bag @ MVSU, Nov 10, 2016
Panelist: Challenging The Exclusive Past / Strategies for a New Public History of Agriculture and Rural Life, Baltimore, MD, 3/17/16
Panelist: Historical Memory and Commemoration, 58th Annual Missouri Conference on History and Midwest Regional Meeting of Phi Alpha Theta, Columbia, MO, 3/11/16.
Keynote Presenter: The Year of Cotton, University S. Carolina (Columbia), 3/3/16
Keynote Presenter: Ida B. Wells presentation, Holly Grove M.B. Church, Lexington, MS, 2/28/16
Keynote Presenter: Ida B. Wells presentation, Columbus-Lowndes Public Library, Columbus, MS, 2/18/16
Keynote Presenter: Auburn University Montgomery (AUM) Conference, Montgomery AL, 2/6/16 (invited)
Panelist: MLK, Jr Commemoration—Empowerment of the Minds/Discussing Civil Rights in America, MVSU, Itta Bena, MS, 1/17/16
Presenter (Love): An Evening of Community Leaders, Oak Grove Missionary Baptist Church, Inverness, MS, 11/28/15
Keynote Presenter: Cotton: The Fabric of Complexity, Drew University, N.J., 11/17/15
Keynote Presenter: Cotton: The Fabric of Complexity, United Nations, N.Y., 11/16/15
Plenary Session Presenter/Organizer: 4th Annual Sweat Equity Investment in the Cotton Kingdom Symposium, MVSU, Itta Bena, MS, 11/12/15
Presenter: Humanities Council Symposium, Appalachia University, Charlotte, NC, 10/9/15
Moderator / Presenter: California Black Chamber of Commerce 20th Annual Ron Brown Symposium-Women's Leadership Forum, Sacramento, CA, 9/15
Presenter: BB King Day-"Blues People and the Food They Eat," MVSU, Itta Bena, MS, 9/3/15
Keynote Presentation: "Making the Connection" Merritt Middle School, Indianola, MS 5/15
Keynote Presentation: "How Long" St Luke's COGIC, Moorhead, MS 2/22/15
Organizer/Emcee—3rd Annual Sweat Equity Investment in the Cotton Kingdom Symposium, MVSU, Itta Bena, MS, 11/7/14
Emcee—The 31st NAACP Banquet, Congressman Bennie G. Thompson, Keynote, Moorhead, MS, 10/25/14
Judge—3rd Annual Delta Hot Tamale Festival, Greenville, MS 10/18/14
Emcee—Mound Bayou Summer Fest, Mound Bayou, MS 8/30/14
Presenter—43rd Testimonial Program honoring Dr. David Matthews and Mrs. Lillian Matthews for 63 years of Service, Bell Grove Baptist Church, Indianola, MS 8/24/14
Presenter—Embracing Opportunities Beyond the 21st Century, MVSU 8/19/14
Presenter—N's Scholarship Gala, Greenwood/Leflore Civic Center, 5/14
Panelist—Crossing Over: Borders & Bridges, Kentucky-Tennessee American Studies Association (KTASA), 5/16/14
Presenter—History is Lunch (Brownbag), MS Dept. of Archives and History, 5/14/14
Welcome Address—NV Scholarship Gala, Greenwood, MS Convention Center 5/3/14
Emcee, Retirement Celebration—Curtis L. Smith, Indianola, MS 5/3/14
Panelist—Founder's Week—Valley Pioneer Forum & Panel Discussion: Building on Traditions of the Past to Reclaim our Destiny, Mississippi Valley State University, 4/22/2014
Emcee, A Night of Creativity—Greenville Scholars, EE Bass Aud., Greenville, MS, 4/14
Featured Presenter—The Kentucky-Tennessee American Studies Biennial Meeting, Heritage Center of Murfreesboro, TN, 5/16-17/14
Featured Speaker—BROWNBAG History is Lunch, Jackson, MS, 5/14/14
Featured Speaker—Raspberry Men's Club, Charter School Issues, Indianola, MS, 4/15/14
Featured Speaker—Telling Our Stories, Revel's Missionary Baptist, Indianola, MS 2/23/14
Featured Presenter—From the Flatlands to the Coast: Bringing the Mississippi Delta to the Mississippi Gulf Coast, Mary C. O'Keefe Cultural Center/University of Southern Mississippi panel discussion, Ocean Springs, MS 1/31/14
Featured Presenter—Workers Built This Country, A Smithsonian presentation, Henry M. Seymour Library, Indianola, MS, 12/17/13
Organizer/Emcee—2nd Annual Sweat Equity Investment in the Cotton Kingdom Symposium, MVSU, Itta Bena, MS, 10/18/13
Emcee—Grab the Mic Talent Showcase, Containment Ent., Greenville, MS, 9/27/13
Judge—Grab the Mic Talent Showcase, Containment Ent., Greenville, MS, 9/14/13
Facilitator—Sunflower Cty School Bd Meet and Greet, NAACP, Indianola, MS, 9/12/13
Emcee/Presenter—Celebration of the Arts 2013, Floyd & Bessie Johnson Foundation, and 18TH Jazz and Heritage Festival, Greenville, MS, 8/13
Keynote Presenter—Los Angeles Black Book Expo, 8/13
Panelist—Oxford Blues Festival panel on tourism, Oxford, MS, 7/13
Emcee—Grassroots Festival, Duck Hill, MS, 7/13
Emcee—A Special Tribute and Street Unveiling Ceremony in honor of Mary Francis Shepard (AKA "Queen of Jook"), Club Ebony, Indianola, MS 5/13
Presenter—National Black Graduate Students Association conference, Detroit MI, 3/13
Panelist—Relevance of HBCUs, MVSU, Itta Bena, 2/13
Panelist—Roots & Migration: Celebrating Art and the History of the Mississippi Delta Symposium, St Louis Art Museum, St Louis, MO, 2/13 (a special 2-day event)
Judge—Poetry Out Loud Competition, MS Art Commission, BB King Museum, 2/13
Organizer/Emcee—1st Annual Sweat Equity Investment in the Cotton Kingdom Symposium, MVSU, Itta Bena, MS, 10/12
Emcee—Congressman Bennie Thompson's Town Hall Meeting: Get Out the Vote, Indianola, MS, 10/12
Emcee—Grassroots Festival, Duck Hill, MS, 8/12
Community Awards Presenter—NAACP Freedom Fund Banquet, Indianola, MS 4/12
Health Awareness Presenter—Delta Health Alliance Health Fair, Indianola Promise Community, Indianola, MS, 4/12
Presenter, Anti-Bullying Student Engagement Rally, Rolling Fork H.S., Rolling Fork, MS
Emcee—Mary Francis Shepard Day "MS Delta's Queen of Jook," Indianola, MS, 4/12
Presentation—African American History Month, New Hope COGIC, Indianola, MS, 2/12
Emcee—African American History Month Celebrating African American Education, NAACP, Indianola, MS, 2/12
Lecture/Presentation—NBGSA South Central Regional Conf., MSU, Starkville, MS, 11/11
Emcee—Mississippi Blues Reunion Festival, Belzoni, MS, 11/11
Emcee—Robert Johnson Remembrance Festival, Greenwood, MS, 10/11
Emcee—Delta Blues and Heritage Festival, Greenville, MS, 9/11
Emcee—Grassroots Festival, Duck Hill, MS, 8/11
Lead Judge—X-FACTOR (talent search preliminaries)–FOX TV, 5/11
Emcee—Grassroots Festival, Duck Hill, MS, 8/10
Emcee—B.B. King Homecoming Festival, Indianola, MS, 6/09
Emcee—Sunflower County Christmas Parade, Indianola, MS, 12/09
Presenter—Ida B. Wells: Creative Writing Workshop into American History, Mississippi Arts Commission, Oxford, MS, 7/09
Presenter—Ida B. Wells: Creative Writing Workshop into American History, Mississippi State University, Writer's Club, Starkville, MS, 05/09
Presenter—Fannie Lou Hamer Empowerment, B.B. King Museum, Indianola, MS, 3-5/09
Presenter—Ida B. Wells: Creative Writing Workshop into American History, City College San Francisco, CA-luncheon, SF, CA, 8/08
Presenter—Blues Harmonica Project, B.B. King Museum, MS (statewide), 4/08
The Harmonica Project/Parade, Grand Opening Ceremonies for the B.B. King Museum & Delta Interpretive Center, approximately 8, 000 students participated in a statewide effort to promote Blues in Mississippi. The Harmonica Parade had approximately 1,500 participants from schools throughout the Mississippi Delta, 2008
Presenter—Young Publisher's Network, North Eastern Mississippi, 1/06-07
The Fannie Lou Hamer Empowerment Project for the B.B. King Museum & Delta Interpretive Center, twenty-one ninth grade girls participated in the inaugural program, 2009.
Don't Judge Me, A Poetrical (creative director), 2007
Guest Lecturer—Winston County School District, Louisville, MS, 8/03-06
Guest Lecturer—Choctaw County School District, Ackerman, MS, 8/03-06
Writing Instructor—Choctaw County Public Library, Ackerman, MS, 6/04-06
A Small Child Shall Lead Them to Love (creative director), 2006
Forty Years Tribute to Community Service, Marion Barry, Mayor Washington, DC, 1988
Fashion in the Symbols of the Adinkra--Ghanaian Embassy, 1987
Dr. Maya Angelou and Sweet Honey in the Rock for a "Sweet Sunday at the Zellerbach-A Tribute to Women" UCB Zellerbach Auditorium, Berkeley, CA, 1987
Publications
Turnipseed, C. Sade and Pillow, Laurie (6/14/2018) The Original Gullah Festival: A Memorable Link to History, Beaufort, SC
Turnipseed, C. Sade (8/12/2016) "Creating A Commemorative Site on The Heritage and Memory of Cotton Pickers in The Mississippi Delta: A Community Driven Movement"
Turnipseed, C. Sade (5/30/2013) "Khafre, Inc Helps to Empower Delta Youth" Life in the Delta, Greenville, MS
Turnipseed, C. Sade (6/2012) "Minnie Cox, Postmaster" Enterprise Tocsin, Indianola, MS
Turnipseed, C. Sade (2/2012) "The NAACP Annual Freedom Fund Banquet" Enterprise Tocsin, Indianola, MS
Turnipseed, C. Sade (2009) "The Thrill is Here" Blues Festival Guide 2009
Turnipseed, (2006) Delta Democrat Times, free-lance
Turnipseed, (2006) "B.B. King, The Blues King" Goge Africa, contributing editor
Turnipseed, (2006) Winston County Journal, columnist
Turnipseed, (2006) Choctaw County Plaindealer, columnist
Turnipseed, (2006) Public Relations Strategies for African Film Producers of the 21st Century--Best of the Best African Television Market—Abuja, Nigeria 3/06
Turnipseed, (2006) "To Brand or Not to Brand, Is No Longer the Question"--Best of the Best African Television Market—Abuja, Nigeria 3/06
Turnipseed, (2006) No More Room for Anything but LOVE, Poetry, Ackerman, MS
Turnipseed, (1990) American Women in Radio & Television, Writer, San Francisco, CA
Turnipseed, (1985-6) CA Voice Newspaper, Contributing Editor, Berkeley, CA
Turnipseed, (1985) Sun Reporter, Affiliate Staff Writer, San Francisco, CA
BOOKS PUBLISHED:
Turnipseed, C.S., National Dialogue: Grandmama'nem and the Wisdom they Shared—7th Annual Sweat Equity Investment in the Cotton Kingdom Symposium, Anthology, pending
Turnipseed, C.S., Up From the Cotton Patch, Revisited, pending
Turnipseed, C.S., Lessons of the Gullah Geechee: Making a Way Out of No Way, pending
Turnipseed, C.S. Field Hollers and Freedom Songs, 6th Annual Sweat Equity Investment in the Cotton Kingdom Symposium, Anthology, pending
Turnipseed, C. Sade (2016) Cultural Heritage, Monuments, and Memory of Cotton Pickers in the Mississippi Delta: A Community Driven Historical Preservation Movement, Mound Bayou, MS — PhD Dissertation
Turnipseed, (2009) Delapabeauty: How Mother Nature Reclaims Itself, Mississippi Delta, Indianola, MS
Turnipseed, (2005, 2015) Saving Ourselves: A Surrogate Embrace by Writers of the 21st Century, Anthology, San Francisco, CA
Turnipseed, (2005) Kissin' My Dust, Poetry, San Francisco, CA