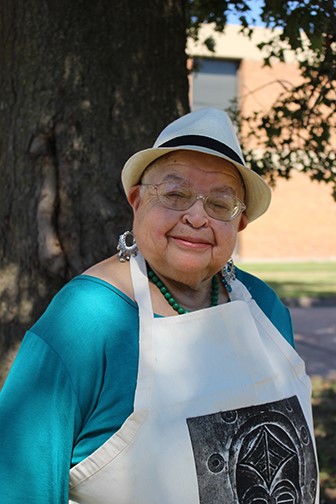 Dorothy Ann Vaughn
Assistant Professor of Art
dvaughn@mvsu.edu
662-254-3482
Office:  Walter Sillers Fine Arts Building (First Floor)
Dorothy Ann Vaughn is a native of Starkville, Mississippi.  She has dedicated many years of professional service to the areas of teaching and art-related fields.  Prior to coming to Mississippi Valley State University in August 1986, she had already taught the subjects of art, reading, language arts, mathematics, and served as an art resource specialist/artist in residence (grades preschool to high school).  Her students consisted of diverse backgrounds, including regular, remedial, gifted and talented, and juvenile delinquents. Their residential roots stem from the regions of Starkville, Crawford, Itta Bena, and Heidelberg, Mississippi; Milwaukee, Wisconsin; and Dallas, Texas.  Vaughn also taught the art appreciation class of a collaborative humanities course at Bishop College and served as Assistant Director/Curator of the African-American Museum on the campus in Dallas, Texas.  The works of famous artists like Edward Bannister, Elizabeth Catlett, Jacob Lawrence, and traditional African art were displayed.  The museum has expanded and relocated in Fair Park instead of the college campus.
Vaughn has stated that many college instructors are faced with the challenge of meeting the educational and motivational needs of today's youth in a society of ever changing computer technology.  According to her, she is no exception to the fact.  Through the years, she has had to modify her traditional methods of teaching in favor of a student-oriented presence rather than a teacher-oriented presence.  More than before, today's youth demand attention and fast pace answers.  Diverse and creative planning of techniques, with a blending of a sense of humor, changes the attitude of an entire class.  According to Vaughn, she loves her students but still expects them to do their best.
Vaughn is a tenured assistant professor of art at Mississippi Valley State University and serves as assistant secretary of the Faculty Senate. She has also held the position of secretary in the organization.  Her educational background consists of the Master of Fine Arts degree in Painting from the University of Wisconsin-Milwaukee (1979); the Master of Arts degree in Painting from the University of Wisconsin-Superior (1975); the Bachelor of Arts degree in Art from Tougaloo College (1969); and certification courses to teach in the field of Elementary Education from Mississippi State University (1973).
Vaughn was fortunate to have had a performance in 1968 with the Tougaloo College Choir, in which she was a member, at Carnegie Hall, New York, under the late guest conductor Duke Ellington (famous jazz musician and representative of the Harlem Renaissance). She continues to maintain contact with the college by participating in the Tougaloo Art Colony (a weeklong summer workshop) that enables teachers and artists to create and exhibit their art works, as well as network with other artists. During the summer of 2016, she attended an oil portrait workshop of Mario Robinson, a renowned alumnus of the prestigious Pratt Art Institute. His work has been featured several times in the Artist's Magazine, The Pastel Journal, Watercolor Magic, American Art Collector, Fine Art Connoisseur, and on the cover of the American Artist Magazine.
Some of Vaughn's most noteworthy exhibition sites include Mississippi Valley State University (Itta Bena, MS); Cottonlandia Museum (known currently as the Museum of the Mississippi Delta-Greenwood, MS); Mississippi State University (Starkville, MS); Jones Community College (Ellisville, MS); E. E. Bass Center, Wetherbee House, and Percy Library (Greenville, MS); Mississippi Museum of Art, Office of the Board of Trustees of State Institutions of Higher Learning, Tougaloo College, Eudora Welty Library, and Jackson Coliseum (Jackson, MS); Meridian Museum of Art (Meridian, MS); African-American Museum (Dallas, TX); University of Wisconsin-Milwaukee, Milwaukee Art Museum, and Milwaukee Inner City Arts Council (Milwaukee, WI); and University of Wisconsin-Superior (Superior, WI). Currently, one of her paintings hangs in the building of the Mississippi Institutions of Higher Learning.       
Vaughn's most recent art awards, among others, include "Best in Show" for three artworks that were exhibited within two consecutive years at Mississippi State University during a Mississippi Homemaker Volunteers Annual Conference (MHV). They consist of two African-related prints in relief (one on the facing of an apron and a linocut) the first year and a still life in watercolor the second year.
Vaughn was selected Faculty Member of the Year for 2015-2016 by the Student Government Association and students of Mississippi Valley State University. She was presented the award at the Annual Student Gala and Foundation Ball on April 21, 2016.
Vaughn is a member of the Southeastern College Art Conference (SECAC), the Museum of the Mississippi Delta, and the Mississippi Homemaker Volunteers (MHV).
Courses Taught
Art Appreciation (AR 101)
Drawing I and II (AR 103 & AR 104)
Art Seminar (AR 191 & AR 192)
Painting I, II, and III (AR 203, AR 204, & AR 304)
Figure Drawing I and II (AR 205 & AR 206)
Ancient Art to Greco-Roman Art History (AR 310)
Watercolor Painting (AR 314)
Advanced Painting (AR 403)
Senior Exhibition (AR 408)
IS Painting/Art History (AR 418)