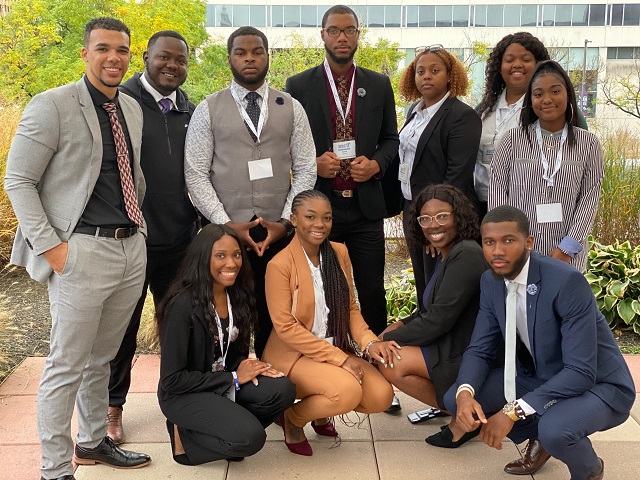 ITTA BENA, Miss.—A group of Mississippi Valley State University students are now more prepared for corporate America as they transition into the workforce after attending the 2019 Historically Black Colleges & Universities (HBCU) Career Development Marketplace Conference.
MVSU's Career Services Center recently traveled with 11 students to Baltimore, Maryland, to attend the conference, designed to inform and educate students from HBCUs about opportunities after graduation.
This year, 374 students from 32 HBCUs across the nation participated in the event, hosted Oct. 28 through Nov. 1. Those representing MVSU included: Correaunte Fowler, senior, Mass Communications major; Nijal Burns, senior, Engineer Technology major;  Kristopher Bonds, sophomore, Business Administration major, Jai Cosey, senior, English major; JaQuana Williams, senior, Mass Communications and English major; Glenn Johnson, junior, Engineering Technology major; Chris George, senior, Criminal Justice major; Jaylin Smith, junior, Mass Communications major; Jeremyia Merritt, sophomore, Business Administration major; and Jaymie Kennedy, junior, Business Administration major.
"I enjoyed the conference," said Bonds. "It equipped me with a lot of important tools that will assist me in Corporate America. There are a couple of things that really captured my attention at the conference in reference to internships."
"I'd advise all juniors and seniors who are extended the opportunity next year to attend," he added.  
A native of Greenwood, Fowler said the event exposed him to career opportunities across the nation.
"As a graduating senior, I found the conference very useful," he said. "I connected with many job opportunities that will allow me to relocate after graduation."
The conference's workshop topic included personal branding, career readiness, social networking, personal finances, interview tips, and resume seminars.
The event wrapped up with a mega career fair which featured career and internship opportunities available at 140 companies.
According to the organization's website, this year, 19 students received on-the-spot job offers or internships with additional attendees expected to accept jobs over the next few months. 
To learn more about the HBCU Career Development Marketplace Conference, visit www.hbcucareermarket.org.
For questions or more information about MVSU's Career Services Center, call (662) 254-3441 or email careerservices@mvsu.edu.