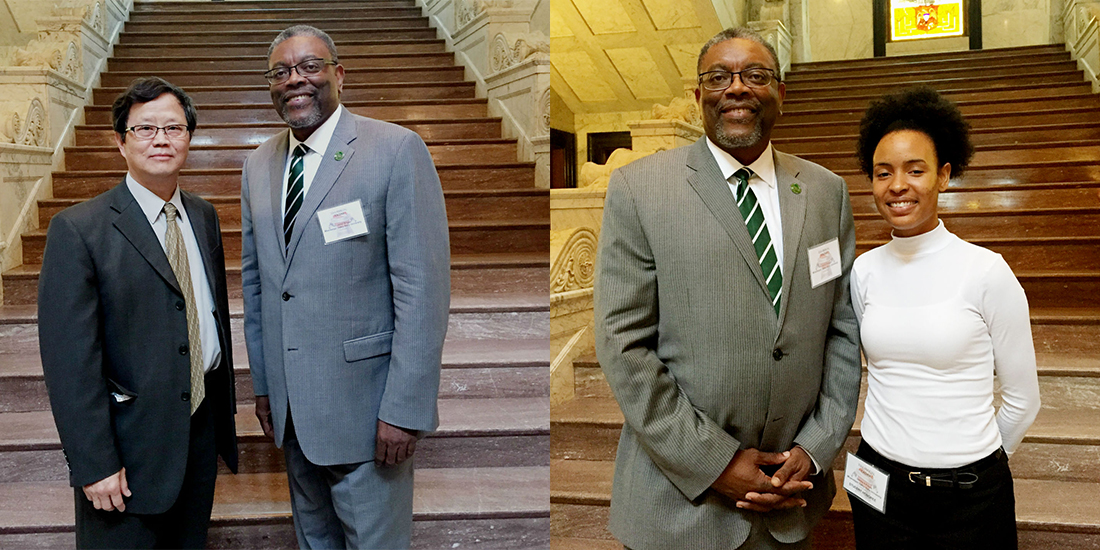 JACKSON, Miss.—Outstanding students and faculty members from 34 Mississippi public and private universities and colleges were recently honored Monday, March 2, at the state capitol during the annual Higher Education Appreciation Day—Working for Academic Excellence (HEADWAE) program.
HEADWAE was established by legislative resolution to honor individual academic achievement and the overall contribution of the state's public and private institutions of higher learning. 
Among the honorees were Mississippi Valley State University 's English department chair and professor, Dr. John Zheng and student Derica Pitters, an English major. 
Dr. Zheng expressed how great it felt to be recognized and how proud he is of Pitters as well.  
"It was a great honor to be recognized as a HEADWAE honoree. I deeply appreciate MVSU President Dr. (Jerryl) Briggs and Provost Dr. (Kathie) Golden for their appreciation of my academic contributions to the university. I surely feel proud to be an MVSU team member," Zheng said.
"I'm also proud of our student honoree, an English graduating senior from New York by way of Jamaica who is also a student-athlete on the women's track and field team. She has also published a short essay in The Right Words magazine from Missouri Baptist University," he added. 
Lieutenant Governor Delbert Hosemann, the program's chair, spoke during the event along with Senator Rita Parks, chair of the senate's Universities and Colleges Committee; Representative Mac Huddleston, chair of the House of Representatives' Universities and Colleges Committee; Holly Spivey, education policy advisor for Governor Tate Reeves; Dr. Alfred Rankins, Jr., commissioner of higher education; and Dr. Andrea Mayfield, executive director of the Mississippi Community College Board.
 "We are so pleased that our state elected officials addressed the honorees and their guests at the State Capitol," said Rankins. "The Legislature established this program in recognition of the difference that post-secondary institutions, their students and faculty, make for our state. It is wonderful to have their contributions recognized through this program each year." 
Following the remarks, honorees enjoyed a tour of the Capitol and were recognized by the Senate and House of Representatives. 
Click HERE to view a video highlighting this year's HEADWAE event.