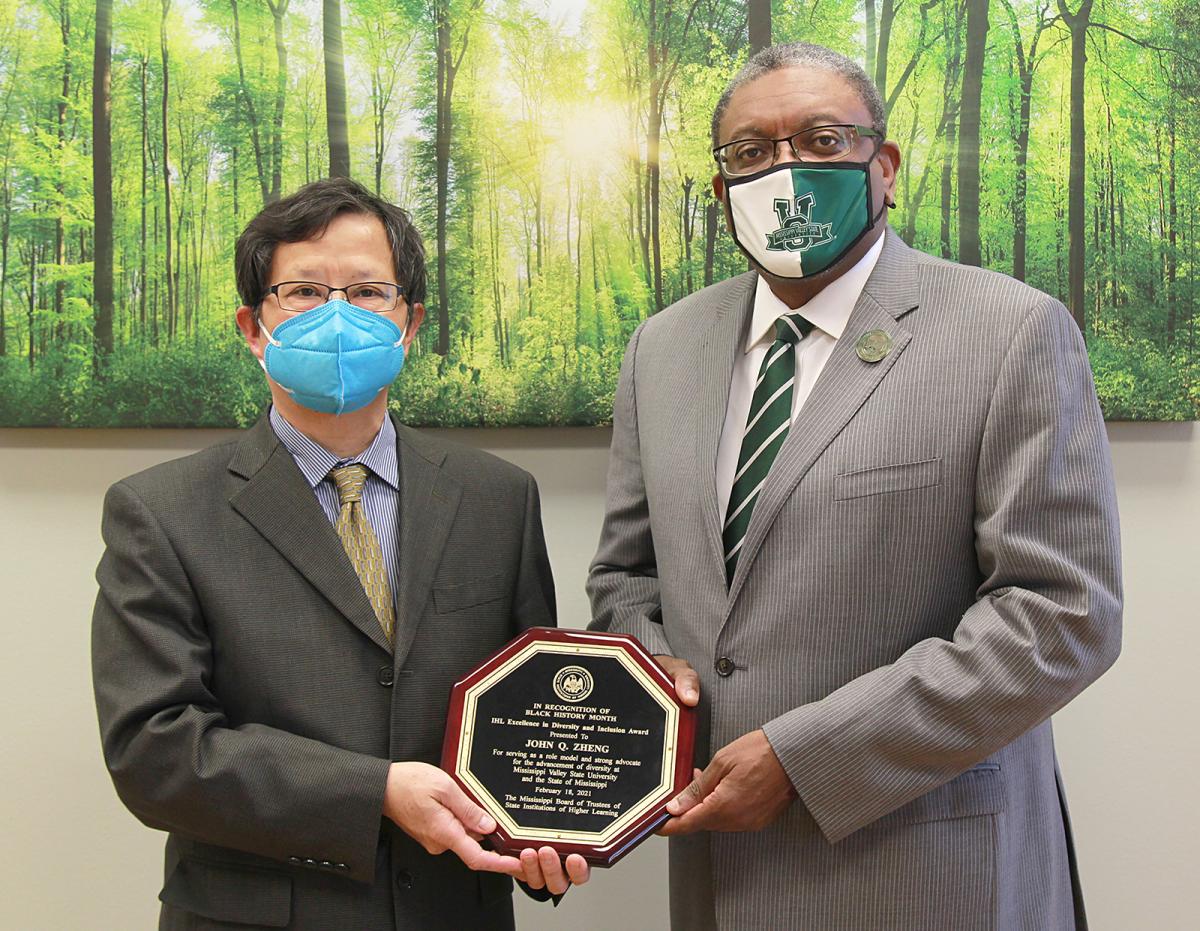 The Mississippi Board of Trustees of the State Institutions of Higher Learning celebrated Black History Month by holding its annual Diversity and Inclusion Awards ceremony at the meeting held virtually on Thursday, February 17.
IHL recognized campus and community leaders for their efforts in advancing diversity and encouraging understanding and respect. Mississippi Valley State University's John Q. Zheng, Ph.D., was honored for advancing diversity at MVSU.
"I am extremely humbled and honored to receive the 2021 IHL Diversity Award," said Zheng. I feel this award is an acknowledgment of what MVSU has been doing in diversity and inclusion. I feel proud that Valley has provided a platform to energize diversity and inclusion through its educational programs, activities, and international exchanges."
Zheng feels that diversity is not a word but action, inspiration, and upholding, which keeps Valley in motion.
" I will continue my support as a team member and educator for our students in the spirit of diversity and expose them to cultural diversity, publications, readings, and other academic activities to gain knowledge and experience and expand their vision," Zheng added.
Also, Dr. Arthur E. Doctor, Associate Professor, Director of Fraternity and Sorority Life for the University of Mississippi, was named the 2021 Diversity Educator of the Year. The Honorable Philip Gunn, Speaker of the Mississippi House of Representatives, received the Karen Cummins Community Service Award.
"The Board of Trustees is very pleased to recognize Speaker Philip Gunn and Dr. Arthur E. Doctor," said Trustee Shane Hooper, Chair of the Board of Trustees' Diversity Committee. "Speaker Gunn took a bold stance in favor of changing the Mississippi state flag that helped the transition to a new state flag come to fruition. Dr. Doctor has made significant changes at the University of Mississippi to make Greek life more inclusive and works with others across campus to expand diversity efforts and make the campus more welcoming to all students."
In addition to Zheng, Doctor, and Gunn, the Board also honored faculty from each of Mississippi's public universities for advancing diversity at their institutions. These honorees include:
Jermiah K. Billa, Ph.D., Chairperson and Assistant Professor, Department of Advanced Technologies (Alcorn State University), Tomeka Harbin, Ph.D., Chair, Associate Professor of Management (Delta State University), Timothy Turner, Ph.D., Department Chair of Biology (Jackson State University), Qiana M. Cutts, Ph.D., Assistant Professor (Mississippi State University), Derris D. Burnett, Ph.D., Assistant Professor (Mississippi State University, DAFVM), Ghanshyam Heda, Ph.D., Professor of Biology (Mississippi University for Women), Ervin Fox, M.D., Professor of Medicine, Jackson Heart Study and ARIC Senior Investigator and PI of the RURAL Study (University of Mississippi Medical Center), J. Theresa Bush, M.F.A., Assistant Professor of Theatre Costume Design and Technology (University of Southern Mississippi).