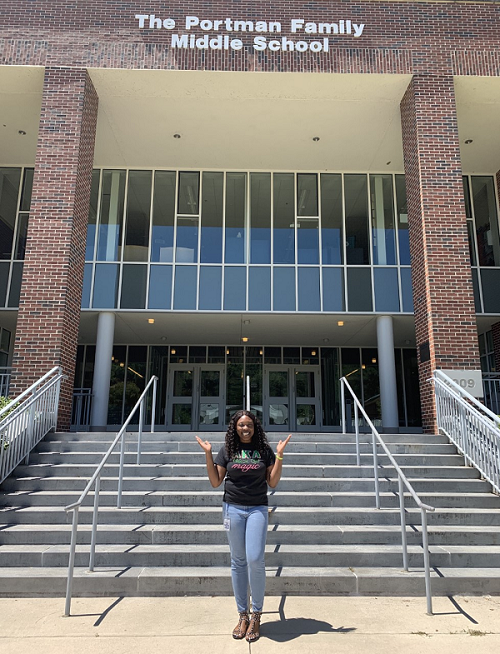 ITTA BENA, Miss.—Mississippi Valley State University senior JaQuana Williams never realized all that went into being a teacher—that is until she joined the staff at Breakthrough Atlanta, a program devoted to increasing educational opportunities to underserved students, as a summer intern.
Now, the English/Mass Communication major has a new respect for the profession.
"The biggest thing I have learned is that teachers do so much more than students can ever imagine. Lesson planning is a tedious task, but teachers put their best efforts forward so that students gain the most from the activities," she said.
The mission of Breakthrough Atlanta is to increase the academic opportunity for highly motivated, underserved students and get them into college ready to succeed; and inspire and develop the next generation of teachers and educational leaders.
In addition to receiving hands-on experience that she'll carry into her future career as a higher education professional, Williams is also receiving the opportunity to pay it forward by encouraging students from low socio-economic backgrounds to attend college.
"The exciting part is I get to do and be the ELA teachers I had in middle school that influenced the trajectory of my life," said Williams, a native of College Park, Ga. "I get to reach back and further push students that come from the same communities as me through high school and into post-secondary opportunities. This classroom experience will help me determine the route I will take after I graduate in May."
Williams said that so far, the experience has been rigorous but worth it.
"I am working twice as hard since I have no official education background, but the content (ELA) is the lesser challenge. Unlike my last internship where I looked at data sets and analyzed decisions being made from outside the classroom, I am now getting that direct contact and insight into the classes, students and the policies that the data sets I was learning last summer affect," she said.
Despite the challenges, she's most excited about working with students and helping them to become college ready.
"I'm looking forward to learning from the students and providing my assistance wherever I can," she said.
To learn more about Breakthrough Atlanta, visit www.breakthroughatlanta.org