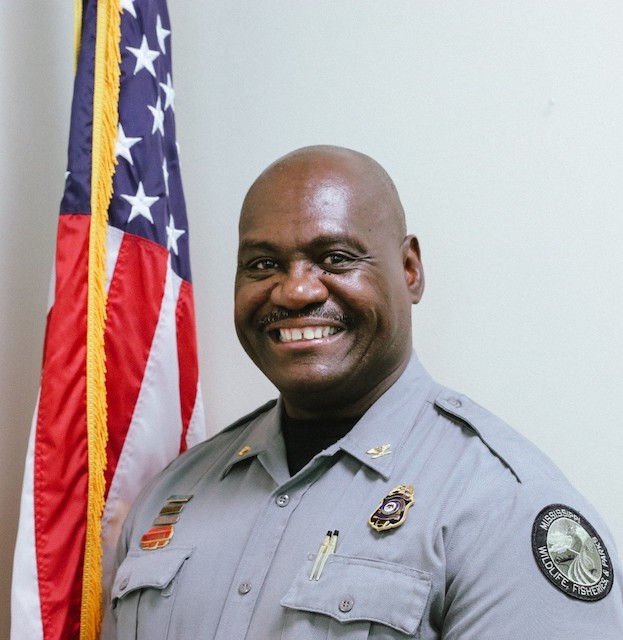 Colonel Jerry Carter has served in many roles in the Mississippi Department of Wildlife Fisheries and Parks. Still, now the MVSU alum has been promoted to serve as the chief officer of the agency.
The promotion makes Carter the first Black Chief of Law Enforcement at the MDWFP since its creation in 1932.
"I am truly grateful for this opportunity afforded me by the Executive Director Dr. Sam Polles, and my predecessor Colonel Steve Adcock, and the trust placed in me to move the Law Enforcement Bureau forward. I am committed to the agency's mission and to providing quality law enforcement services to the citizenry of our Great State," said Carter.
Carter is a native of Morgan City, Mississippi, and a 1982 graduate of Leflore County High School in Itta. Bena. After graduating, he earned a football scholarship and attended Knoxville College in Knoxville, Tenn. He later returned home, and in 1984 he joined the Army.
With all that has happened in his life, Carter hopes he can inspire others.
"I hope that my accomplishments and achievements have opened up the doors to get young people interested in this career. It is an exciting and rewarding job," said Carter.
A proud U.S. Army veteran, Carter began his career with the department in 1988 as a Conservation Officer assigned to Leflore County and moved successfully through the ranks, serving in various county enforcement and leadership capacities. His previous assignments include Boater/Hunter Education Administrator, Coordinator of Communications, Commander of the Honor Guard, Emergency Management Coordinator, and Commander of the North Mississippi Law Enforcement Region, to name a few.
Carter is a 2018 graduate of MVSU with a Bachelor of Science degree in Criminal Justice, and this summer, he completed all of the course requirements for his Master's degree in the subject.
Carter originally started his higher education journey in 2003 but decided to take a break, but his daughter became his driving force to pursue his college degree.
"My daughter is a graduate of MVSU, and she played a big role in me continuing my education. I had this theory that if my daughter can do it, so can I," Carter said. It is never too late to get your education, and I challenged myself to go back into school."
"Being from the area, I have always been familiar with Valley State, and I have watched it grow. There are a lot of great people who are products of this university. I could have gone anywhere, but I chose Valley because it's all about giving back where I came from."
In his new role, Carter is looking to grow the agency and increase its appeal to all people, especially those who look like him.
"I plan to continue to move the agency forward and believe each year will bring a change. I want to continue to make sure the agency changes with the times and influence other African Americans to get into this profession," he explained. 
Carter shares this moment with his girlfriend, Freda Philips, his children Lawanda and Joshua Carter, grandchildren Ja'Niya Page, Danarius Banks, Robert Jones, and great-grandson Cameron Banks.